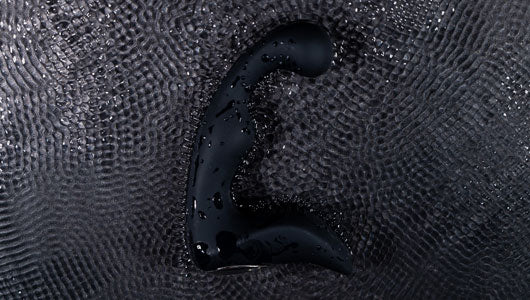 Got a penis? Looking for the holy grail of pleasure? Been there, done that with strokers and blowjob machines? A prostate toy could be just what you're looking for. 
What is a Prostate Toy?
A prostate toy is a device designed specifically for prostate stimulation or deep prostate massage. Prostate toys typically have a curved shape and firm tip for targeting the prostate, a walnut-size gland that sits about two inches inside the rectum on the front wall (belly button side).
Best vibrating prostate toy 
Lelo Hugo If strong, rumbly vibration is on your agenda, it's hard to top the Lelo Hugo. Made from smooth silicone and powered by a supercharged motor for deep, bone-rattling stimulation, the Lelo Hugo is the kind of toy that practically promises intense prostate and blended orgasms.
This luxe, top-of-the-line toy includes a rechargeable remote control and is fully waterproof for aquatic prostate thrills. 
What makes rumbly toys so pleasurable? Check out Rumbly Vs. Buzzy Vibrators
Best budget-friendly prostate toy
Rocks Off Quest Prostate Bullet Want to explore prostate vibes without spending a mint? The Quest Prostate Bullet is a perfect way to get your feet wet. Easy to use and body-safe, the Quest has a nice curve for prostate massage and a fair bit of power for its size and price point.
The Quest also on the smaller side, making it a great choice if you're new to the game and don't want anything too large or intimidating. 
Learn more about the prostate and how to stimulate it: What is the P-Spot? 
Best rotating prostate toy
Femme Funn Turbo Shaft Rotating Vibrator If the idea of vibration plus rotation makes your ears (and other things) perk up, take a look at the Femme Funn Turbo Shaft. This girthy, semi-realistic dildo delivers 360-degree rotation in addition to rumbly vibes. Insertable length 7.7 inches for those of you who like to plumb the depths a bit. 
Quiet, waterproof, and harness-compatible for fun with a partner, the Turbo shaft has a flared base for anal safety.
For all the details about this toy, check out my Femme Funn Turbo Shaft review
Best stainless steel prostate toy
Njoy Pure Wand This legendary toy massages the prostate with weighty, 316-grade stainless steel. Its unique combination of curve, heft, and smoothness make it one of the best prostate toys you can find. Though it can have a bit of a learning curve, with a bit of practice the Pure Wand can have you seeing stars. 
Check out the full details about this toy in my njoy Pure Wand review
Best prostate toy for beginners
Aneros Helix Syn New to prostate stimulation? The Aneros Helix is a beginner's dream. This sculptural toy is designed to massage the prostate in response to your muscle movements. Its curved shape applies targeted pressure to the prostate, while the super-smooth surface creates an effortless glide.
Learn more: Beginner's Guide to Sex Toys
Best prostate dildo
Strap-On-Me P&G Spot Dildo With its super-slick, drag-free surface and pronounced head, the Strap-On-Me P&G Spot Dildo is designed to slide into place against the prostate and deliver powerful pleasure. An easy-on-the-wallet price tag makes this one impossible to pass up. 
Learn more: Complete Guide to Dildos