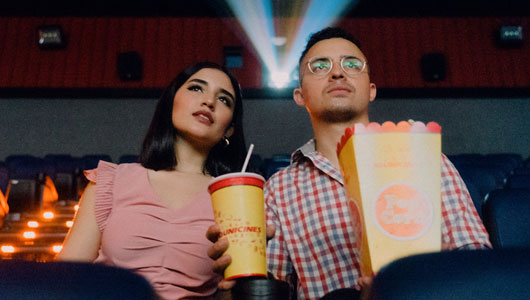 It's an old trope — two people meet, fall in love, chaos ensues, and everything works out in the end (or not). We're talking of course about romantic movies. First introduced during the early years of silent films, romantic movies have remained some of the most popular films ever made.
Whichever kind you prefer — chick flicks, weepies, romcoms — these movies are perennial favorites with audiences the world over. Here's our list of the Top Romantic Movies to make you swoon.
1. A Star Is Born (1937, 1976, 2018)
No matter which version you choose to watch, A Star is Born is a heartbreakingly romantic experience. This tale of a has-been artist who takes a talented novice under his wing is both an intense love story and an exploration of the steep price of fame.
Fredric March, Kris Kristofferson, and Bradley Cooper each play alcoholic stars on the decline, while Janet Gaynor, Barbra Streisand, and Lady Gaga are the up-and-coming hopefuls who are lifted to stardom even as the men they love sink into addiction and despair.
All three versions of A Star Is Born have been lauded for the powerful chemistry between the lead actors, as well as a plot that is equal parts swoon-worthy and tragic. 
2. Brokeback Mountain 
Based on the short story by E. Annie Proulx, Brokeback Mountain is a modern Western about two cowboys who fall in love in Wyoming in the early 1960s. Starring Heath Ledger and Jake Gyllenhaal, the film traces their relationship from first meeting as young men through marriages, separation, and clandestine reunions that bring them happiness but little resolution. Anne Hathaway and Michelle Williams are the women who marry them, only to discover that their husbands' hearts will forever be closed to them. 
A groundbreaker in LGBTQ + filmmaking, Brokeback Mountain won Academy Awards for Best Director and Best Adapted Screenplay. And if you've already seen the movie, some (ahem, me) say the short story is even better.
3.  Malcolm and Marie 
Released in 2021, Malcolm and Marie follows one night in the life of a couple after they return from the debut of his first movie. Filmed in black and white, Malcolm and Marie is composed almost entirely of tense and ultimately deeply revealing dialogue between partners who thought they understood each other, but still have much to discover.
Vacillating between a tight focus on each other and themselves, their careers, and their pasts, Malcolm and Marie explores the challenges of truly knowing another person, and knowing ourselves. 
4. Casablanca 
One of the greatest romantic comedies of all time, Casablanca tells the story of Rick Blaine, played by Humphrey Bogart, a cynical American expatriate living in Morocco. His long-lost lover Ilsa Lund, played by Ingrid Bergman, comes  who falls in love with Ilsa Lund when she comes to him for help. She wants to defect from Nazi Germany to America, where her husband awaits her.
Themes of thwarted love, duty, and fate make Casablanca one of the finest romantic movies ever made.  This is the landmark film that spawned the line "We'll always have Paris," as well as the classic song As Time Goes By. 
5. Howard's End
Based on the 1910 novel by E.M. Forster, Howard's End explores what happens when a man ignore's his beloved wife's dying wish. Margaret Schlegel and wealthy Ruth Wilcox become friends, but Ruth is in poor health and dies not long after.
Though Ruth bequeaths an estate in the country to Margaret, Ruth's adult children and her husband, Harry, discard her handwritten note and move forward with their lives. But when Harry develops feelings for the feisty and independent Margaret, he sets in motion a chain of events none of them could have foreseen.
Though the 1992 version of Howard's End with Emma Thompson and Anthony Hopkins is the most famous, a 2017 four-episode BBC/Starz series starring Matthew MacFadyen and Haley Atwell is a gorgeous example of Edwardian romance at its finest. 
6. Silver Linings Playbook
Silver Linings Playbook stars Bradley Cooper as Pat Solitano, a man recently released from a psychiatric hospital and struggling with bipolar disorder. He moves back in with his parents and attempts to reunite with his wife, but then he meets Tiffany Maxwell, played by Jennifer Lawrence. Tiffany has her own mental health struggles, but Pat is drawn attracted by her dynamic personality and shared chemistry.
Though the movie revolves around a serious subject matter, it never feels dour or preachy. Silver Linings Playbook is a strong and entertaining romcom with a stellar cast. 
7. Secretary 
If you find traditional romantic movies a bit, well, traditional, Secretary may be right up your dark alley. This erotic black comedy stars Maggie Gyllenhaal as Lee Holloway, a sensitive former psychiatric patient who applies for a job as anadministrative assistant. Her boss, Steven, played by James Spader, is enticed by Lee's obedient behavior and attempts to please him, and they soon begin a BDSM relationship.
Secretary explores such themes as shames, sexual acceptance, insecurity, and power dynamics, making it an unusual but fascinating romantic film. 
8. The Big Sick
This romantic comedy is based on the true story of standup comic Kumail Nanjiani and his wife, Emily Gordon. Kumail plays a Pakistani American Uber driver and aspiring comedian who meets a white psychology student. When she gets sick with a mysterious illness, Kumail must navigate a complex relationship with Emily's parents and the cultural differences between both families. This intelligent tearjerker feels authentic and emotional, but never loses its sharp sense of humor. 
9. Sleeping With Other People
Speaking of romcoms, it's hard to top Sleeping With Other People for comedy and sheer physical chemistry. Jason Sudeikis and Alison Brie play Jake and Lainey, two friends with hyperactive sex drives who try very, very hard not to sleep with each other. Their struggle to remain chaste is enormously amusing, creating romantic and sexual tension that builds to a near breaking point. Strong characters and smart acting elevate Sleeping With Other People from just another romcom throwaway to one of our fave romantic movies. 
10. Carol
Based on Patricia Highsmith's novel The Price of Salt, Carol stars Rooney Mara as a department store clerk and Cate Blanchett as the wealthy socialite she meets by chance. This beautiful photographed film explores the conventional pressures and fears of scandal that stand in the way of their forbidden romance. Carol vividly explores the intense attachment the women develop for each other, as well as the crushing effect of social expectations on their lives. 
Released in 2015, Carol adds to the growing list of critically acclaimed LGBTQ + movies released in the last few decades.