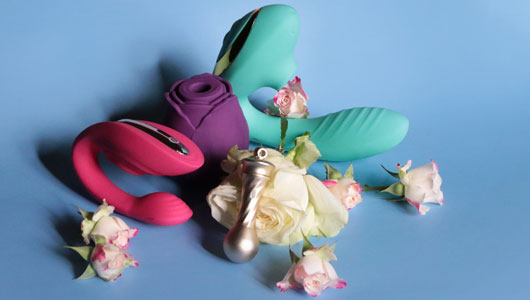 So, you've just started dating someone new and you already want to shower them with gifts, but you're not sure what to get. We've all been there! Sometimes it can be tough to know which gifts will make your new lover feel special... and which gifts might make them say, "no, but thanks anyway!" Well, don't sweat it — this guide is here to help. 
Keep reading to learn how to properly give intimate gifts to your new lover, and take a look at my top 15 favorite intimate gifts to make your partner feel special. Let's get started! 
What Is The Best Gift For My New Lover?
Giving your new lover the perfect gift can be tough because, well, you haven't been together very long! That's why you must run a little recon and do some research before you start shopping.
Ask questions about their interests, specific movies and music they like, and whether or not they like surprises (some people really don't). The more information you collect, the better equipped you will be to buy the perfect present.
If you're shopping for intimate gifts for your new lover, it's best to have a conversation ahead of time about sexual and physical intimacy. Find out if there are any pleasure products they've always wanted to try.
Chances are, you have some common interests when it comes to sexual intimacy, so take some time to have open and honest conversation! Then, based on what you've learned, start browsing adult products and intimate gifts. 
That said, you might want to start slow when it comes to sex toys. Unless your partner specifically asks for an extra-large dildo or set of steel handcuffs, it's best to gift adult products that are great for beginners. You don't want their intimate gift to make them feel pressured to explore territory they aren't familiar or comfortable with yet.
Vibrators and masturbation toys are usually a safe bet when it comes to intimate gifting as they're among the most popular pleasure products on the market. But, again, make sure that this okay ahead of time.
If your partner isn't comfortable being gifted a sex toy, try sexy accessories or sex education literature instead! Body jewelry, lingerie, sensual bath and body products, and Sex Ed books are great examples of intimate gifts that are not overtly sexual. 
On the other hand, your partner might be very interested in swapping sex toys for birthdays, holidays, and days you feel extra special. If so, you might be wondering, "what are the best new relationship gifts when it comes to adult products?" Well, keep reading — I'll show you!  
New Relationship Gift Ideas (Intimate Edition!) 
Now let's get specific. Whether your partner is expecting a bundle of the latest and greatest sex toys, or they want to take it slow with some intro toys, this guide has something for every experience level.
Keep reading for my list of the top 15 new relationship gift ideas, including romantic products for brand new lovers and long-term partners!
1. Fun Factory Coba Libre 2
The best gift to give a guy really depends on what he likes! But if he's interested in penis toys, you can't go wrong with the Cobra Libre 2. Velvety silicone, rumbly sensations, and an intuitive button interface with 11 vibration settings makes this a top-selling sex toy for men. Not to mention, this is a whisper quiet product! No high-pitched buzzing to be found here. It's also very easy to use, making it a perfect pick for all experience levels. 
2. VeDO Frisky Bunny Vibrating Couples Ring
This beautiful Bunny Ring is made to maximize pleasure for you and your partner at the same time. It's a couples toy that features a powerful motor with 5 different vibration modes that range from soft and gentle to oh-my-god. Its controls are super intuitive and easy to use, so you and your lover can focus on being intimate instead of fumbling around with buttons. Plus, it's body-safe, whisper quiet, and waterproof! 
3. The Penis Book by Dr. Aaron Spitz
Shopping for the ultimate gift for the penis-owner in your life? Consider this book the ultimate guide to all things penis! Written by Dr. Author Aaron Spitz, who worked at UC Irvine's Department of Urology for 15 years, The Penis Book features an easy-to-follow plan for optimum penis health, including plant-based diet recommendations and special exercises for keeping your penis healthy and happy. 
4. Hot Octopuss Pulse Duo Lux 
The Duo Lux is the perfect intimate gift for new relationships because it focuses on foreplay, which might ease the pressure a bit. It features two wearable remotes that let  you and your partner control your experience, hands-free. Folks with hand or wrist mobility issues might be particularly compatible with this sex toy because its easy to hold design makes it more accessible. Plus, its 8 turbo speed oscillator, 5 vibration modes, and adjustable frequency make it ideal for building an intensely intimate connection. 
5. Slow Sex Dry Shimmer Oil 
If you're not ready to gift your new lover a sex toy, start with something sexy like this stunning shimmer oil. You can apply it anywhere for a hydrating glow, but it looks especially lovely on cleavage, necklines, thighs, and even throughout your hair! And don't worry — its coconut oil based formula is safe for even sensitive skin types. 
6. Lelo Flickering Touch Massage Candle 
Looking for a way to share erotic intimacy without actually having sex? Playing with candle wax might be just the thing! But this isn't just any candle; it's specially formulated to be dripped onto bare skin without burning or harming it. Instead, it nourishes, moisturizes, and ignites the skin for a sensual massage or wax play. With a burn-time of 36 hours and 3 yummy scents from which to choose, this massage candle makes an excellent intimate gift for a new lover. 
7. Dame Intimate Touch Limited Edition Gift Set 
If you're looking for a gift box that comes pre-packaged with some of the best selling sex toys on the market, look no further. This limited edition pleasure set from popular brand Dame includes Arousal Serum, a gender-inclusive vibrator, and a silky smooth lubricant to top it all off. Give the gift of pleasure, and watch your new relationship flourish.  
8. NobEssence Rouse 
Maybe you're not new to the relationship, but you are interesting in trying something for the first time together. If that rings a bell, this incredible impact tool might be what you're looking for. Couples looking to explore kink and impact play should try this perfectly balanced, natural hardwood toy.
Handcrafted by the artisans at NobEssence, this organic tool can be used in a wide variety of sexy ways. It can even be used as a conduit to transmit vibrations from your silicone sex toys! If you're ready to try something new with your partner, you might want to look into this unparalleled pleasure product. 
9. Le Wand Little Pleasures 6-Piece Set 
This coveted pleasure set includes two of the brand's most popular mini-vibes, finished in a limited edition chrome. Each giftable box features the Le Wand Bullet and Point, which are travel-sized vibrators with rumbly motors and contoured shapes. Not to mention, this gift box is easy to wrap, and looks great under a Christmas tree! 
10. Golden Moments We-Vibe Chorus and Womanizer Premium Set 
Looking to make a great first impression with your new partner in the bedroom? You can't go wrong with this premium pleasure set from We-Vibe. This gorgeous boxed pairing includes two of the brand's most popular toys — the Chorus and Womanizer — in a sleek shade of black with gold accents.
The We-Vibe Chorus is worn during sex, and features 10 strong vibration modes for epic G-spot, clitoris, and penis stimulation. Meanwhile, the Womanizer Premium focuses on clitoral stimulation, offering 12 levels of intensity that range from super gentle to supercharged. 
11. Dame Eva II Couples Vibrator 
Gifting your lover a couples vibrator is almost always a guaranteed success, and the Eva II is a fabulous choice. It's a hands-free toy designed to offer consistent clitoral stimulation during sex, and makes a great toy for lesbian couples looking to get their grind on.
Upgraded from the Eva I, this new and improved model has a more intuitive interface that's easier to use, and is lighter in weight, too. It's also fully waterproof, so feel free to take this toy into the shower with you! 
12. Lelo Indulge Me Pleasure Set
This pleasure set is pretty much a sexy care package for new couples. It includes some of Lelo's most popular products, including a feather teaser, silk blindfold, and a couples vibrator. If you're looking to spend a romantic evening at home, open this gift box and go to town! 
13. Magic Wand Rechargeable Vibrator 
If you want to gift a pleasure product that lets your partner know you have impeccable taste in sex toys, this is the way to go. Chances are, you've probably already heard of the Magic Wand, as its arguably the most iconic vibrator ever invented. But if it's brand new to you and your partner, even better! Use it together, or encourage your new partner to enjoy some solo self-care. Either way, this powerhouse vibe is a guaranteed good time. 
14. Tell Me What You Want by Justin Lehmiller, PhD
Sex education books are perfect for gifting a new partner because it shows them that you care about their pleasure, and are willing to do the research to learn exactly how to please them! Written by Justin J. Lehmiller, a leading expert on human sexuality, this book is sure to answer some of your most intimate questions.
And it's not just about learning to how satisfy your partner! This book can help you to understand your own desires, how to achieve them in your relationships, and how to effectively communicate with your partner. It's a must-read for new couples and long-term lovers alike. 
15. VeDO Hummer 2.0
Not sure what to get your new boyfriend to make him swoon? Present him with this legendary sex toy, and he'll never ever forget you — trust me. When it comes to penis toys, the VeDO Hummer 2.0 is in a league of its own.
With a staggering top speed of 180 RPMs and 180 suction impulses per minute, this hands-free BJ simulator will leave him breathless every time. It's a futuristic device that sucks, strokes, and stimulates with 8 automatic modes, 6 manual modes, and unpredictable patterns that adapt to his preferences for a realistic experience. Wild, right? 
Happy shopping, lovers!