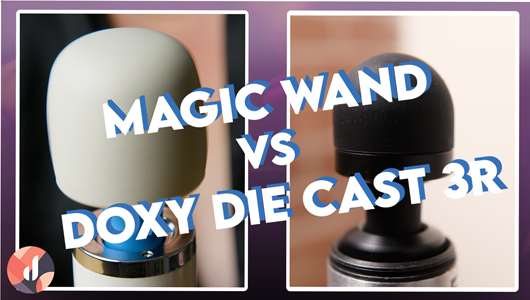 Let's get ready to rumble! In this review I compare two Goliaths of the vibrator world — the Magic Wand and the Doxy Die Cast 3r. Each of these toys is known for its epic power and ability to deliver intense stimulation. So which one should you choose? Well, read on. I'll guide you through the key features of each toy so you can decide which of these supercharged titans is right for you.  
Magic Wand Vs. Doxy Die Cast 3R: Similarities 
Let's start with what these toys have in common. Both the Magic Wand and Doxy Die Cast 3R are wand-style vibrators, meaning they have a relatively long handle with operating buttons and a smooth vibrating head. Other similarities include: 
Rumbly sensation.

Each of these wands offers lower frequency vibrations that feel rumbly, rather than higher frequency vibes that feel buzzy. Rumbly vibes travel further without losing energy, and can be described as a rolling sensation that stimulates deep nerves and tissues. In other words, rumbly vibes feel awesome.

Noise level.

Both the Magic Wand and Doxy have similar sound patterns — quieter at their lower settings and louder at the higher settings. While neither is whisper-quiet, each is similar to other popular wand vibrators when it comes to noise. 

Attachment options. Neither of these wands was originally designed to be inserted into the body, but both have attachments that can be snapped over the head of the wand for internal vaginal or anal stimulation. Magic Wand and Doxy attachments are made from body-safe materials, and can be purchased separately. 
Silicone heads. The vibrating heads of these wands are made from premium silicone that feels super smooth to the touch and is 100% body safe.  
Power. Both of these wands are famous for pure, unbridled power. One is technically more powerful than the other (I'll discuss that in a moment), but both the Magic Wand and Doxy 3R are heavyweights in the world of vibrators. There's a reason these mighty toys are described in reverent tones with words like "full-body orgasm." They're

strong

. 
It's true that these legendary vibrators share some important features, but they're actually more different than they are similar. Let's check out some of the key differences between the Magic Wand and the Doxy Die Cast 3R.
Magic Wand Vs. Doxy Die Cast 3R: Differences
Both of these wands are well-designed and durable, but have some distinct features that set them apart:
Construction

. The Magic Wand is a bit longer and wider than the Doxy 3R, which is not the largest vibrator in the Doxy lineup (for that, check out the Doxy Original Massager, which is similar to the Magic Wand in size). 

But the big difference in the construction of these wands is the materials used to make them. The body of the Doxy is made from polished aluminum and titanium alloy, while the body of the Magic Wand is made from ABS plastic. The Doxy feels more solid and durable, like you're holding an actual tool like a hammer or a power drill. 
Cleaning. Neither of these toys is waterproof or submersible, which means you can't run them under water to clean them. You can, however, spray these wands with toy cleaner and wipe them down. One big perk of the Doxy is that the head can be unscrewed for a more thorough cleaning, and is safe to submerge in water once it's removed from the body of the wand.
Storage. The Magic Wand doesn't include a storage case or pouch, and includes only a charger and the box it comes in. The Doxy has its own sleek, sturdy aluminum container for safe storage and travel. 
Price. The Magic Wand isn't a budget vibrator, but it's not wildly expensive. You'll pay a fair amount more for the Doxy's durable metal body, which is made in the UK from a manufacturing process called die-casting.  
So Which Is Stronger, The Magic Wand Or The Doxy Die Cast 3R?
Let's talk about how these toys differ when it comes to power. The measure of wand vibration strength is RPM, or revolutions per minute. As you might guess, the higher the RPM, the stronger the vibe. 
The Magic Wand can reach an impressive 6300 RPM which, for reference, is equivalent to a speed of about 90 miles per hour. That makes the Magic Wand one of the strongest vibrators in the world, and explains why it has a devoted legion of fans.
Buy the rechargeable Magic Wand now!
But there's more to this story. The Doxy 3R can reach a staggering 9000 RPM. That's right — 2700 RPM faster than the Magic Wand. If you're looking for intense, potentially punitive power, the Doxy wins by a nose. One caveat: this wand is not for the novice masturbator. I've tested the Doxy's highest setting and it's too strong even for this power queen. But if raw power is what you're looking for in a vibrating wand, it's difficult (if not impossible) to top the Doxy. 
Buy the Doxy Die Cast 3R now! 
That said, the wand I prefer and use most often is the Magic Wand. Why? Well, I have no problem enjoying myself thoroughly with 6300 RPM, and truly don't need more power than that. But the biggest perk of the Magic Wand for me is how long it lasts on a single charge. This toy can run at full speed for 3 hours straight, or literally forever if you keep it plugged in (yes, you can use the cordless Magic Wand while it's charging). 
The Doxy, on the other hand, takes 4 hours to fully charge and can run continuously for about 1 hour. I'm not sure who could actually use the Doxy for longer than an hour, but that's a pretty dramatic difference. Ultimately, the Doxy Die Cast 3R is better for a powerful sprint, while the Magic Wand is more about the long (and still stunningly powerful) game. 
Final Thoughts
Whether you choose the Magic Wand or the Doxy Die Cast 3R, you're in for a powerfully pleasurable experience. If you're still not sure which wand is right for you, don't hesitate to reach out by email or DM for a personalized recommendation. And in the meantime, don't forget to browse our full collection of wand vibrators!