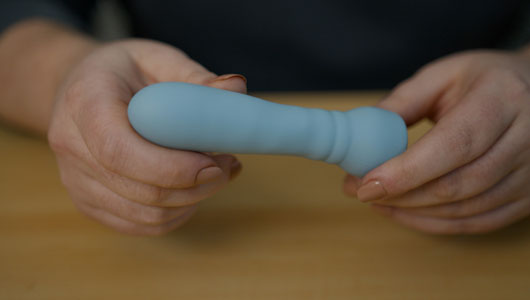 Welcome to my Femme Funn Booster Bullet review! Here, you'll find everything you need to know about this petite powerhouse, including how it works, how to use it, and how intense its vibrations can get (spoiler alert: very intense).
Join me as I detail my personal experience and discuss tips and tricks for making the most of your new bullet.
Buy the Femme Funn Booster Bullet now!
FEMME FUNN BOOSTER BULLET: QUICK STATS
No time for the full shebang? That's okay. Take a moment to peruse the need-to-know info below. You can also scroll to the end of this review for a list of PROS and CONS.
Bullet-style vibrator ideal for clit stimulation 

Great for nipple play 

Made from 100% body-safe silicone 

Rechargeable 

100% waterproof 

20 vibration modes (um, wow.)

Memory function 

Boost button 

Portable charging case 

Travel-sized 

Not for anal insertion 

Light blue, maroon, and purple colors available 

UNBOXING THE FEMME FUNN BOOSTER BULLET
Let's start by taking a look at what's included with your purchase, shall we?
The Femme Funn Booster Bullet comes in a small cardboard box with some key info about materials and features printed on it. In fact, there's a step-by-step user guide on the back of the box so you're fully equipped with all the knowledge you need to get right down to business. 
Inside the box is a user manual, one magnetic charger, a handy storage case, and the Booster Bullet itself. Something cool about the storage case is that you can actually charge your bullet while it's in there! Not to mention, it's sturdy and compact for folks who like to travel with toys. 
Now remember: the first thing you'll want to do is sanitize and charge your toy so you're working with a completely clean, full-powered product. Once you've done that, you're ready to play. Now let's see what this Femme Funn Booster Bullet can do! 
MY FEMME FUNN BOOSTER BULLET REVIEW
At first glance, the Femme Funn Booster looks unassuming, like your average bullet. It's a bit less than 4.5 inches in length, and less than an inch wide, but believe me when I say that this little toy is strong. In fact, it might be the most powerful bullet I've ever tested. If you love the convenience of a bullet-style vibrator but can't find one that's intense enough, this will probably be a perfect pick for you. 
More: Shop all external vibrators! 
There are some really fun things going on with the Booster aside from its impressive vibration strength. This bullet is completely waterproof, which makes it a great bath or showertime toy. It's made from 100% body-safe silicone, a super smooth material that's easy to clean. Plus, the Booster is rechargeable, which means no annoying wires or batteries to fumble around with. 
But what really makes this bullet stand out, in my opinion, is its wide variety of vibration modes. Yes, you can turn it all the way up and enjoy some uber-strong sensations if that's what you're looking for, but there are nineteen other levels of intensity and patterns to explore. Now, most vibrators offer different speeds, but 20 modes is impressive — especially for a bullet. 
In addition to its many modes, this bullet features a "booster" button, which propels it to the highest intensity level for 10 seconds. After that, it reverts to the mode you were using before. For me, this comes in handy when I need a quick burst of power to either edge myself or bring it on home. 
Now remember: while bullet vibrators are known for their ability to stimulate the clitoris, the Booster's rumbly sensations are great for nipple play, external anal stimulation, and more. So take some time to run this bullet along different parts of your body to find what feels good! Personally, I like to use it on my clit during penetrative pleasure with my partner, or slip it inside a harness to enhance strap-on play. 
Of course, some folks are going to be more compatible with this toy than others, so let's recap the highlights and potential pitfalls so you can decide if the Femme Funn Booster Bullet is the best choice for you.
SHOULD I BUY THE FEMME FUNN BOOSTER BULLET?
Let's start with what I'm loving about this bullet: 
Small & Mighty:

I was

not

expecting this much power from this little toy. I tend to avoid bullet-style vibrators because they typically don't offer the level of intensity I'm looking for, but this one gets pretty intense (especially when you hit the booster button!). If you're looking for a bullet with some power behind it, this is a great way to go. 
Great Variety:

You've got 20 vibration modes to play with, giving you a lot of room to experiment with different sensations. And cycling through modes is as quick and easy as pushing a button. Gotta love a versatile vibe that goes above and beyond for your pleasure.
Thoughtfully Designed:

This bullet is small, easy to hold, and features a tapered, rounded tip for focused stimulation. It's also very flexible, which helps you find the pressure and positioning that feels best. It's luxuriously smooth to the touch, gentle on the skin, and comes with a sturdy carrying case for on-the-go Os.
Strap-On Star: I l-o-v-e how this bullet lends itself to strap-on play. If you're wearing a harness with a built-in pocket, just slip this bullet inside to enjoy some vibration on your clit while you're pleasing your partner (who, by the way, can feel the vibrations flowing from the base to the tip of the dildo. It's awesome). If you're looking to explore strap-on play, or you've got a grinding toy you want to enhance with a vibrating component, the Booster Bullet might be the perfect fit for you. 
Shop the Femme Funn Booster Bullet here!
FEMME FUNN BOOSTER BULLET COMPLAINTS
So, what's not to love about the Femme Funn Booster Bullet? To be honest, I don't have many complaints. This toy does exactly what it's designed to do and then some. But I will note a couple of things to consider before making your purchase. 
First, if you're looking for something to hold with both hands or get a really firm grip on, I suggest browsing wand-style vibrators as those typically come with longer bodies. It's also worth noting that with smaller vibrators like this, you can feel the vibrations through your hand more than you might with a larger toy or something with a longer handle. 
DELICTO EXPERT TIPS
Before you run out and get boostin', allow me to impart a few titillating tips to maximize your play time with the Femme Funn Booster Bullet:
Internal Stimulation:

Although this toy is not designed for anal penetration, it

can

be inserted vaginally for extra stimulation. Remember: your vaginal opening and internal clitoral network are both surrounded by nerve endings that often respond

very

well to vibration!
Memory Function:

When you turn this bullet on, it will automatically start with the vibration mode you used last. To clear the board and start fresh, just push the "FF" button.
Edging:

If edging is up your alley, I've got a technique you might like to try. Start with the bullet on the lowest setting and push the "boost" button every couple of minutes. This way, the vibrations will alternate between gentle and intense again and again until you can't take it anymore.
Buy the Femme Funn Booster Bullet now! 
FINAL THOUGHTS
Well, that's all she wrote. I hope this review answered all your Booster Bullet questions and you're ready to take it for a test run. Finally, don't forget to follow us on Instagram and TikTok for more reviews, tutorials, and sex education! 
FAQS
Is the Femme Funn Booster Bullet waterproof?
The Femme Funn Booster Bullet is 100% waterproof. Not only does this make it easy to clean, but you can take it in the bath, shower, or anywhere else that'll get it really wet.
Is the Femme Funn Booster Bullet quiet? 
Absolutely! In my experience, bullets aren't usually very noisy because their motors are smaller, and this toy is no exception. It does get a little louder on its highest setting but, even then, it's whisper quiet. 
Is the Femme Funn Booster Bullet good for anal?
If you want to stimulate your anus with some external vibrations, go for it. But this toy does not have the kind of flared base we look for in anal-safe toys, which means that this bullet could potentially get lost inside you. If you're looking for insertable anal toys, be sure to peruse our myriad body-safe options!