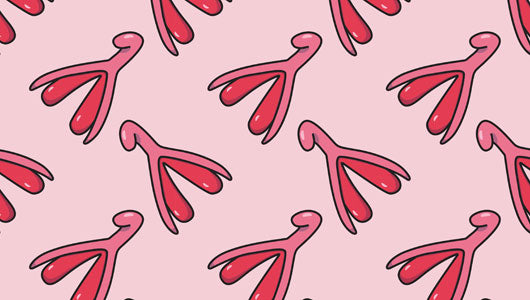 Think you know what the clitoris is and where to find it? You may be surprised to discover that there's a lot more to the clitoris than meets the eye. 
This powerhouse of pleasure is actually a nerve-rich network that extends into the body. Why is this important? Because once you know how the clitoris works, you can understand how to stimulate it in new and deeply orgasmic ways.
Ready to explore the entire clitoral network? Let's dive in.
What Is The Clitoris? 
The clitoris is a complex and highly sensitive organ responsible for female sexual pleasure. It consists of both external and internal structures that work together to create amazing sensations during arousal. Here's a quick breakdown of clitoral anatomy:
Glans clitoris
The glans is the small, visible part of the clitoris located at the top of the vulva. The glans may be tiny, but don't underestimate its power. Packed with thousands of nerve endings, this little nub can deliver intense pleasure when stimulated directly or indirectly using fingers or toys like vibrators. 
Clitoral hood
The clitoral hood is a fold of skin that covers the glans clitoris. This hood serves as a protective layer for the clitoris and can vary in size and shape. During sexual arousal, the clitoral hood may retract, exposing the clitoris and increasing sensitivity. It is important to note that every person's anatomy is unique and there is no "right" or "normal" size or shape for the clitoral hood.
Clitoral body
The clitoral body leads from the glans clitoris into the pelvis. The clitoral body is shaped like a wishbone, and attaches to the pubic bone by ligaments. 
Crura (plural for crus) 
The crura are two erectile tissue structures that branch off from the clitoral body on either side. They form the upside down V of the wishbone. 
Vestibular bulbs
The vesticular bulbs are two erectile tissue structures between the crura and the wall of the vagina. Though the crura and vestibular bulbs are inside the body, they can be stimulated indirectly through pressure on surrounding areas or vibration. 
Learn more: 5 Facts About The Clitoris
All together, these different parts of the clitoris are known as the clitoral network, a larger structure of nerves, tissue, and ligaments that are tucked inside the body.
Locating the Clitoris
To find your clitoris or that of your partner, start by exploring the vulva. You may have felt the clitoris or experienced the pleasure of stimulating it, but seeing it can help you locate it more quickly and visualize the larger structure underneath. 
Remember that there's lots of variation when it comes to the clitoris! It can be very small in some people and larger in others. No matter the size of your clitoris or clitoral hood, your body is normal and deserving of pleasure.
To find the clitoris:
Gently explore the vulva area, paying particular attention to the area where the labia minora (inner lips) meet at the top
Look for a small nub-like protrusion. That's the glans clitoris
The glans clitoris may be hidden under the clitoral hood, especially if you aren't aroused 
If you aren't sure you've found the clitoris, touch it gently. Typically it will feel much more sensitive than the surrounding tissue

When exploring the clitoris and the area around it, it can help to use plenty of lube. Lube cuts down on friction from fingers or toys and increases glide across the skin. This can make touching the clitoris and vulva feel more pleasurable and reduce the risk of irritation or discomfort. 
Not sure which lube is right for you? Check out How To Choose A Lube
How To Stimulate The Clitoris 
Once you've located the clitoris (yours or your partner's), feel free to try different stimulation techniques that can amp up the pleasure and help you learn what types of touching you respond to best. Let's discuss some of the best ways to stimulate the clitoris, as well as how sex toys can elevate your experience.
Direct vs. indirect stimulation
The clitoris can be stimulated either directly or indirectly. In some women, the clitoris can be too sensitive to touch directly, others prefer direct or even very firm stimulation, and others fall somewhere in between. 
To directly stimulate the clitoris:
Start with plenty of lube

Try gentle strokes, small circular motions, or taps using your fingers

Experiment with different pressures and speeds to find what feels best for you

Notice and enjoy the sensations you feel without feeling pressure to orgasm

To indirectly stimulate the clitoris:
Focus on areas around the clitoris like the labia, opening of the vagina, or around the hood of the clitoris

Some parts of the clitoris may be more sensitive than others, for instance, the upper area or one side. If you notice that part of your clitoris is more sensitive, stick to areas that feel more comfortable 

Grinding against a pillow or other object is a common way to indirectly stimulate the clitoris
Learn more: 6 Reasons Why You Should Masturbate
Stimulating the clitoris with sex toys
Using sex toys to stimulate the clitoris can be a great way to experiment with stimulation and discover what you enjoy most. Sex toys for the clitoris can deliver all different types of sensations, including:
Vibration
Air pulses
Tapping
Oscillation
Fluttering
Grinding

Each kind of stimulation will feel different. Some people respond to one particular type of sensation, while others will enjoy several (or all!). Keep in mind that all sex toys are not created equal. A cheap, drugstore vibrator is more likely to deliver high-frequency vibrations that feel "buzzy" and can cause numbness after a few minutes of use.
Learn more: Can A Vibrator Desensitize Me? 
A vibrator with low-frequency vibrations will feel rumbly and deep. Because low-frequency vibrations penetrate more of the clitoral network, they're less likely to cause numbness and can feel more pleasurable. 
Now let's look at some of the most popular clitoral toys and what makes them unique so you can choose the right option for you. 
Bullet vibrators
Bullet vibrators are small and, as their name implies, bullet-shaped. These pocket-sized toys are designed for focused stimulation of the clitoris. Petite though they are, some bullet vibrators pack a powerful punch and can create surprisingly intense, rumbly vibrations (my personal favorite is the Femme Funn Booster Bullet!).

Another common feature of bullet vibrators is versatility. They can be used for both solo play and with a partner, and are small enough to maneuver in just about any position. In addition to the clitoris, bullet vibes can be used to stimulate different erogenous zones like the clitoris, nipples, scrotum, and perineum. 
Learn more: Best Cheap Vibrators
Rabbit vibrators
Rabbit vibrators are dual-action toys designed to deliver G-spot and clitoral stimulation at the same time. The distinctive design of these toys includes a shaft for internal stimulation and a smaller, flexible external stimulator.
Rabbit vibrators create what's called blended stimulation, a combination of clitoral and G-spot stimulation that can feel more intense and pleasurable than one type of stimulation alone.
The external stimulator of a rabbit toy may have a single flexible arm or two rabbit ear-shaped pieces that hug the clitoris. Sometimes the external stimulator delivers air pressure to the clitoris instead of vibration, and will have a small hole instead of ears or a solid piece. 
Learn more: Best Rabbit Vibrators 2023
Air pressure toys
Air pressure toys work by directing pulses of air at the clitoris and surrounding tissue. Also referred to as "clit suckers," air pressure toys don't actually suck, but the stimulation they create can feel like sucking, blowing, or even light nibbling. 

Air pressure toys are typically compact in size, making them easy to use and travel with. Another unique feature of these toys is that they don't require direct contact with the clitoris. This means they can be used even if the clitoris is too sensitive for direct stimulation. They're also great for other sensitive areas of the body, such as the nipples, perineum, and penis.
Learn more: Complete Guide To Air Pressure Toys
Tips For Using Clitoral Sex Toys 
Look for a body-safe silicone toy made by a well-known manufacturer
Avoid toys from Amazon, Ali Express, and eBay, all of which carry many poor quality toys made from potentially unsafe materials
Always use lube. Lube is essential for both solo and partnered play, whether you use toys or not
Start your toy on the lowest setting and increase the intensity as you become accustomed to the sensations
Experiment with different speeds and patterns 
If the feeling is too intense or you want to delay your orgasm, try moving the toy away from your clitoris. Indirect vibration can still be very stimulating, but is usually less powerful

For more: How To Choose A Vibrator
What Is The Clitoris FAQs
What causes clitoris pain?
Pain in the clitoris can be caused by tight clothing, long periods of sitting, sex, or masturbation. If you experience clitoral pain that doesn't go away after a few days, schedule a visit to your doctor. 
Why is my clitoris itchy?
Itching of the clitoris can happen because of sex, uncomfortable clothing, irritating soaps and detergents, or infections. If the itching persists, see your family doctor or gynecologist for an evaluation. 
Does the clitoris change over time?
It can, yes. Aging, childbirth, hormonal changes, and menopause can cause the clitoris to change in size and sensitivity. Clitoris atrophy can happen when estrogen drops during perimenopause and menopause, and can be treated with topical or systemic hormone replacement therapy. 
Is it normal to have a swollen clitoris? 
A swollen clitoris is common after sex with a partner or solo play. Increased blood flow causes the erectile tissue in the clitoris to engorge, making it look and feel swollen. Swelling can also happen if you wear tight or irritating clothing or have a yeast infection. Remember that most causes of clitoral pain, itching, and swelling are completely benign and not a cause for worry.