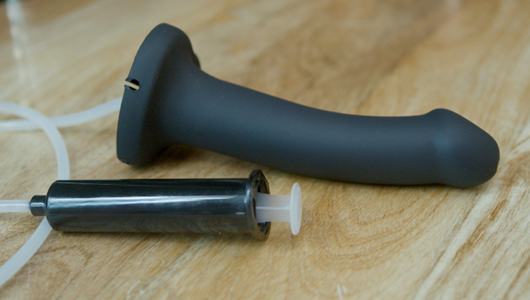 In this Strap-On-Me Silicone Cum Dildo review, I explore how it works, how to use it, how to clean up afterwards, and everything else you need to know about a cum-shooting dildo!
Cam performers, cum lovers, and strap-on players might want to pay special attention to this one. Let's get started!
Unboxing the Strap-On-Me Cum Dildo
The Strap-On-Me Cum Dildo comes in a simple cardboard box and includes a user manual and silky travel pouch. The box isn't sturdy enough to use as long-term
storage
, but
the travel pouch serves as a good way to protect your toy and keep it dust-free.
You'll notice that this toy does not include its most important selling point — synthetic cum. But don't worry! I'll point you toward some great options, including 3 quick and fun recipes for fake cum so authentic you'll swear it's real.  
Strap-On-Me Cum Dildo: Quick Stats
Too busy to read the full review? Take a minute to browse the essential info below, or scroll to the end of the review for a list of PROS and CONS. 
Made from body-safe silicone

Available in black and beige

Large size

7.7 inches total length, 7.2 insertable

Harness compatible for strap-on play

Slight curve for gentle G and P-spot stimulation

Fully waterproof 

Compatible with water-based and hybrid lubricants 

Ejaculates via plastic tubing and syringe
Buy the Strap-On-Me Cum Dildo now!
How Does the Strap-On-Me Cum Dildo Work? 
Now let's dive into the details of what the Cum Dildo is made, how it works, and step-by-step instructions for filling it up.
Design and Construction
The Strap-On-Me Cum Dildo is made from body-safe silicone, and has a medium-soft density. It's smooth to the touch, maintains its shape well, and feels like a good balance between soft and firm.  
As for size, the Cum Dildo offers just over 7 inches in insertable length, and a relatively slimmer girth of 1.4 inches (diameter). Folks who prefer a dildo that isn't too thick might be particularly compatible with this one!
The Cum Dildo looks and feels like a typical silicone dildo, except for its ejaculation feature. Clear plastic tubing leads from a black syringe through the base of the dildo into the shaft. The syringe can hold up to 30 milliliters — about one full ounce — of fake cum! 
The manufacturers at Strap-On-Me recommend using a cum-style lube called Creamy, but any cum-style lube that's body-safe is fine. Personally, I prefer to make my own fake cum so I can create the consistency and taste I like. 
Planning to make your own? Learn how to make my fake cum recipes here!

How to use the Strap-On-Me Cum Dildo
The toy may sound complex, but it's actually pretty easy and intuitive to use. Follow the steps below, and you'll be wielding your Cum Dildo like a pro in no time. 
Fill the syringe
Pull out the removable plunger and carefully fill the syringe with faux cum. I like to use a measuring cup with a spout for less mess, but you can also use a spoon. You don't have to fill the syringe completely, but feel free to load it to the brim if you feel called to!  
Commence play as usual
You can use the dildo as you normally would, but the attached tubing means you'll have a little less flexibility. If you're performing for a camera, you can tuck the tubing under fabric or keep the base out of sight.
Folks using this dildo in a harness can keep the syringe in hand during play, or tuck it into a harness pocket until they're ready for blast-off.  
Cum at will
When it's go time, just press the plunger and enjoy the show. You can push the plunger slowly for a little dribble at a time, or all at once for a big shoot. Every time I've used it, I've been surprised at the force and authentic look of the ejaculation!
Check out the full ejaculatory power of the cum dildo in our Instagram reel!
The Cum Dildo has a lot to recommend it, including a crowd-pleasing size and ease of use. But before you decide if it's right for you, let's take a deeper look at this toy's pros and cons. 
Strap-On-Me Cum Dildo Pros
When reviewing the Cum Dildo, a few things stood out in my mind.
It's a nice dildo by itself
Even without the ejaculation feature, this dildo has a lot to show for itself! It's super-smooth with a nice squeezable density, and offers plenty of length to enjoy. It also features a gentle curve that massages the P or G-spot.
It's waterproof 
The Cum Dildo is fully waterproof, which makes it a great toy to take in the shower or bath. Pro tip: playing in the shower makes clean-up nice and easy!
It's perfect for cum play
The best part about this toy, in my opinion, is its ability to ejaculate a substantial amount of real-looking cum. Overall, this dildo is ideal for those with cum fantasies, so if that sounds like you, give it a try! 
Strap-On-Me Cum Dildo Potential Cons
There are a few things to consider before you pull the trigger on this toy, so let's take a quick look at potential complaints.
Cleaning can take a bit longer
Cleaning the outside of the dildo is easy, but you must make sure to thoroughly clean the inside, too. Once you've wiped the dildo down with toy cleaning spray, pump a solution of soap and water or toy cleaner through the tubing and syringe. Repeat as many times as it takes for all fake cum, lube, and body fluids to wash away.
The tubing can get in the way
The tubing is a bit long and can potentially get in the way or feel unwieldy. To minimize this issue, make sure the tubing is tucked away or hanging completely free, and isn't wrapped around you or your partner. 
The Cum Dildo's tubing can be cut to customize its length, but I found that longer tubing gave me more leeway to switch positions. I suggest experimenting with it a few times to see what works best for you.  
Overall, this dildo does exactly what it's designed to do and is a perfect addition to role play scenarios or solo pleasure sessions!
Buy the Strap-On-Me Cum Dildo now!
Final Thoughts
Thanks for cumming along for my Strap-On-Me Cum Dildo review (and for letting me squeeze out one more pun). If you're still not sure which pleasure product is best for you, you can reach out by email or request a consultation. And don't forget to follow Delicto on Instagram or TikTok for more toy reviews and sex education!