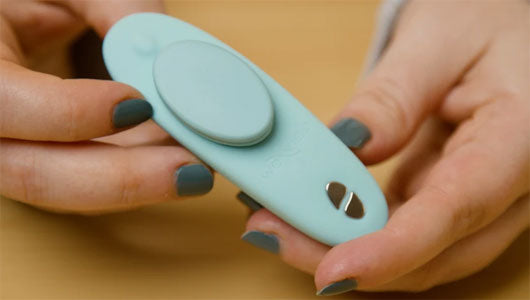 Calling all long-distance lovers and public players! Allow me to introduce the We-Vibe Moxie, a wearable vibrator for clitoral stimulation.
Designed to be slipped into your undies and controlled on the go, the Moxie is perfect for folks looking to experience pleasure anytime, anywhere. But how does this high-tech toy work, and is it the right fit for you?
Keep reading my full We-Vibe Moxie review to find out! 
Buy the We-Vibe Moxie now!
We-Vibe Moxie: Quick Stats
Short on time? Here's a rundown of the need-to-know info about the Moxie. Keep scrolling to check out my list of Moxie pros and cons. 
Wearable clitoral vibrator 

Rechargeable 

External use only 

Waterproof 

100% body-safe silicone 

Whisper-quiet 

Bluetooth-enabled 

We-Connect App compatible 

Remote-controlled 

Sleep mode 

10 vibration modes

Black and aqua colors available 
Unboxing the We-Vibe Moxie: What's Included?
Let's look at how the We-Vibe Moxie is packaged, and everything that's included with your purchase. 
The We-Vibe Moxie comes in a sturdy box that can be repurposed for toy storage. On the box, you'll find useful information about what it's made of and how it works.
Inside the box are two magnetic clips, a remote control, USB power cable, and a Quick Start user guide that provides all the details you need to get down to business. 
We-Vibe also includes a cute storage bag for your toy as well as a packet of lube, which is a nice perk. Then, there's the Moxie itself.
If you consider yourself less than tech savvy, you might feel a little intimidated by its high-tech design and Bluetooth capabilities. But don't worry — I'll show you exactly how it works right now!
How Does the We-Vibe Moxie Work?
The We-Vibe Moxie is a wearable, hands-free vibrator designed to slip into your underwear for clitoral pleasure no matter where you are. 
Construction and design
The Moxie is made from 100% body-safe silicone and contains no phthalates, BPAs, or latex. It's small and sleek, with a contoured shape crafted for discreet placement inside your panties.
To keep the Moxie secure, position it where you want it, then stick the magnet on the outside of your underwear to the one inside. It should look something like this:
I like to position the Moxie so that the small ridge at the top of it is facing my clitoris, but you can turn it upside down if you prefer. 
To turn it on, press and hold the (only) button on your Moxie. Once you've powered up, you can control the intensity and pattern of the vibration with the remote control or the We-Connect App, which is compatible with most iOS and Android devices. 
Features and settings
If you're using the remote, the left and right arrows cycle through Moxie's 10 vibration patterns, while the up and down arrows control the intensity. The patterns include pulsing waves, slow massages, quick vibes, and more. 
I'm surprised by how intense and rumbly the Moxie can get considering its tiny size. I did not expect such focused, precise clitoral stimulation. 
More: Can I Bring a Vibrator In A Carry-on Bag?
If you use the app to control your Moxie, you can navigate all settings right from your phone. You can customize vibration patterns, and even sync to other We-Vibe toys. The app is also a more discreet way to control the Moxie as compared to the hand-held remote.
Now let's look at the Moxie's biggest perks and potential pitfalls so you can decide if it's right for you.
Should I Buy the We-Vibe Moxie?
There's a lot to love about the Moxie, so let's start with the good stuff. 
We-Vibe Moxie Pros
It's made from high-quality materials
The We-Vibe Moxie is made from 100% waterproof, body-safe materials. Whether you're enjoying it in the bathtub or the bedroom, it feels smooth and gentle on bare skin.
It's perfect for partnered play
It's so easy for your partner or partners to control this toy while you're using it. The remote is small and simple to navigate, while the app really lets you explore Moxie's different features.
And don't forget: the app lets you create your own, unique vibration settings so you can give yourself a made-to-order orgasm. Get creative!
Long-distance lovers can control it from anywhere
The Moxie makes a fantastic toy for partners looking to keep the pleasure going even when they're apart. Your sweetheart could literally be a continent away but, as they have the app downloaded and paired to your toy, they can send some orgasms your way.
It's discreet
The best thing about Moxie, in my opinion, is how discreet it is. Its petite, contoured profile fits seamlessly between a vulva and underwear with no telltale bulge.
Whether you're on a date at the drive-in or waiting in line at the DMV, the Moxie's small size, sleek magnets, and ultra-quiet vibration were all created with discreet-yet-powerful stimulation in mind.
Buy the We-Vibe Moxie!
We-Vibe Moxie Potential Cons
So what's not to love about Moxie? Here are a few things to consider.
It's not for penis stimulation
Although you could technically use this toy to vibrate the penis or perineum, Moxie was mainly designed for vagina owners. If you're looking for something designed for penis stimulation, check out our Complete Guide To Strokers.
You can't use the app and remote simultaneously
You can't use the Moxie remote control and app at the same time — it has to be one or the other. I suggest settling on a method before you start to play to avoid switching between controls in the heat of the moment.
It's relatively gentle
While this tiny toy's vibrations can get surprisingly strong, it's not as powerful as a wand or rabbit-style vibrator. Not sure which kind of toy suits you best? Check out How To Choose A Vibrator.
Delicto Expert Tips
Rock the boat
If you're sitting down while using the Moxie, try shifting your pelvis back and forth in a rocking motion for extra clitoral stimulation. This can be especially pleasurable if you like grinding as a go-to masturbation method.
Bring your charger
If you've got a full day planned with Moxie, be sure to bring your charger! This toy can run continuously for 2 hours, but does tend to weaken as its battery loses power.
Don't over-lube
You should always lube up your toys before playtime, but don't go overboard with this one. Using too much lubricant can make it extra slippery and tough to keep the Moxie right where you want it. 
Shop all lubricants!
Buy the We-Vibe Moxie!
FAQs
How do you pair the Moxie to the We-Connect App?
When you download the We-Connect App, it will take you through step-by-step, on-screen instructions. Once you've completed the in-app steps, just press and hold the toy's power button for 5 seconds and it will automatically pair to your phone. 
How do you pair the remote control to the Moxie?
The We-Vibe remote comes pre-paired to your Moxie, which means it's ready to use as soon as you unbox it. 
How do you clean the Moxie?
The We-Vibe Moxie is fully waterproof, so just use a mild soap and warm water to clean it, or spray it down with toy cleaner and rinse.