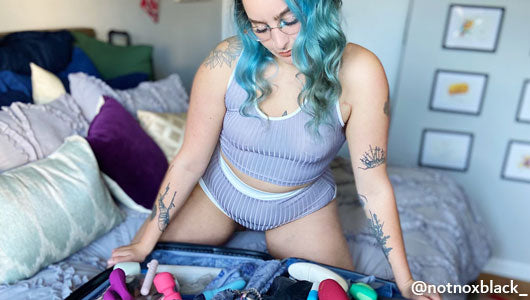 You're about to zip up your carry-on stuffed with vacay gear and your trusty vibrator when it occurs to you: are you allowed to bring a sex toy through security?
A vibrator is an electronic device, after all. Should it go in the plastic bin with your laptop? Does it belong in checked luggage instead? Horror of horrors, will you have to endure a weekend at your sister's without your silicone companion? 
Keep reading! We've got the answers to those questions and more in our guide to flying the rumbly skies.
Flying With Vibes
Anything you bring on an airplane is subject to a long list of rules, and vibrators are no exception. Every possible item you can pack, from hatchets (in your checked bag is okay!) to fireworks (nope across the board), is tightly controlled for safety reasons.
While there's no specific mention of sex toys in FAA regulations, devices with batteries are governed by strict requirements — meaning your vibe is, too.
Why? Because some batteries are safe in the air and some aren't. By batteries, we mean many types of rechargeable batteries and those you can replace.
Do Vibrators Have Lithium Batteries?
If you have a rechargeable vibrator, chances are good it contains a lithium ion battery. Lithium ion batteries can (and unfortunately sometimes do) explode if short-circuited or damaged. Picture what might happen to your toy as your suitcase is tossed around blithely by baggage handlers and you get the idea. 
To reduce the risk of fire, the FAA suggests bringing any devices installed with lithium ion batteries in your carry-on luggage, though you aren't expressly forbidden from checking them. That means they want you to bring your vibrator with you on the plane! Hooray for those of us who like carting our vibes anywhere and everywhere.
If you must check your vibrator, power it off, activate the travel lock if it has one, and pack it carefully so it won't switch on or get damaged during flight.  
Spare lithium ion batteries that aren't installed in a device like a vibrator or laptop pose the greatest risk of fire or explosion. Spare lithium ion batteries can't be checked and must always be transported in your carry-on. The same goes for any electronic device that's been damaged or recalled. Don't check it. The end. 
Can I Bring Regular Batteries On A Plane?
How about removable batteries like AAs and AAAs? These batteries are known as dry cell batteries and are subject to the same "better in a carry-on, but check if you have to" recommendation by the FAA.
Always make sure your dry cell batteries haven't corroded before you pack your vibe, and then switch on the travel lock. Even better, take the batteries out of the device and pack them separately. 
Expert Tip: Not sure if your vibrator has a travel lock, or how to activate it? Consult the instructions that came with your toy or check out your toy's info on the manufacturer's website. Still not sure? Give the manufacturer a call or chat with a company rep online.   
Non-Powered Toys
Now that you're up to date on the rules for flying with vibes, what about other kinds of toys? Do pleasure products without batteries get a pass?
In terms of strict rules, yes. Dildos, butt plugs, and other non-powered sex toys are technically okay to pack in either a carry-on or checked bag, with one caveat: anything that looks odd as it passes through the X-ray machine can result in a TSA agent pawing through your luggage. 
If you want to sail through security and you're checking a bag, let your non-powered toys make the trip in the cargo hold. If you must bring these types of toys in a carry-on, stash them in individual bags and pack them on top for easy access in case an agent pulls you aside. Do the same with any vibes in your hand luggage.
And remember — you aren't the only one who totes toys when they travel! If asked what that 7-inch purple thing is exactly, a simple response like "a muscle massager" is usually sufficient. Rest assured, TSA agents have seen it all. 
Keep It Protected
Protecting your vibrator is just as important as how you transport it. Most toys come with a storage pouch, which is a perfect way to keep your toy safe while you travel.
Many people store toys in their original boxes, but these are usually too stiff and bulky to pack. Ditto for hard storage cases, which can be heavy and take up valuable space in your luggage.
If you don't have a storage pouch, a clean shoe bag or reclosable plastic bag can keep your toy from picking up lint, hair, and dust while you travel. 
Flexible silicone toy cases are great because they're designed to slide into small spaces or between layers in your luggage. They're also reusable, wipe clean, and typically come with a zippered top to keep everything in place. And when you're not using them for toys, they double as bags for makeup, craft supplies, condoms, you name it. 
Don't have a bag or storage case? The old slip-it-in-a-sock method works well in a pinch, especially if you're short on luggage space!
Keep It Clean
Toy cleaner is another must-have for travel, and is perfect if you're camping or going to a place with iffy water safety. Keep a little spray bottle of cleaner (store it in a watertight bag in case of leaks) or wipes handy for easy clean-up on the go.
If you're going on a longer trip or have a bit more space in your luggage, a UV sterilizer can double as toy cleaner and storage, and is perfect for sterilizing anything you can fit inside, from keys to wallets to glasses.  
Planning a quick staycation instead of a flight? Toy cleaner plus a vibe in a storage bag is also the perfect set-up for overnights with a partner or just a relaxing afternoon away. 
Best Travel-Sized Vibrators
Looking for the perfect compact companion to take on your next adventure? Here are some of our favorite travel-ready vibes for pleasure in the air, on land, and at sea.
Wands
Magic Wand Mini Think the legendary Magic Wand is too hefty to cart around the world? Think again. The Magic Wand Mini is a scaled-down version of the epic original and is intensely rumbly in its own right. Wheels up! 
Femme Funn Ultra Wand Mini What's packable, waterproof, and has a flexible neck for fun in any position? The Femme Funn Ultra Wand, of course. This durable, silky-smooth vibe packs a punch and fits seamlessly into luggage. 
Luv Inc Mini Wand The petite and pretty Luv Inc Mini Wand practically comes with its own passport. This budget-friendly toy is just 4 inches long and features 10 different vibration modes to keep things interesting.    
Clitoral Stimulators
VeDO Kitti Dual Vibrator  If you're on the hunt for a whisper-quiet toy that won't take up much room, check out the VeDO Kitti. This pocket-size toy hugs the clitoris with two powerful ears, and is fully waterproof for fun at the beach and pool. 
Womanizer Starlet 3 Air Pressure Toy If you haven't tried an air pressure toy yet, put it on your pre-flight checklist! This toy uses air pressure to suck, massage, and otherwise pamper your clitoris, and it's travel-sized, to boot. 
Dame Zee Bullet Vibrator Vibes don't come much smaller than the Dame Zee Bullet. In fact, it's so cute, why wait for a trip to use it? This bright blue, 4-inch toyfriend is perfect for slipping in a handbag and taking along every day of the week. 
Panty Vibes 
VeDO Niki Panty Vibe Make the flight/train ride/bus trip go faster with the VeDO Niki Panty Vibe. While some smaller vibes can feel buzzy, the Niki brings the rumbles for discreet stimulation of your entire clitoral network. Next stop, orgasm city. 
Luv Inc Panty Vibe A cute, body-safe panty vibrator that won't break the bank? You've got your wish with the Luv Inc Panty Vibe. It'll even last for an entire hour-long flight on a single charge. 
We-Vibe Moxie We like the Moxie so much we reviewed it! Use the We-Vibe Connect app or the remote control to operate this rumbly little vibrator, which is perfect for everything from a long weekend to a trip around the world. 
Final Thoughts
Vibrators have become an important self-care item, and some of us won't leave home without them! To travel safely and avoid delays at the airport, know how your vibe is powered and the FAA rules for transporting it.
Need more tips for traveling with toys? Don't hesitate to reach out! Just email info@delicto.com or send a DM on TikTok or Instagram.