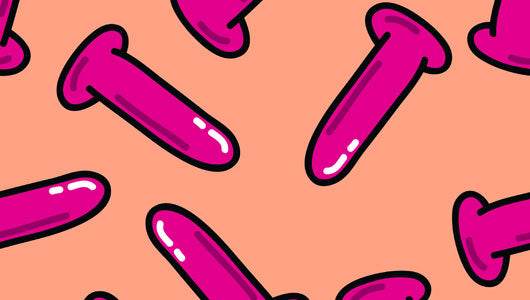 Want to explore pegging but don't know where to start? You've come to the right place! In this guide, I offer my top 3 tips for beginners to pegging, as well as specific product recommendations to get you started.
What Is Pegging?
Pegging is like traditional anal sex, but in this case, a woman wears a strap-on dildo and penetrates a man. Pegging has recently become less taboo, and many couples now include pegging as a form of sexual exploration in their relationship.
Why Is Pegging Becoming Popular?
Pegging allows couples to switch roles, experiment, and try out different kinds of pleasure. As more men and penis owners discover the joys of prostate massage, the interest in anal stimulation through pegging has increased, as well. 
3 Tips for Beginners to Pegging
If you're curious about pegging but a bit intimidated by the idea, worry not! Here are some tricks for pegging newbies to make the process easier and more enjoyable. 
Leave the stigma at the door
If you're reluctant to try pegging with your partner because you think an interest in anal sex makes you gay, it's time to unlearn that idea. The stigma around pegging is a result of homophobic propaganda that only hinders your pleasure.
This might sound obvious, but all sex between cis men and women is heterosexual, not gay. Pegging is a fabulous way to explore prostate stimulation and even achieve anal orgasm. There's nothing inherently gay about anal pleasure, no matter how (or with whom!) you choose to explore it.
Learn more: Check out the Beginner's Guide to Butt Plugs to learn more about anal play
Choose your gear together
If you're new to pegging, chances are you need new toys. 
Try shopping side by side with your partner for the pleasure products you plan to use. Browsing dildos and harnesses together can be a great way to get excited, ease your minds, and talk over any questions or concerns. It's also important that you both sign off on your purchases before you make them.
As you scroll, take time to discuss must-have toy features and any other ideas that come up. You might feel a little overwhelmed by all the dildos and harnesses out there, which is why I highly recommend a pegging strap-on kit. 
Strap-on kits include O-rings, a dildo, and a harness — everything you need to get started. Some even include lube samples, a carrying case and a remote to control the dildo's vibration settings. 
Keep reading to see the best toys for pegging, including my personal favorite strap-on kits!
Experiment with fingers and plugs first
If you're new to anal play of any kind, I recommend exploring butt plugs and your own fingers first. This way, you can familiarize yourself with anal stimulation before you dive into penetrative thrusting. Experimenting with different anal toys can also help you decide which kind of dildo you want when the time comes.
Speaking of which, let's get down to business! Here are the best sex toys for pegging, including lubricants, starter plugs, dildos, harnesses and kits for all experience levels. 
More: How to Prepare for Anal Sex
Best Sex Toys for Pegging
Best dildos
Strap-On-Me P&G Spot Dildo Slim, sleek, and precisely curved, this dildo is perfect for beginners in search of seamless prostate stimulation. It's made from texture-free silicone, has absolutely no drag, and has a firm-but-flexible feel.
Tantus Acute Dildo This shiny dil is made from the brand's proprietary silicone, which is known for being extra smooth and durable. It's modestly sized, with 5 inches of insertable length and a diameter just over an inch wide. 
Fun Factory Flex Dildo If you want to be able to adjust the curve of your strap-on, this posable dildo might be perfect for you. Aptly named, the Flex can bend and tilt into the shape that feels best for your body.
Tantus Silk Dildo Its seamlessly silky texture and medium-firm feel make this petite dildo perfect for pegging novices. It's also super easy to clean, and can be boiled for more thorough sanitization.
Best harnesses 
SpareParts Joque Handcrafted from quality materials, the Joque is widely regarded as the go-to for all strap-on play. It's adjustable, lightweight, breathable, and easy to wash! 
SpareParts Sasha If you like the look of the Joque but want something with a more feminine style, here it is. It's made from the same sturdy and breathable material as the Joque, but includes garters, bows, and a booty-short design.
Divine Diva Plus Size Harness This harness has a sturdy, 4-way adjustable design, supportive padding, and straps that can accommodate waistlines up to 82 inches. It also includes 3 O-rings of different sizes! 
Best strap-on kits 
Pegasus G- and P-Spot Harness Kit Talk about bang for your buck! This kit includes an adjustable harness, smooth silicone dildo, 3 O-rings, and a remote that controls the dildo's vibration settings. The dildo also has a curved, bulbous tip for prostate stimulation, and a suction cup for solo riding. 
Pegasus Curved Ripple Harness Kit This kit is similar to the one above, but with a textured, more naturally curved dildo. If you prefer a dildo that's a bit more flexible and realistically shaped (but still want the 3 O-rings, harness and remote!), this is the one I'd pick.
Best beginner plugs
b-Vibe Snug Plug 1 This tiny, tapered plug has a silky-smooth feel and torpedo shape, making insertion nice and easy. And though it's very small, its weighted construction adds some pressure and stimulation. This is always my top rec for beginners. 
Strap-On-Me Balls Plug Looking for more than a plug, but not quite ready for pegging? This butt plug/dildo hybrid can serve as a great way to get yourself used to the length of a dildo as you work toward thrusting penetration.
Fun Factory Bootie Fem Plug This clever toy has a tulip-shaped tip that both stimulates the P-spot and holds onto extra lubricant as well. And if your female partner wants to wear it, this plug features an asymmetrical T-bar base that won't block her vaginal opening during intercourse.
Best anal lubricants 
Sliquid Sassy When you first feel the slickness and gel-like consistency of this lube, it's hard to believe that it's water-based. But it is! That means it's perfectly safe to use with silicone dildos. 
Wicked Aqua Jelle Anal Lube This water-based lube is formulated specifically for anal sex. It's extra long-lasting, slippery, and safe on both silicone and latex. 
Pjur Backdoor Water-Based Anal Lube The name says it all! This anal lubricant is water-based and designed specifically for the backdoor. Its formula includes hyaluron, an ingredient that makes this lube ultra long-lasting.