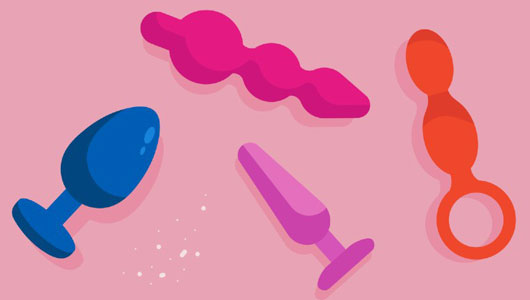 Maybe you're dying to try them, or you've heard about them and don't understand the hype. Or a pretty one caught your eye and it's too enticing to pass up. What are we talking about? If you guessed butt plugs, you're right on the money.
New to butt stuff? Read on. In this handy guide, we answer all your questions about the basics of butt plugs. You'll learn everything you need to know about the pleasures of plugs, including how to use them, which one to choose, and why they can give you the orgasm of your life.
What Is A Butt Plug?
Let's take it from the top: what is a butt plug, exactly?
A butt plug is a sex toy that's inserted anally. Butt plugs can be used to enhance partnered play or they can be enjoyed solo. They come in all shapes, sizes, and materials, and serve a variety of functions. Some vibrate, some are bejeweled with crystals, some can be controlled through an app on your phone
If you have a hard time picturing what an anal plug looks like, take a look at our collection of butt plugs to see the many different styles. But before we examine the various types of plugs, let's discuss why anyone would put a plug up their butt in the first place.
What Do Butt Plugs Feel Like? 
Three words: stretch, pressure, and fullness.
Butt plugs will feel a little different to everyone, but most of us will experience the sensation of the anal nerves being stretched and pressed on, and the rectum feeling full to some degree. How full, exactly? That depends on your sensitivity and the size of the plug you choose. You might prefer more stretch for greater stimulation, or just a hint for a little extra thrill. 
Wearing a butt plug can feel anywhere from interesting to extremely pleasurable. The right plug, inserted properly with enough lube, shouldn't hurt. 
Butt plugs also increase pressure against the vaginal canal, which can stimulate the nerves of the clitoral network, particularly if you choose a plug that vibrates. This type of blended stimulation is why many people wear butt plugs: to access more nerves and amp up the sensation.  
Why Do Butt Plugs Feel Good?
The anus is an erogenous zone full of nerve endings that, when stimulated, can send a wave of pleasure signals to the brain and throughout the body. Certain anal nerve endings are connected to the genitals, which can make anal stimulation a fantastic way to enhance arousal and even bring a person to orgasm.
Yes, anal orgasms are very much a thing.
The muscles of the anus also contract during orgasm. When these muscles contract around a toy, the result can be more intense pleasure and a longer, stronger climax. 
What is an Anal Orgasm?
An anal orgasm is exactly what it sounds like — an orgasm that occurs as a result of anal stimulation. However, anal orgasms don't necessarily feel like clitoral, vaginal, or penile orgasms. When it comes to sensation, anal orgasms are in a league of their own.
Every body can experience anal orgasm, typically through stimulation of the P-spot, G-spot or A-spot. Depending on which of these spots you target, the resulting orgasm is likely to feel unique and unlike the others. For example, the anal orgasm you get from G-spot stimulation feels different from the one you get from P-spot pleasure. Let's focus on the prostate first. 
What is the P-Spot?
The prostate, also known as the P-spot, is a supercharged pleasure center located in front of the rectum, between the penis and bladder. Massaging the P-spot with prostate toys can easily cause the penis to become erect without ever even touching it (now that's a magic trick!). For many, consistent P-spot stimulation can result in an anal orgasm known as a prostate orgasm. 
A prostate orgasm can feel like a powerful, full-body experience, and is often compared to the intensity of a clitoral orgasm. It's possible to ejaculate during a prostate orgasm, though this doesn't always happen. When it does, the semen may dribble rather than shoot out, but don't let the lack of force fool you. Many folks who've enjoyed both penile and prostate orgasms say the latter is more intense!
Learn more: What Is The P-Spot?
What is the G-Spot?
Women and people with vaginas can also experience an anal orgasm, even though they don't have a prostate. How? Well, many of us are familiar with the G-spot, a pleasure-packed part of the internal clitoral network found about 2 inches inside the vagina. What you may not know is that the G-spot can be indirectly stimulated through the rectum.
If stroked just the right way, this secondary stimulation of the G-spot can result in a blissful — and often surprising — anal orgasm.

Learn more: What Is The G-Spot? 

What is the A-Spot?
Above the G-spot is the A-spot, sometimes referred to as the

 
deep spot
 

because of its high-up position inside the vagina. To be precise,

 
its technical name is anterior fornix, which is an erogenous zone located between the bladder and cervix
. Like with the G-spot, this pleasure center can be indirectly stimulated through the rectum and spark the anal orgasm of a lifetime. 
There are all kinds of good reasons to try anal toys, but remember: anal play isn't just about climaxing. When it comes to anal play (or any play, for that matter), it's best to prioritize pleasure over orgasm. When you you're focused solely on the grand finale, it's easy to lose sight of the joy and intimacy you can experience along the way.  
Learn more: How Do I Know If I Had An Orgasm?
How To Choose a Butt Plug
Anal plugs come in many styles and materials, and have a variety of unique features. When browsing for butt plugs, keep in mind how you want to use it. For solo play? While out and about? With a partner, or as a tool to prepare for anal sex?
How you plan to use your plug will determine which toy you choose. Your choice of toy will also be determined by the types of sensations you want to explore. These sensations might include: 
Vibration

A feeling of fullness or weight

Different materials, such as stainless steel 
Prostate pleasure
Using a plug during PIV (penis in vagina) sex

 

Simultaneous genital and anal climaxes, also known as blended orgasms
Once you have a better sense of how to use your plug and the sensations you'd like to experience, you can narrow your options and focus on the toys that are right for you. Let's take a look at butt plugs materials and types, and the stimulating perks of each one. 
Butt Plug Materials 
Every toy material has its own feel, texture, and weight, all of which affect anal sensation. Hard materials will offer an entirely different experience from softer ones, and materials can vary by manufacturer, as well. 
Here are some of the most popular types of body-safe butt plug materials:
Glass. Anal toys made of glass are uniquely pleasurable thanks to their rigidity and smooth texture. Glass butt plugs are also perfect for temperature play. Pro tip: run your glass toy under warm or cold water, or pop it in the refrigerator to stimulate the nerve endings at the opening of the anus.  
Learn more: Why Your Next Toy Should Be Glass
Stainless steel. Stainless steel butt plugs are similar to glass in that they're hard, seamlessly smooth in texture, and excellent for temperature play. Stainless steel is considerably heavier, making these plugs ideal if you like firm pressure on the P-, G-, or A-spot.
Learn more: How To Use A Stainless Steel Sex Toy
Silicone. Silicone butt plugs are beloved for being flexible, waterproof, and silky-smooth on bare skin. Silicone is body-safe, meaning it's non-porous and won't absorb bacteria from the body. Because silicone butt plugs are generally lighter in weight and easy to wield, they're a great starting point for butt-stuff beginners. 
Learn more: What Is Body-Safe Silicone? 
Types of Butt Plugs
Some butt plugs vibrate, some are weighted, some are remote or app-controlled. Here are some of the most popular plug styles and features: 
Vibrating. Vibrating butt plugs increase pleasure by delivering rumbly or buzzy pulses to erogenous zones in and around the anus/rectum. Vibration introduces your body to new sensations, and can stimulate deeper nerve networks for more intense stimulation and longer, stronger orgasms.  
Shop vibrating anal toys!
Prostate stimulating. Some anal toys are designed specifically for prostate stimulation. If you're chasing a P-spot orgasm, this category of butt plugs is your best bet.  Prostate-stimulating plugs are typically curved in a way that targets the prostate, and can incorporate vibration or pulsing for extra stimulation. 
Shop all prostate toys!
Anal beads. Anal beads are a unique kind of plug with a long, slender shape and bulbous, circular bumps along the shaft. And by long, I mean significantly longer than most butt plugs.
Anal beads are typically smaller at the insertion end, and get larger toward the base. These toys come in vibrating and non-vibrating options, and a wide variety of sizes. For most folks, the magic happens when you pull the beads out, as it creates a ultra-stimulating sensation throughout the rectum and anal opening. 
If you're interested in exploring depth rather than width or a feeling of fullness, anal beads could be a great choice.  
Shop all anal beads! 
Remote and app-controlled. Anal plugs that vibrate or pulse can often be controlled using a remote. Not only does this make it easier to enjoy hands-free pleasure, but it can also be a fun way to explore discreet public play with a partner.
Some remote controlled butt plugs take it a step further with app-enabled technology that lets you use your smartphone to control it from anywhere in the world. That means if you live in Madrid, you can give your girlfriend anal orgasms in Oregon. Awesome, right?
Browse all app and remote controlled sex toys!
Kink and fetish. Some butt plugs are designed to appeal to certain kinks or fetishes, such as pet play, which involves role-playing as a pet animal. Kink and fetish plugs might be extra large, or shaped like a tentacle, or created to look like a rabbit or unicorn tail. If you have a particular anal fantasy you want to explore, chances are you can find the appropriate butt plug to go with it. 
Cute and pretty. If aesthetically pleasing tush toys appeal to you, you're in luck. These days, you can find everything from plugs with a base that looks like a blooming rose to a sparkly toy that brings some serious bling to butt play. 
Luxury. As anal plugs become increasingly popular, more luxury models are hitting the sex toy market. Some are bejeweled with Swarovski crystals and others are plated in gold. If you're looking to give your lover the gift of pleasure, a luxury butt toy could be just the thing. 
Butt Plug Size
Anal plugs come in a variety of sizes and shapes, so it can take a bit of trial and error to find the perfect fit. Typically, beginners are more compatible with smaller plugs while more experienced players can be better suited to bigger designs. But there's more to choosing the right size than just length and width! 
Every part of a butt plug's construction — from the tip to the base — can affect how comfortable and pleasurable it feels. Some plugs have finely pointed tips, others are rounded. Some are long and slender, others are short and thick.
Not sure which size plug to choose? Check out Which Size Butt Plug Should I Buy?  
Benefits of Butt Plugs 
There's more to butt plugs than anal stimulation! Aside from pleasure (which is reason enough!), anal toys can enhance your sex life in other ways. How? Using butt plugs can:   
Enhance arousal. Arousal is an essential part of pleasure. In general, the more aroused you are, the better sex feels. Using a butt plug is a great way to increase circulation in your erogenous zones, access overlooked sensitive spots, and get your juices flowing. 
Help you ease into anal sex. Arousal is particularly important when it comes to anal sex. A butt plug can help you prepare for penetration by relaxing the anal muscles, stimulating the nerves, and helping you feel aroused and ready.
For more tips on making anal sex enjoyable, read How To Prepare For Anal Sex
Boost intimacy. For many couples, anal sex is uncharted territory. When you trust each other enough to explore butt stuff together, you can boost intimacy, improve communication skills, and deepen your romantic and emotional connection.
Learn more: The Importance Of Trust For Intimacy 
Increase orgasms. Between P-, G-, and A-spot stimulation, anal play can significantly boost your chance of having a climax. In fact, one study found that women who enjoyed anal sex experienced more orgasms than those who didn't. (1)
Butt plugs can also increase the intensity of orgasms and help them last longer. 
Explore sex toys. Using butt plugs, anal beads, and any type of sex toy can be a fantastic way to broaden your bedroom horizons. Anal plugs can be the perfect place for beginners to start, and can help you and your partner feel more comfortable with enjoying sex toys in general. 
Anal Toy Safety
The most important part of anal play of any kind is safety.  talk butt plug safety. There are a few key things that must be present during anal play to ensure safety and enjoyment! 
A flared base
Every butt plug is made up three parts -- the base, neck, and bulb. Any anal toy absolutely must have a flared base, which makes the end of the toy significantly larger than the rest of it. This prevents the toy from getting pulled inside your body and potentially lost, which could result in an unwanted visit to the doctor. 
A flared base also gives you something to hold onto as you insert the plug, and allows you to position the toy and pull it out when you're ready. 
Start small
If you're new to butt plugs, start small. You can always go up in size if you want to explore deeper, fuller sensations in the future, but rushing that process can be risky. So, protect your body by starting with smaller, beginner butt plugs, and go from there. 
Don't forget lube 
Using lubricant during anal play of any kind is non-negotiable. Lube makes penetration feel much more comfortable and pleasurable by reducing friction, and allowing a toy, finger, penis, or anything else to glide in with greater ease. 
Anal lubes are formulated specifically for anal sex, and may include ingredients like jojoba oil, which can help relax and soothe muscles (Pjur Analyse Me is a great example of this!). If you're not sure where to start looking for lube, check out our curated collection of anal lubricants.  
Learn more: Is My Butt Plug Safe? 
How Do I Clean A Butt Plug?
Waterproof, motorless plugs made from silicone, stainless steel, or glass can be washed with mild soap and water, cleaned with toy cleaner, or sterilized with a UV light cleaner. Stainless steel and motorless silicone plugs can also be boiled for 3-5 minutes and washed in the top rack of the dishwasher. 
Learn more: Can I Boil My Sex Toys?
Plug with motors should be cleaned according to the manufacturer's instructions. Waterproof vibrating plugs can be washed with soap and water, cleaned with toy cleaner, or sterilized with a UV light cleaner. Toys that aren't waterproof should never be submerged in water, but can be washed carefully with a damp towel and toy cleaner or UV light cleaner.
For detailed instructions about how to clean butt plugs and toys of all kinds, check out our complete guide: How To Clean Sex Toys

Which Butt Plug Should I Buy?

You didn't think I'd send you away without some good butt plug recommendations, did you? Take a look at my list of the best plugs in the most popular categories. 
Best butt plugs for beginners
b-Vibe Snug Plug 1 This petite, tapered plug is made from body-safe silicone and is weighted for extra stimulation. If ever there were a perfect plug for novices, this is it. 
Crystal Delights Sparkle Plug The Sparkle Plug comes is as close to body jewelry as a plug can get! This eye-catching glass toy comes in five gleaming colors and features a matching Swarovski crystal in the base. 
b-Vibe Anal Training Set This 7-piece set includes everything a newbie needs: 3 smooth silicone plugs of different sizes, a lube applicator, cleansing bulb, zippered storage bag, and b-Vibe's Complete Guide to Anal Play.
Best hard material butt plugs
njoy Pure Plug This polished stainless steel plug has a rounded, anal-safe base and an ultra-smooth bulb with some pleasurable heft. The Pure Plug is a coveted classic that comes in 3 sizes and can be used with any kind of lube. 
Chrystalino Pleaser Glass Butt Plug The Chrystalino Pleaser Plug epitomizes everything I love about glass anal toys. This plug delivers a smooth glide, feels solid but light, and clean up in a flash. 
Doxy Smooth Aluminum Butt Plug If you're on the hunt for a great plug for anal temperature play, look no further. Crafted by the makers of the legendary Doxy Wand, this plug heats up with a quick run under warm water and cools down fast in the fridge. 
Best app and remote controlled butt plugs
We-Vibe Ditto This silicone plug has a slim neck and is sized to be comfortable for novices as well as anal experts. Operate the Ditto's 10 vibration modes from anywhere in the world with the free We-Connect app.
VeDO Bump Plus The Bump Plus from VeDO is that rare breed of plug: both remote-controlled and budget friendly. This smooth silicone plug has a T-bar base, delivers some very nice power, and is easy on the wallet. 
We-Vibe Vector The We-Vibe Vector features two powerful motors designed for deep prostate stimulation. Use the free We-Connect app to operate each motor separately, share control with a partner, or create your own custom vibes.  
Best budget-friendly butt plugs
OhMiBod Lovelife Explore Plug Cute meets great value with this purple silicone plug from OhMiBod. Smooth and tapered with a heart-shaped handle base, this plug is perfect for novices who like a side of adorable with their anal pleasure. 
ROMP Bass Vibrating Anal Plug This tapered plug delivers 6 vibration levels and 4 patterns for a price that won't break the bank. It's also body-safe, pretty to look at, and has a T-bar base for safety. 
Strap-On-Me Balls Plug Dildo If you're on the fence between a butt plug and a dildo, the Ball Plug Dildo from Strap-On-Me should be at the top of your wishlist. This deliciously textured toy offers the stimulation and wearability of a butt plug with the length of a dildo. The Balls Plug Dildo comes in 3 sizes and is easy on the wallet, too.
Best vibrating butt plugs
Femme Funn Plua Control the Plua's 10 stimulating vibe modes manually or with the easy-to-operate remote. This smooth, whisper-quiet plug is perfect for discreet play at home or away, and it's waterproof, to boot. 
b-Vibe Novice Vibrating Butt Plug A powerful motor in this plug's tip delivers some seriously pleasurable vibration. Use the remote to experiment with 15 different vibe patterns and 6 levels of intensity. 
Je Joue Nuo 2 The Joue stimulates the perineum as well as the prostate or A-spot, making this a great toy for stimulating the entire anal area. The Nuo 2 can be controlled from anywhere with the free Je Joue app, and is great for discreet public play.
FAQs
What is temperature play?
Temperature play uses heat and cold to explore new sensations and heighten the sensations. Stainless steel and glass butt plugs are the perfect plugs to use for temperature play because they're waterproof, don't contain a motor that could be damaged by temperature changes, and heat up or cool down easily.
Just run your plug under warm or cold water or pop it in the refrigerator for an instant blast of sensation. 
Learn more: What Is Temperature Play?
How much lube do I need for a butt plug?
In a word, lots. Slather your plug with plenty of lube to help it glide into place, stay comfortable, and work the way it should. It should feel very slippery before you insert it. If your plug feels dry or uncomfortable at any point while you use it, take it out, add more lube, and try putting it back in. 
What should I do if my butt plug hurts? 
Lube, lube, and more lube (see above). If your plug hurts, make sure you feel relaxed and ready for anal play. Take a warm bath, do some deep breathing, and use a lubed finger or two (your own or a partner's) to help your anal muscles feel warmed up and ready for a toy.
If it still hurts, consider starting with a smaller toy and taking plenty of time to adjust to the feeling of pressure and fullness. For more tips and tricks, check out How To Prepare For Anal Sex.  
Am I normal if I don't like butt plugs, or like them a lot? 
Absolutely normal, yes. It's okay to like butt plugs, dislike them, only like them sometimes, or not know if you like them because you have no interest in trying them. Whatever your preferences when it comes to anal play, they are 100% normal and should always be respected, by both yourself and your partners.
Final Thoughts
You're officially ready to embark on your journey into the world of anal plugs, and I couldn't be more excited for you. If any questions or concerns arise along the way, don't hesitate to email me at sarah@delicto.com, or send me a DM on Instagram. Oh, and don't forget to follow me on TikTok for more sex education info and videos!