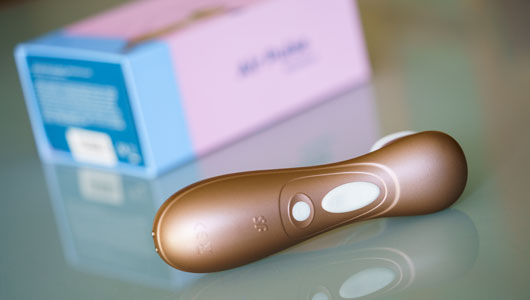 When you think of a plastic sex toy, you probably picture a cheap bullet vibrator that looks like a 70s relic. But you might be surprised to learn that ABS plastic is a component of some of the most popular and well made sex toys on the market. 
It may be a common material, but what is ABS plastic made from? And is it safe to use on — and inside — your body?
Come along as I talk about ABS plastic sex toys! I'll discuss what ABS is made from and why it's so popular with toy manufacturers. I'll also tell you why it's superior to materials like PVC, and how to care for an ABS toy so it has a long, happy life in your nightstand drawer.  
What Is ABS Plastic?
ABS plastic is a thermoplastic polymer, a type of plastic used in such ubiquitous products as Legos, hardhats, computer printers, and of course, sex toys. ABS stands for the material's three components: acrylonitrile, butadiene, and styrene.
ABS plastic is soft and moldable at higher temperatures and solid at cooler temperatures, making it versatile and easy to work with. It's also naturally white and can easily be glued or painted. 
The primary features of ABS plastic include:
Strength 
Durability
Resistance to impact
Stiffness when cooled
Resistance to chemicals
Ability to withstand different temperatures
Naturally insulating
In addition to its other benefits, ABS plastic is inexpensive to make, doesn't burn (it melts instead!), and can be tinted any color during the manufacturing process. ABS plastic typically feels smooth and rigid to the touch and has a glossy look. 
Though there are a lot of pros to ABS plastic, it does have a few cons. The material can fade in direct sunlight and should be kept in a dark place to avoid color changes. ABS plastic should also be protected from very high temperatures. Do not boil a toy made from ABS plastic or wash it in the dishwasher. 
Learn more: Can I Boil Sex Toys? 
Why Is ABS Plastic Used In Sex Toys? 
Because ABS plastic can be molded, cut, and glued easily, it's an ideal material to use for sex toys components. ABS in sex toys is typically used for:
Casing
ABS plastic is a common material used for the shell, or casing, of sex toys with hard exteriors. Many toys with ABS plastic casing are vibrators or penis toys like strokers and masturbators.
Learn more: Complete Guide To Strokers
Operating buttons 
Operating buttons on sex toys are frequently made from ABS plastic. Though the rest of the toy may be constructed from silicone or other material, an ABS plastic control panel is common on many pleasure products. 
Learn more: What Is Body-Safe Silicone? 
Trim
The decorative flourishes you see on many sex toys are often made from ABS plastic. They may be any color, and will often have a shiny appearance that resembles metal but is, in fact, plastic. 
Charging ports 
Sex toy charging ports are often made of ABS plastic, which is sturdy, durable, and can stand up to repeated plugging and plugging.  
Is ABS Plastic Body-Safe? 
ABS plastic is considered non-toxic and body-safe. The most important feature of ABS plastic — at least as far as sex toys are concerned — is that it's non-porous. This means that it doesn't absorb bacteria or particles of body fluids into the material the way porous materials like PVC do.
Unlike porous materials like PVC, ABS plastic:
Can be thoroughly cleaned
Won't harbor mold or mildew
Won't absorb odors 
Can be safely stored with other body-safe sex toys without causing a reaction 
PVC can also contain toxic plasticizers that make it softer and more malleable, such as phthalates. ABS is free of toxic plasticizers, BPA, and other potential irritants like latex. 
Learn more: Are PVC Sex Toys Safe?
How to Clean an ABS Plastic Sex Toy
ABS plastic toys are safe for use with mild soap and water and all sex toy cleaners. Rinse until all soap residue is gone, then dry with a clean towel before storing away in a cool, dry place.
To maintain the surface integrity and longevity of an ABS plastic sex toy, avoid abrasive cleaners that could scratch or damage its surface. Choose gentle cleansers designed specifically for intimate products. 
Always read the manufacturer's instructions before using or cleaning any sex toy. Never submerge a toy that isn't fully waterproof, including ones described as "splashproof." Instead, spray these toys with toy cleaners and wipe them down with a damp cloth. Then dry them with a clean towel or leave them to air dry.
For more about how to clean ABS plastic and sex toys of all different materials: How To Clean Sex Toys
What Lube Should I Use With ABS Plastic? 
Another perk of ABS plastic sex toys is that they can be used with all lubricants, including silicone and oil-based lubes. Toys that are made from a combination of silicone and ABS plastic should not be used with silicone lubes, as these can damage silicone toys and make them porous, allowing bacteria to get into the material.
Before using oil-based lubes on a plastic sex toy, make sure the plastic is ABS and not another material that may be porous. Oil-based lubes can damage porous plastic, but are safe to use on non-porous ABS.
For more about selecting the right lube, check out How To Choose A Lube