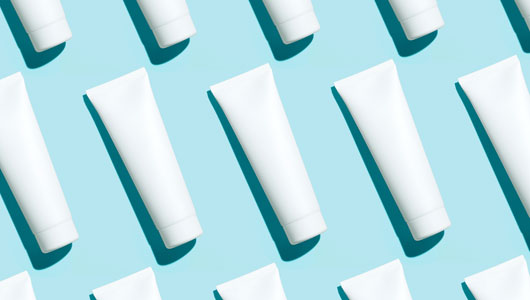 Lube is the special sauce that makes sex better. No matter what kind of sex you're having or which type of toys you enjoy, lube deserves a starring role.
Lube uses a variety of slick ingredients to reduce friction and ease the way for, well, whatever you have in mind. Particularly when it comes to anal play, hard material toys, and epic play sessions that last for hours, the right lube can create a smooth glide that banishes irritation and amps up pleasure.
Lube is great for quickies, during pregnancy, after menopause, and, for some of us, every time in between. Lube can also create a feeling all its own, different from natural lubrication and an interesting way to explore texture, sensation, and even taste. That's right. These aren't your mother's flavored lubes! 
The world of lubes is vast, so which one should you choose? What's best for anal play, sex with a condom, or sensitive skin? Here's your essential, quick-read guide to all things smooth and slippery. 
Water-Based Lube
Water-based lubes are, yes, created with a base primarily made of water. These types of lubes are generally light and easy to clean up.
Many water-based lubricants include other slick ingredients like aloe, seaweed extract, and glycerin. They can slow down sperm, however, so if you're trying to get pregnant, go for another kind of lube (we like all-natural, oil-based options for conceiving!) to be on the safe side.  
Water-based lube pros
Safety. Water-based lube can be used with any kind of condom or sex toy without degrading or damaging it. That means latex, polyisoprene, silicone, glass — you name it, you can douse it in water-based lube.  
Variety. Warming, all-natural, anal — for options galore, you can't go wrong with water-based lube. Because water-based lubes are so popular, you'll have a huge array to choose from. Salted caramel flavor, anyone?  
Sensitivity. Thickeners, synthetic ingredients, and scents can leave some of us feeling itchy and generally disturbed, no matter which lube base you choose. If you're sensitive to chemicals or irritation or yeast infections crop up after you use lube, check out a chemical-free, water-based option made for sensitive skin. 
Learn more: Sensitive Skin Lube
Non-staining. Are potentially permanent marks on your clothes and sheets a no-go for you? A water-based lube could be the solution. While silicone and oil can leave tell-tale rings that resist scrubbing and stain remover, water-based lubes usually rinse clean. All of the slippery, none of the stain. 
Feel. Many water-based lubes have a consistency similar to natural lubrication, which can be indistinguishable from the real thing during play. Some water-based lubes are formulated for a gel-like texture, which can offer more of a cushiony glide but still have that nice, natural slip.    
Water-based lube potential cons
May dry faster. A water-based lubricant may dry out faster than other types of lubes. Just as water dries over time, so do water-based formulas. They may need to be applied more often, or reserved for play that isn't as long-lasting or vigorous.  
Can feel sticky. Some water-based lubes can feel sticky during use as they become drier. This may make them a better choice for play that isn't as long lasting, or when there's already some natural lube to keep things slick. 
May included unwanted ingredients. Some water-based lubes include multiple ingredients that help them stay slippery. If a simple or natural formula is key for you, check lube labels and go for a hypoallergenic blend with fewer ingredients.  
Curious about what's in your lube? Learn more about lube ingredients
Best water-based lubes
Natural We love La Nua Water-Based Lubricant for its smooth, non-toxic ingredients and clean feel. All La Nua water-based lubes boast high marks from the Environmental Working Group (EWG), making it our top guilt-free pick.  
Anal Pjur Backdoor Water-Based Anal Lube includes hyaluron, an ingredient that binds with water, to create a long-lasting, cushiony feel. A great anal lube that's condom-safe isn't easy to find, but Pjur Backdoor delivers.
Flavored Sliquid Strawberry Pomegranate Lube is as tart and lickable as it sounds. It's vegan, hypo-allergenic, and non-toxic, too. If ever there were a perfect lube for summer, this is it.  
Glycerin-free Good Clean Love Almost Naked Lube is water-based and free of glycerin, which can change the vagina's pH and cause yeast infections. What do they use instead to keep things slippery? Organic aloe leaf juice, which has a soothing effect on sensitive skin. This lube is lightly flavored with natural vanilla and lemon, making it a shoo-in for oral play.  
Silicone-Based Lube
Silicone lubes are known for their super-slippery longevity. Silicone is a synthetic polymer made from silicon from quartz, oxygen, and other elements like hydrogen and carbon. If you're looking for a lubricant that will last until the sun comes up and beyond, it'll probably be made from silicone. 
Silicone doesn't evaporate and won't get absorbed by the body, two features that give it go-all-night staying power. Some sensitive folks prefer silicone lubes, which often contain fewer preservatives and potentially irritating natural extracts. 
Silicone-based lube pros
Long-lasting. Again, silicone lasts. If you don't want to reapply, feel your lube dry up or get sticky, or stop just when things get interesting, silicone should top your lube list.
Simple formula. Many silicone lubes contain fewer ingredients than water-based or hybrid lubes (like, two or three). Most stripped-down lubes without extras or preservatives are made from silicone.
Silky texture. Silicone has a smooth, super-slick texture that works for just about any kind of play. The best part? The silky texture doesn't change much during use, which brings us back to how long it lasts (and lasts). 
Scent and flavor-free. If you like a lube that doesn't intrude on your mood with unwanted fragrance or tastes, you'll find a wealth of great options in the silicone lube aisle.
Anal magic. When it comes to anal play, the right lube matters. Because the anus doesn't lubricate naturally, a long-lasting lube that offers plenty of cushion is key. A silicone-based blend and a good anal-sex-prep routine can make for a (much) more pleasurable and comfortable experience.
Water play. Silicone doesn't wash off easily, making it indispensable for play in the bathtub, shower, pool, fountain...
Silicone-based lube potential cons
Synthetic. If it's natural you're after, you won't find it in silicone lube. Though man-made, silicone lube isn't generally absorbed by the skin, and recent studies have shown it's safe to use. Still, some of us will prefer a lube with natural ingredients
Harder to clean up. The long-lasting factor also makes silicone lube a bit of a clean-up challenge. Whereas water-based lubes rinse off cleanly and easily, silicone sticks around. And sticks around. It can take a good wash with soap and water to remove it, but some of us think it's worth the scrub. 
Can stain. Silicone has an oil-like ability to linger on sheets and clothes. It may or may not come out in the wash, though oxygen bleach and a generous spritz of stain remover can help. Speaking from lots of experience.
Slippery af. Silicone lube can be almost too slippery when used with some toys. A good silicone greasing can make a toy hard to hold onto or maneuver, something to be mindful of if you're using glass toys or weighty stainless steel dils. 
Not safe for silicone or TPE toys. Silicone lube can damage or degrade silicone and TPE sex toys, as well as condoms made from latex or polyisoprene. Check out a good water-based or hybrid lube instead, or search out a silicone lube that can be used with silicone toys and condoms (they do exist!).
Best Silicone Lubes
Warming Wicked Ultra Heat Warming Lube combines silicone with cinnamon and clove oils for an arousing cocktail of warm and slick. This unscented, glycerin-free blend can be used for all types of play and is vegan to boot! 
Learn more about how to choose and use a warming lube
Performance Intimate Earth Mojo Performance Glide takes some great slippery stuff like aloe extract, silicone, and vitamin E and adds Peruvian ginseng to create an ultra-smooth performance enhancing lube. This vegan, paraben-free formula is made in the USA, too.
Anal Pjur Analyse Me! Anal Lube blends silicone with jojoba seed oil, a natural muscle relaxant that doesn't cause numbness. The combination of cushiony glide and muscle relaxation makes for one of the best anal lubes we've tried. And this formula is safe for latex and polyisoprene condoms, a nice bonus.

Nothing but silicone Sliquid Silver Studio Collection Lubricant is about as pure as it gets when you're talking about silicone lubricant. This luxe lube is made from three kinds of pharmaceutical grade silicone and nothing else. It's also ultra-concentrated, which means a little goes a very long way, no matter how you're using it.    
Learn more: Water-based Vs. Silicone Lube
Hybrid Lube
Hybrid lubes are made with a base of both water and silicone. Hybrid lubes are longer-lasting than water-based lubes and have a slicker texture. They also clean up more easily than silicone lubes, and are often safe to use with condoms and silicone toys. 
Hybrid lube pros 
Best of both worlds. Hybrid lubes combine the best of water-based lubes and silicone lubes into one formula. Hybrids are typically condom-safe, nice and slick, and longer-lasting, making them a good go-to for all types of play.
Easy to clean. If you love the slippery texture of silicone but hate the harder-than-pine-needles-after-Christmas clean-up job it requires, a hybrid lube is a great alternative. 
Won't dry out. The silicone in hybrid lubes prevents them from drying out as quickly, meaning you can reapply less and enjoy more. Hybrids won't outdo a pure silicone lube, but they hold up quite well.  
Safe for silicone toys. Though hybrid lubes contain some silicone, the addition of water cuts down on the friction between molecules that can degrade silicone toys. That means you can freely saturate your silicone vibes and dildos with most hybrid lubes without damaging them. That sound you just heard was your silicone toys jumping for joy.   
Hybrid lube potential cons
Not silicone, not water. Hybrid lube isn't quite as slippery and long-lasting as silicone, or as easy to wash off and natural as some water-based lubes. Some folks will find it indispensable, while others will prefer a pure silicone or water-based option.
Can get sticky. Hybrid lube doesn't contain much silicone, which is the reason why it's typically safe for silicone toys. But that also means it can get sticky like a water-based lube. If you go the hybrid route, prepare to reapply a little more often than you would a silicone lube. 
Best hybrid lubes
Natural texture Naked Silk Hybrid Lube feels a lot like natural lubrication, making it one of our favorite hybrid lubes. A combination of water, silicone, and a gelling agent made from cellulose give Naked Silk a unique, real-thing smoothness.
Unscented Sensuva Unscented Hybrid Lube is light, easy to spread, and truly unscented. This pH-balanced lube is juiced up with aloe vera and safe for any and all toys and condoms.
Cooling Wicked Ultra Chill Cooling Hybrid Lube brings a chilly tingle to a smooth hybrid base. A little kick of menthol makes this lube great for clit or penis stimulation, though we love it for nipple play most of all. 
Anal Sliquid Ride BodyWorx Silk Hybrid Lube gets around the potentially sticky factor with natural cellulose and emollients that mimic natural lubrication. This hypoallergenic hybrid is made without parabens and glycerin, making it a nice option for the sensitive among us. 
Oil-Based Lube
Oil-based lubes aren't as commonly used as others, but if you're looking for a lube with natural silkiness, there's nothing like the sensual feeling of oil. This type of lube can often double as a massage oil, and is a great, does-it-all glide to keep on hand. 
Oil-based lube pros
Good natural options. Many oil-based lubes are made primarily from natural oils, and can be the ideal option if you're looking for a glide without preservatives or hard-to-pronounce ingredients. 
Long-lasting. Unlike water-based lubes, products that contain oil won't dry out or get sticky. They may be absorbed by the skin during play, though, so keep them nearby in case you need to reapply.
Skin conditioning. Oils can have a soothing and healing effect on the skin, particularly dry tissues. An oil-based lube can help calm and lubricate the vagina after menopause, and is great to use as a moisturizer anytime. 
Oil-based lube potential cons
Pricey. A higher volume of more expensive ingredients makes many oil-based lubricants pricier than their water- and silicone-based counterparts. Oil-based lubes are more concentrated, though, so may be worth a little extra coin.    
Not condom safe. Oil and latex condoms don't mix! Oil-based lubes can also degrade condoms made from other materials like polyisoprene, so use a water-based lube or a safe-for-condoms hybrid instead. 
Not plastic safe. Any sex toys or pleasure products with plastic parts, including buttons, chargers, or trim, can be damaged by oil-based lubes. When in doubt, use a water-based formula instead and save the oil-based lubes for glass and stainless steel toys. 
Best oil-based lubes
Stimulating Java Skin Sexy Serum combines a blend of oils including coconut and evening primrose with organic green coffee for a skin-awakening, refreshing experience. We like this top-selling oil for morning playtime and invigorating massages at any time of day. 
100% natural AH! YES Oil-Based Lube is loaded with organic oils, vitamin E, beeswax, and that's it — no preservatives, colors, or fragrances. If you're searching for an oil-based lube you can use for everything from foot massages to solo play to skincare, this could be your holy grail.  
Anal Coconu Organic Oil-Based Lube takes ingredients like coconut oil, cocoa and shea butters, and beeswax and creates a rich, creamy lube that's long-lasting enough for anal play. Plus it's organic, which makes a great thing even better.  
Your own oil You read that right — you can use oil you already have on hand as a lubricant! Coconut, olive, grapeseed, and canola oil make excellent lubes, as do sunflower and that good old massage fave, sweet almond oil. 
How To Use Lube
Not sure how to use lube? Afraid you'll use too much, too little, or put it in the wrong place? Lube is hard to get wrong, so feel free to experiment! Try adding about a dime-size amount of lube to your palm and spreading it around with your fingers. If you have sensitive skin, a quick patch test on the inside of your wrist or elbow can help you avoid a rash or irritation. 
Once you apply a little lube to your hand, notice how it spreads and how it feels. Is it smooth and cushiony, or would more do the trick? Do you like the texture enough to use it for solo or partnered play? If not, try another option, maybe one with a different base that feels better against your skin.  
When playtime comes around, apply lube on the vulva and just inside the vagina, the head of the penis, or any place you want to cream up. Use it liberally for anal sex and other play that creates more friction or potential discomfort, or use less if some nice friction is your goal!
Reapply lube as needed, and enjoy the thrilling sensation of well-lubricated nerve endings and sensitive spots. We think you'll agree that the right lube is magic. 
For more detailed info: How To Use Lube
How to Clean Up Lube
Most water-based and hybrid lubricants can be washed off easily, another check in the pro column for both of these popular lubes. Though they don't typically stain sheets or clothing, test an inconspicuous spot with your lube of choice to be sure.
To wash water-based or hybrid lubes off your skin, soap and warm water are usually sufficient. Wash clothes and sheets as usual, and add a little stain remover to lube spots to help rinse them away.  
Lubes that use a base of silicone or oil can be more difficult to remove. To clean your skin, wash really thoroughly with soap and water. If you still feel a lube-y residue, a little exfoliating with a washcloth usually does the trick. 
As for fabric? Well, we recommend keeping oil and silicone-based lubes away from valuable clothes or sheets to avoid permanent stains (yup, even on white sheets!).
If you do get oil or silicone lube on machine-washable fabric, try a generous spritz of stain remover followed by a good soak in oxygen bleach (the kind that's color-safe). How long a soak, exactly? If your sheets or garment are made from a sturdy material like cotton, overnight is usually your best bet.
What to do if an extended soaking doesn't banish lube stains? Repeat a time or two, or take your stained items to a professional dry cleaner. And of course, check the label for care instructions before using any lube-removal method.      
Final Thoughts
The right lubricant can make the difference between excessive friction and deliciously smooth sailing. Try experimenting with different types to find out which work best for you. Be aware of how your body responds (or doesn't!) and what feels good.
Remember, lube exists to make playtime fun. Enjoy trying different brands and blends, and as always, let us know if we can help! Your pleasure is our pleasure, and we're happy to point you in the direction of a great lube, toy, or sexual wellness product. Just drop us a note at info@delicto.com or DM us on Instagram or TikTok!