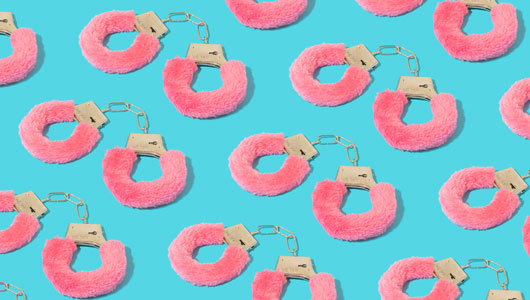 There are a few sacred principles when it comes to BDSM, and one of those is limits. Like safewords and consent, limits are essential to ethical, pleasurable, and safe play.
But what are limits and why are they so crucial for all BDSM players? What's the difference between hard and soft limits, and how do you discover what yours are? Join me as I dive into the topic of BDSM limits and find out. 
What are BDSM Limits?
In the context of BDSM, the word limits describes activities that partners are either unsure about or don't want to take part in at all. These activities can include anything a Dominant or submissive is reluctant to do, from bondage to fire play to involving other people in a scene.
Creating pre-determined BDSM limits allows each partner to engage in  activity without anxiety or doubt, and permits them to fully immerse themselves into the experience.
Learn more: Dominant and Submissive Relationships
What Are Hard Limits? 
Hard limits are a firm and unequivocal no. A hard limit is not up for negotiation, and should never be disregarded. Some people with certain hard limits prefer not even to discuss them after they've been clearly negotiated and established. 
What Are Soft Limits? 
Soft limits describe certain activities you might be interested in at another time, when you have more experience, or if certain conditions are met. Soft limits might be something you've tried before and weren't sure about, or have considered trying but need to discuss or think about more.
Some limits may also be something you discuss with your partner at the beginning of a BDSM relationship and agree to revisit once you establish trust and know each other better. 
Learn more: Kink Vs. Fetish: What's the Difference?
How To Establish Limits
Look inward
The first step to establishing limits is to think about what types of play you find most fulfilling and why. Once you have a sense of what you like, try to identify activities or scenarios you're uncomfortable with. This could be because you've already tried them and didn't enjoy them, or simply have no interest in them at all. 
If you're new to relationships or BDSM, ask yourself what types of play are you ready to try. If you're not sure, express that to your partner so you can discuss a careful way to discover your limits during respectful play. 
Communicate 
Communication is crucial in all relationships, but is particularly important in BDSM relationships. To communicate about limits effectively:
Create an open dialogue so all partners feel comfortable expressing their desires and concerns without fear of judgment
Avoid using ambiguous language when discussing what makes you uncomfortable. Be direct and concise 
Accept your partner. You don't have to agree with your partner's limits or share them. Everyone is different, with unique needs and viewpoints
Focus on trust. Be a safe place for your partner and expect that they'll be the same for you. Successful BDSM relationships require trust and honest communication about all aspects of the partnership, including limits
Learn more: What Is Consensual Non-Consent?
Changing Limits
Like partners themselves, hard and soft limits can change and grow over time. This typically happens as familiarity with each other grows and your interests — sexual and otherwise — continue to evolve.
There should be enough flexibility within the dynamic and the relationship to allow for updates to previously established limits. The goal is not necessarily to push your limits, but to explore yourself and your needs without shame or judgment. 
Evolving limits are another important reason to establish open communication with your BDSM partner or partners. Remember to revisit the topics of limits on a regular basis. Ask such questions as:
Do you have any new limits to share?
Is there anything new you'd like to explore?
Is xyz still a soft limit?
How can I make you feel more safe and comfortable if you decide to try something that was once a hard or soft limit? 
Learn more: BDSM Safety
Limits and Consent
Consent is the cornerstone of trust in a BDSM relationship and a key part of establishing and respecting limits. Consent not only ensures safety, it helps to support a trusting, more pleasurable connection.
A crucial aspect of establishing clear BDSM limits is safewords. Safewords act as an immediate stop signal if play becomes too intense or a partner's boundary is reached. Safewords can be:
An agreed-upon word that any partner can use to pause or end play
A non-verbal sign for scenarios where speech might be restricted or impossible, such as wearing a gag
A system like 'red' for stop, 'yellow' to slow down, and 'green' to continue
Beyond safeguarding against broken limits, safewords help build trust between partners and contribute to an atmosphere of respect and safety. 
Learn more: What Does Safe, Sane, and Consensual Mean?
Continuing consent 
Consent isn't a one-time agreement, but an ongoing form of communication that takes place before and during every scene or play session. Consent requires frequent check-ins to ensure that all partners agree to and are comfortable with the scene and all activities taking place.
Aftercare
Aftercare is a time to bond over a shared commitment to each other's fulfillment and well-being, not matter how long-lasting or brief your relationship may be. Post-session discussions offer a chance to give each other feedback on what worked well and what you'd rather not do again during scenes. 
Aftercare can be the ideal time to talk about limits, particularly if you feel you need to make a change or make a boundary clearer. But if you want to revisit limits with your BDSM partner, you don't need to wait for aftercare to do it. Limits are the priority before and during scenes, as well, and can be discussed at any time. 
Learn more: What Is Aftercare?