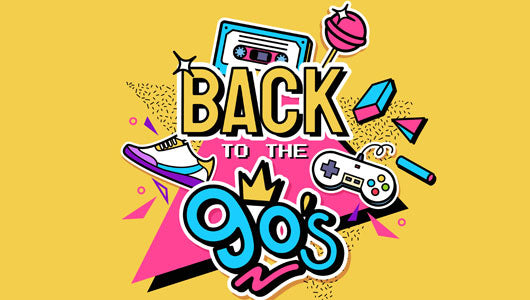 Some things from the '90s will never go out of style — the fashion, the music, Meg Ryan. But when it comes to sex toys, it's not quite as cool to go vintage considering most pleasure products from that era were straight up toxic. 
Nevertheless, sex toy technology wouldn't be where it is today without the vibrators and fleshlights that paved the way. So let's pay homage to the 4 most popular sex toys from the 90s, and take a look at the upgraded versions of today. 
The Original Rabbit 
If there's one sex toy that made its mark on 90s culture, it's the Original Rabbit Habit by Vibratex. You might recall its appearance on Sex and the City as the toy that kept Charlotte holed up in her apartment, orgasming 'round the clock. 
After that episode aired in '96, rabbit-style toys took the market by storm and remained all-the-rage into the early 2000s, when Oprah herself dubbed the Rabbit Habit the "Rolls Royce of sex toys."
And at the time, it was. 
Unfortunately, most '90s rabbit toys (Rabbit Habit included) were made from porous materials like PVC, which is a toxic form of plastic that you don't want inside your body. If only we knew then what we know now, amirite? 
Fast forward to the present day, rabbit-style toys still follow the early design concept, which blends clitoral and G-spot stimulation. Only now, they're mostly made from body-safe silicone, which is much smoother on bare skin and much better for your body. 
In addition, rabbit toys are now more flexible, come in a wider variety of shapes and sizes, and are easier to align with your private bits. They're also typically rechargeable (bye bye, batteries) and have a longer shelf life too. Some rabbit toys even connect to your smart device for on-demand pleasure!
Yes, rabbit sex toys have come a long way since the '90s, but we'll never forget the one that started it all. 
The Fleshlight 
In 1995, a man named Steve Shubin and his newly pregnant wife were advised to abstain from sex until after their baby was born. Determined to put his penis in something and unwilling to cheat on his wife, Steve got to work creating his own sex doll. 
He quickly realized that a human-sized sex toy wasn't exactly inconspicuous, so he reduced it down to the size of a flashlight, with a rubbery texture and internal shape of — you guessed it — a vagina. In 1998, he was granted a patent for this invention, which was advertised as "a device for discreet sperm collection." 
That's one way to put it, I guess! 
The concept of the Fleshlight has since, um, exploded with hundreds of pocket-sized sleeves and strokers available for penis-owners to enjoy. But now, there is a huge variety of shapes, textures, and features to explore aside from the elastic vulva our friend Steve came up with. 
You can find voice activated strokers that moan along with you, or app-enabled sleeves that can be controlled from across the world. Some vibrate, some apply bursts of air pressure, others mimic the sensation of oral sex. 
We like to think Steve Shubin would be proud to see all the fabulous penis toys inspired by his original Fleshlight!
The Magic Wand 
By now, most adults have at least heard of the Magic Wand, if not personally experienced its rumbly power. That's because this legendary vibrator dates back to the 1960s, when the first model debuted in all its bulky, corded glory. 
I know — if it was made in the '60s, why does it deserve a spot on this list?
Well, the Magic Wand wasn't openly recognized as a vibrator until 1992! It had always been marketed as a wellness tool used to soothe sore muscles, despite the unspoken fact that pleasure seekers the world over were using it for clitoral stimulation. 
Today, the Magic Wand is a mega-popular sex toy that can be found in bedside drawers everywhere, but now, almost no one associates it with massaging achey muscles. The words Magic Wand are synonymous with vibrator, and everyone knows exactly what its true purpose is.
And yes, it has also been featured on Sex and the City… twice.
Fortunately, the Magic Wand has undergone many upgrades over the last six decades, including a smoother, safer silicone head, and the option of a cordless, rechargeable design. There's even a mini version now, which boasts nearly all the power in a more travel-friendly size.
The Doc Johnson Pocket Rocket 
The Pocket Rocket from Dr. "Doc" Johnson debuted in the mid '90s, and is considered by many to be the original bullet vibrator. 
Whether or not it was really the first is up for debate, but what we know for certain is that the Pocket Rocket swiftly became a household name, and the go-to for discreet pleasure. Its claim to fame was that it was tiny — about the size of a tube of lipstick — and could easily fit inside a pocketbook or briefcase. 
Doc Johnson's idea for on-the-go orgasms was a great one, but the Pocket Rocket's porous plastic material and loud buzzy vibrations left something to be desired. But don't worry — bullet-style vibes have since enjoyed consistent glow-ups, and are now typically made from silicone.
Bullet vibrators are also considerably quieter nowadays, and while you can certainly find buzzy options, other choices abound! Some bullets are rumbly, some are buzzy, others fall somewhere in between. In fact, most bullet vibrators offer a range of intensity settings and patterns to let players explore different sensations. 
Final Thoughts 
What can I say? As far as pleasure products are concerned, it's the best time to be alive.
Of course, we tip our caps to the sex toys of the '90s, and wait with joyful anticipation for what's to come. In the meantime, don't forget to follow Delicto on TikTok and Instagram for more sex toy related content. Stay cool, everybody!