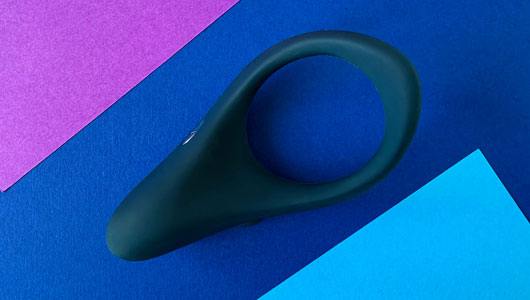 It's small, it's donut-shaped, and for a few bucks, it promises to dramatically enhance your performance in the bedroom. What are we talking about? A cock ring, of course.   
This magical sex toy takes zero preparation, and simple options cost just a few bucks to acquire. Sound too good to be true? Read on. We'll discuss everything you need to know about cock rings, including how they work, how to use them, and which ones we recommend most for partnered play and explosive solo sessions. 
What Is A Cock Ring?
A cock ring is – you guessed it – a ring-shaped sex toy worn around the base of the penis during sex or masturbation. Also known as a C-ring, penis ring, or cock and ball ring, a cock ring is intended to amp up both your erections and your orgasms. 
Browse all cock and ball rings
Types Of Cock Rings
Cock ring design ranges from simple silicone bands to old-school leather straps with snap closures to high-tech vibrating devices operated by phone app. Most cock rings stretch to fit firmly but comfortably around the penis. They may come in a single size or in multi-packs to fit a variety of anatomies (or a single penis at different stages). 
Silicone cock rings
Cock rings made from silicone are popular due to their versatility and comfort. Silicone is a soft and flexible material, making it easy to wear and adjust to different sizes. Silicone cock rings also come in a range of textures, thicknesses, and styles. 
Silicone is non-porous and body-safe, making it a great material for cock rings that stimulate the clitoris, as well. 
Learn more: What Is Body-Safe Silicone?
Adjustable cock rings
Adjustable cock rings are designed to fit a wide range of penis sizes comfortably. An adjustable ring will typically have a bolero-style mechanism to control tightness, making it easy to fine tune the fit for your unique anatomy.
Many adjustable cock rings are made from body-safe silicone, and are budget-friendly, simple to use, and easy to clean.  
Couples' cock rings
Couples rings are designed to stimulate both the penis and clitioris at the same time. Many couples' rings vibrate, though some are simple, non-motorized toys with a nub that rubs the clitoris during thrusting or pelvic grinding. Some cock rings for couples include "rabbit ears" that tease the clitoris during intercourse. 
Check out more toys for partnered play: Best Sex Toys For Intercourse
App and remote controlled cock rings
App and remote controlled cock rings let you switch on/switch up the vibes hands-free — or let your partner do it for you. In the middle of the act and want to try a new vibe pattern? Forget fumbling for the manual controls. Just tap a button on your phone or remote and get back to getting busy. 
Shop all app and remote controlled toys
How Do Cock Rings Work?
You won't find a lot of peer-reviewed studies on cock rings, but that doesn't mean they don't have legions of devoted wearers. Why are so many penis-owners singing the praises of these deceptively simple accessories? 
Let's discuss the benefits of cock rings and exactly how they work. 
They give you harder erections
By restricting blood flow out of the penis, a well-fitted cock ring can help you maintain a harder erection for longer periods of time. A cock ring can also help mitigate the effects of a type of erectile dysfunction called venous leakage. If you suffer from venous leakage, the penile tissues don't hold in blood as well as they should, leading to softer or less stable erections.
They boost your stamina
Cock rings can enhance and sustain erections by squeezing the area around the base of the penis, holding blood in the tissues and making it easier to delay ejaculation. Cock rings with a ball attachment can have a similar effect by applying pressure to the testicles. 
They make your penis look and feel larger
Cock rings are designed to fit around the base of the penis, creating a tighter and firmer erection. This extra engorgement can help to make the penis look and feel larger, adding a confidence boost as well as a feeling of heightened sensitivity.  
They deliver longer, more intense orgasms
Cock rings can increase sensitivity and the intensity of sensations during solo or partnered play, leading to a more explosive climax. Wearing a cock ring may also delay orgasm, which can add to your pleasure and extend your orgasm once it happens.
How To Use A Cock Ring
Before using a cock ring, it's important to choose the right size. Measure your penis at its widest point, divide that measurement by 3.14, then choose a ring that can stretch to fit that circumference. 
Once you've chosen the right size, apply a small amount of lube to the inside of the ring, as well as to the shaft of your penis. If you're using a Slide the ring down to the base of your penis, making sure it's snug but not too tight.
Learn more: How To Choose A Lube
Leaving a cock ring on for too long can lead to discomfort or even injury. We recommend starting with shorter periods of use and gradually increasing the time as you become more comfortable with the sensation. 
Never wear any cock ring for longer than 20-30 minutes maximum. Always remove the cock ring immediately if you experience any pain, aching, or numbness.  
Are Cock Rings Safe?
When used with caution, cock rings are generally considered to be a safe and effective way to enhance your performance and intensify your pleasure. To make sure you're using a cock ring safely, follow these essential steps:
Always choose a cock ring that fits appropriately without being too tight or uncomfortable. A too-tight ring can cause circulation issues, bruising, or tissue damage

Don't wear a cock ring for longer than 20-30 minutes and take breaks during play to check for numbness, bruising, or blueness of the skin. A blue tint to the skin can indicate lack of circulation

Always clean your cock ring thoroughly after each use to prevent the spread of bacteria and remove lube and bodily fluids

For more about cleaning cock rings: How To Clean Sex Toys
Best Cock Rings
If your head is spinning from the many stimulating ring options, check out my top picks. These are some of the very best penis rings in the most popular categories.
Best Silicone Cock Ring
Forto F-61 C-Ring Set These budget-friendly rings may look simple, but they're everything cock rings should be and more. Made from body-safe silicone in 3 sizes to fit almost any anatomy, the F-61 rings stretch up to twice their size and come in 3 different color options. They can also be worn around the testicles if you prefer.  
Best Couples' Ring
Fun Factory Nos This smooth silicone ring brings intense rumbly stimulation to both partners. Designed to hug the clitoris during intercourse, the Nos features two powerful motors, 4 vibe levels, and a "flirt" setting that switches up the sensation on the fly for a more natural, spontaneous feel. 
Best Budget Cock Ring
Romp Juke Romp is known for its high-quality, reasonably-priced sex toys, so it's no surprise that the Romp Juke wins for best budget pick. It offers 10 vibe modes, waterproof construction, and some very pleasurable rumbles for both you and your partner. It's also body-safe and rechargeable, making this ring an absolute steal.  
Best Cock and Ball Ring
We-Vibe Verge The Verge is an app-controlled ring designed to stimulate not only the penis and testicles, but the perineum, too. This super-pleasurable ring fits comfortably around your entire package and delivers 4 speeds and 6 patterns of deep, rumbly vibration.
As if that weren't enough, the Verge can be controlled from anywhere in the world with the free We-Connect app. Long-distance partners, take note.
Best Adjustable Cock Ring
Velv'Or Rooster Jason Adjustable Ring  With a design reminiscent of a watch band, the Rooster Jason is as easy as slip it on, adjust it, and enjoy yourself. Deceptively simple, this ring is made from firm platinum silicone for an erection-boosting fit. Wear it around the penis, scrotum, or both.