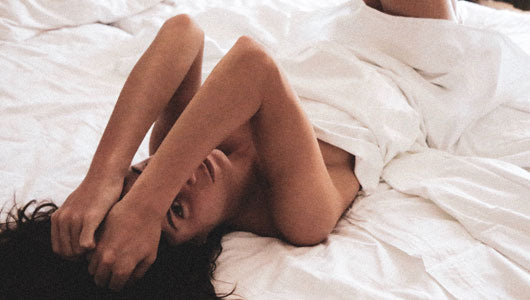 We all know masturbation feels somewhere between good and mind-blowing, depending on the day. Masturbation is so fun it's a near-universal activity, but what goes on behind the scenes when you do it? Does it have any benefits beyond the obvious physical thrills?
Let's take a closer look at the mechanics of masturbation and find out what happens under the hood when you drive solo.

Your Imagination Lights Up

You're not, um, imagining it. When you tuck yourself in with a sex toy and get busy, your brain goes into full fantasy mode. Studies of arousal and orgasm prove that the brain is uniquely activated during masturbation. The studies involved only women, but there's no reason to think all genders don't respond the same way. 
What did the studies show, exactly? When arousal is stimulated by another person during partnered play, the creative, thinking part of your brain dials down. But the creative part of your brain goes into overdrive when you're alone.
That means your mind (yes, your spank bank) churns out vivid ideas and images during masturbation to help bring exciting scenarios to life. The next time you get off on a great fantasy during solo time, don't forget to thank your prefrontal cortex!   
More: Shopping for new vibes? Check out our Magic Wand Rechargeable review!
Your Pain Threshold Rises
If you've ever noticed that being rough with yourself feels oddly pleasurable when you're masturbating, here's why: arousal boosts your pain threshold. Nipple twisting, spanking, and rough handling of normally very sensitive areas can feel just right when you're getting close to climax. 
According to research of the body's pain response, your ability to tolerate pain rises as much as 75% during masturbation and orgasm. What's responsible? Serotonin, AKA the happy chemical, which helps cells communicate and has powerful effects all over the body.
Arousal and orgasms spur the release of serotonin, which makes it easier to tolerate pain of all kinds. 
If you're thinking that masturbation sounds like a great natural painkiller, you're on to something! Playing solo can help period cramps and headaches, and is a great way to soothe your body whenever you feel achy or out of sorts.   
You Release Happiness and Love Hormones
All the warm and fuzzy chemicals that get released during partner sex are pumped out in spades when you masturbate. Whether they help you bond with yourself or just feel especially great about that epic orgasm you experienced, oxytocin, dopamine, and other I-love-everybody-and-everything substances flood your bloodstream when you play solo.
More: Playing with a partner? Check out my We-Vibe Chorus review!
From prolactin to adrenaline, the scientific verdict is in: the chemicals that flow when you masturbate are a who's who of things that make you feel good. Some of the benefits include:
Better sleep
Delete the white noise app and flush the sleeping pills! The same chemicals that make you feel relaxed and euphoric after masturbating also help you fall asleep. No wonder so many of us break out the vibe/dildo/masturbator when insomnia strikes. Solo play is great for both the pleasure and the peaceful rest that follows.   
Lowered blood pressure
Oxytocin doesn't just make you feel relaxed and more attached (to yourself or a partner!), it can also lower your blood pressure and help you de-stress. Oxytocin's been called the body's natural tranquilizer for this very reason. 
Improved sexual function
Masturbating gets the blood pumping, the juices flowing, and the muscles contracting. This feels great at the moment, but has a higher purpose, too! Masturbation keeps your sexual response system tuned up and in good working order.
Regular solo play can also help alert you when something seems awry, like persistent vaginal dryness or erection issues. 
Sharper memory
Dopamine and prolactin sharpen your ability to remember and can protect your brain against the effects of stress. The effect is especially pronounced if you're over 50, a great side effect of masturbating when you're older.
Improved self-esteem
The adrenaline that flows when you masturbate can trigger more positive feelings about yourself and a better body image. Studies even show that adrenaline released during solo play can help you feel empowered and increase your sense of purpose. Turns out pleasuring yourself is good for your mental and physical health. 
You Boost Your Immune System
Pleasuring yourself comes with some nice antiviral perks! One study showed that masturbation increases the number of killer and white blood cells, making it easier for your body to fight off everything from colds to infections. How? Orgasm helps to regulate cortisol, a hormone that can reduce your immunity if you're under chronic stress. 
And don't forget — orgasming can also help you sleep, another key to a strong immune system. 
Learn more: How Do I Know If I Had An Orgasm? 
You Strengthen Your Pelvic Floor
Masturbation gets the blood pumping to your pelvic region, bringing oxygen to those all-important internal tissues. Arousal and orgasm also cause pelvic muscles to contract, making them stronger and more toned.
The stronger and more toned your pelvic floor, also known as Kegel muscles, the more pleasurable masturbation feels, and (naturally), the more you want to play solo. 
Healthier pelvic floor muscles are also associated with better bladder and anal control as you get older, giving people of all ages another excellent reason to masturbate. 
Shop vaginal wellness products and Kegel exercisers!  
Your Vagina And Prostate Clean House
Masturbation activates the toxin-removal system of both the vagina and prostate. Yes, there really is such a thing! When you're aroused, the cervix opens and cervical fluid is flushed out, bringing any pesky bacteria with it. This can help prevent urinary tract infections and other bacterial build-up, keeping the cervix and vagina in tip-top shape. 
There's also an interesting link between masturbation and a lowered risk of prostate cancer. Frequent ejaculation might help to expel toxins from the prostate, keeping it healthier over the long term.
Ejaculating when you're older seems to be especially helpful for your prostate, making masturbating a healthy way to spend solo time no matter what your age! Good to know for those of us (*cough*) who've been at it on the daily since the 70s.  
Best Sex Toys For Masturbation
Almost any sex toy can be used for masturbation, but some are truly exceptional private play companions. Here are our top picks for toys that deliver memorable solo sessions: 
Best Vibrating Wand
Magic Wand Rechargeable The Magic Wand is known the world over for its intense, rumbly vibration quality. Rumbly vibration penetrates the clitoral network more deeply, amping up pleasure and delivering big, whole body orgasms. If it's powerful stimulation you're after, the Magic Wand is hard to beat. 
Best Stroker
Tenga Flip Zero Gravity When it comes to penis toys, the Tenga Flip Zero Gravity is in a class by itself. This wildly popular toy features a super-stimulating textured interior, squishy-firm suction, and a flip open case for easy cleaning and drying. It also has a more discreet look than many strokers and is motor-free.
Best Grinding Toy
Vibepad 2 LIke the original Vibepad, the Vibepad 2 is a remote-controlled silicone pad with vibrating arches designed for blissful grinding stimulation. The Vibepad 2 boosts the pleasure even more with the addition of a warming feature and flickering silicone tongue. No wonder it's our top selling toy month after month.
Best G-Spot Toy
Pillow Talk Sassy The Pillow Talk Sassy is a favorite of sex toy bloggers for its dramatic, G-spot-loving curve, deep, rumbly vibes, and stimulating girth. It's also budget-friendly, and whisper-quiet for discreetly orgasmic solo sessions. 
Best Butt Plug
b-Vibe Snug Plugs Perfect for all genders, b-Vibe's fleet of vibrating and non-vibrating Snug Plugs comes in an array of sizes and colors to suit just about anyone. T-bar bases make Snug Plugs anal safe, and their torpedo shape makes them ultra-comfortable to insert and wear long-term. 
Best Rabbit Style Vibrator
Lelo Ina 3 Rumbly power, quiet operation, and a huge array of settings boosts the Lelo Ina 3 to the top of our rabbit vibe list. Its girthy internal stimulator delivers intense, nerve-stretching pleasure, making the Ina 3 a must-experience kind of toy. 
Best Prostate Stimulator
Rocks Off O-Boy Prostate Massager This body-safe silicone toy combines a curved shape and eye-popping vibe power for a deeply pleasurable prostate massage. Need even more reasons to try it? The O-Boy is rechargeable, waterproof, and the price won't break the bank. 
Best Sex Toy For Squirting
GLAS Curved Glass G-Spotter  The G-Spotter's bulbous tip and curved shape are ideal for female ejaculation. This body-safe toy is weighty enough for intense G-spot stimulation but light enough to use without hand fatigue. And because it's made from glass, it's safe to use with any lubricant.   
Masturbation FAQs
What is edging? 
Edging involves masturbating almost to the point of orgasm and staying on the brink of climax as long as you can. Edging is not only pleasurable, it can intensify sexual sensations and help you have more control over orgasm during sex with a partner. Edging is a great way to learn how your body responds to different stimulation and discover what feels best to you. 
To practice edging, bring yourself to the edge of a climax, then change the intensity. Stop or slow down, and let the urge to climax pass before you start start again. Breathe through the desire and focus your mind away from the sensations in your body. 
As you repeat the process, pay attention to the signals that an orgasm is close. Does your heart speed up? Do you breathe faster? Your muscles might tighten or your arms and legs shake. Paying attention to these cues can help you slow down and control your orgasm, so you can climax when you want to. 
Can masturbating with a toy desensitize me? 
In a word, no! This is a common rumor, but vibrators and other toys do not harm your nerves or make them less sensitive.
Read more: Can A Vibrator Desensitize Me? 
Final Thoughts
Masturbation isn't just relaxing and pleasurable, it has a host of positive effects on your mind and body. If you're new to masturbating, want to enjoy it more, or are looking for ways to keep an already-great solo pleasure routine exciting, feel free to reach out for personalized recommendations! Just email us at info@delicto.com, or DM us on Instagram or TikTok. We're always happy to help!