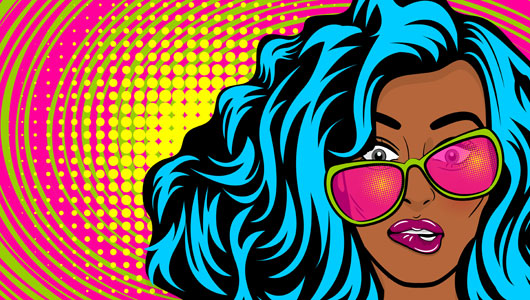 It's earth-shattering, mind-blowing, even life changing. At least that's what you've heard. But is having an orgasm really that obvious for everyone, every time? 
If you're wondering exactly what constitutes an orgasm, you're not alone. It can be hard to distinguish intense pleasure from a climax, especially if you're new to solo play or sex with a partner.
So, how can you tell if you've reached the summit? Follow me as I investigate the captivating world of female orgasms. I'll discuss which physical clues to look for, what makes vibrators so effective at delivering the goods, and why your post-play mood can be a sure sign of the Big O.  
Orgasm Signs Explained
We've all heard that every body is different, and it's true. Your experience before, during, and after climax will be unique to you. But there are some common ways to tell if you've had an orgasm — or are well on your way. Let's check them out. 
Orgasms take time
It takes around 20 minutes of genital stimulation for the average woman or vulva-owner to reach climax. Why? Orgasm is actually a 4-stage process called the Sexual Response Cycle. It consists of arousal, plateau, orgasm, and resolution, and typically takes around 20 minutes from start to finish.
Of course, this time frame can differ depending on the individual and other factors, including: 
Your level of arousal. The more sexually aroused you are, the less time it might take to climax
Your method. Some types of stimulation can make the cork pop faster than others. Most of have a tried-and true-method

—

like a beloved vibrator or oral sex

—

that feels good and gets the engine racing
Your mental state. Stress and anxiety can make it difficult to get aroused or reach orgasm
Fatigue. When you're tired, getting excited and reaching orgasm can take more effort 
Lubrication. Lack of lubrication can short circuit arousal and orgasm. Lube is perhaps the most underrated part of solo and partnered play. It cuts down on friction and increases the glide across sensitive nerves, maximizing pleasure. For more, check out How To Use Lube
Let's assume you're in the mood, have plenty of energy, and are lubed up and ready to go. 20 minutes from start to finish is an average but can be a helpful indicator if you're not sure you had an orgasm. If you had significantly less than 20 minutes of sexual stimulation, chances are your body didn't have enough time to cycle through all 3 stages that precede orgasm.
When you try again, give yourself a full 20 minutes. Remind yourself that there's no rush. Give your body plenty of opportunity to go through the stages of orgasm as its own pace and see if it doesn't reward you with some fireworks. 
Learn more: What Is The Orgasm Gap?
Physical changes
Having an orgasm can cause distinct physical signs and sensations. You may notice all these signs, or only a few. Here are some of the most common: 
A sudden hot flush across your chest, head, and face
Involuntary contractions of the pelvic floor muscles as well as the muscle throughout your body, particularly just before and during orgasm. These spasms may be subtle or quite strong
A pounding heartbeat that accelerates just before and during orgasm 
Trembling or shaking muscles during and after orgasm 
Chills or goosebumps
Tense muscles, especially just before climax
An intense feeling of pleasure that builds and explodes
Remember that having an orgasm is a very physical process. If you did climax, you'll typically have experienced at least a few of these signs. 
Happy hormones
Another way to tell you've had an orgasm? Your mood! The moment of climax triggers the release of hormones, which can produce a sensation of elation and bliss. These hormones include:
Oxytocin. Often referred to as the "love hormone," oxytocin plays a crucial role in bonding between partners. If you feel a deep desire to be close to your partner, chances are higher that you had an orgasm 
Learn more: What Is Aftercare?
Dopamine. Dopamine is often referred to as the "feel-good" hormone. This mood-enhancing chemical surges during sex and masturbation and peaks at orgasm. If you feel relaxed, satisfied, and a bit blissed out after playing solo or with a partner, that's a checkmark in the climax column. 
Endorphins. Besides dopamine, orgasms also trigger the release of endorphins, the body's natural painkillers and mood elevators. Endorphins can also help to alleviate stress and reduce anxiety. If you feel after sex like you had a good yoga session or a long run, it's likely you had an orgasm. 
Post-orgasm sensitivity
Another way to tell if you've climaxed? You'll feel unusually sensitive shortly afterwards.
During an orgasm, your body experiences the aforementioned surge of hormones and nerve activity, leading to increased blood flow and muscle contractions in your vulva, vagina, clitoral network, and uterus. After climax, nerve endings become hypersensitive and can feel uncomfortable or even painful when touched. 
Learn more: What Is The Clitoris?
The duration of post-orgasm sensitivity varies, but can last anywhere from a few minutes to several hours. During this time: 
Be gentle. Go for light caresses or cuddling instead of more vigorous stimulation after climaxing
Communicate. Tell your partner how you feel after an orgasm and what you need while your body still feels sensitive
Rest. Give yourself time to recover before having sex or masturbating again
Not sure how to tell your partner what you need? Check out How To Talk About Sex
Preparing For Orgasm
We all know that the journey is at least as important as the destination, and this is true for orgasm, too. Pleasure is a reward in itself, and doesn't need to end in climax every time. But there are things you can do to boost your chances of a Big O. 
Set the mood 
Create a relaxing atmosphere with soft lighting or scented candles before sex or solo play. Create a soothing ambience with low lighting or scented candles, helping you to relax, switch gears, and get into a pleasure mindset.
Experiment
Try diverse forms of stimulation to discover what's most pleasurable for you. Don't be afraid to communicate your preferences with your partner or explore new techniques during solo play. If you've never tried sex toys before, they can be a great way to discover new sensations and find out what you like.
Learn more: Beginner's Guide To Sex Toys
Stay in the moment
For better or worse, orgasms are "in the moment" experiences that can require being fully present. Practice mindfulness and focus on the sensations you feel during sex, rather than getting caught up in thoughts, distractions, or goals. This can help intensify orgasms and make their effects more profound.
Orgasm FAQs
Are there different types of orgasms?
Yes, and in fact, stimulating any erogenous zones can lead to orgasm! Types of orgasms include:
Nipple orgasm
Anal orgasm
Vaginal orgasm
G-spot orgasm
Clitoral orgasm
Some people can even have an exercise-induced orgasm! You can also experience a blended orgasm, which is a combination of two types of orgasm. This type of climax is common when using a rabbit vibrator, which stimulates both the clitoris and G-spot at the same time.
How do I know if I've exerienced multiple orgasms?
Multiple orgasms can occur one right after the other or after a bit of time has passed. It may be more difficult to tell if you've had multiple orgasms if you're still feeling the physical effects of the first one, but many people will feel similar tell-tale signs. In particular, watch for muscle shaking, an intense, wave-like feeling of pleasure, and a sense of deep relaxation once the orgasms subside. 
Is female ejaculation an orgasm?
It often is, yes. Female ejaculation, commonly called squirting, is often accompanied by a powerful kick of pleasure. It may feel different from a clitoral orgasm or the other types of orgasms you're used to, but is widely considered a type of orgasm.