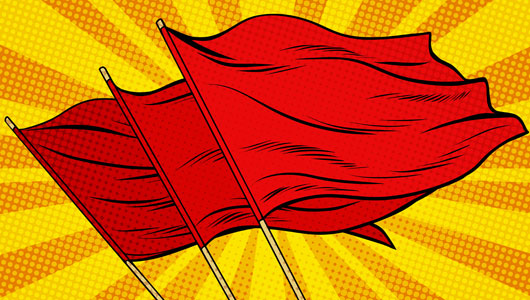 So you've met the Dominant or submissive of your dreams and are ready to negotiate the terms of your relationship. But, like any negotiation in life or love, there are certain pitfalls to watch for. 
Come along as I discuss BDSM red flags to beware of when you meet a new Dominant or submissive. I'll tell you the signs of a potentially problematic partner, how to set limits for a safe and fulfilling experience, and why communication is the cornerstone of a healthy BDSM relationship.  
BDSM Red Flags
Two key parts of a blossoming BDSM relationship are communication and a shared understand of basic BDSM safety. Here are some of the most important red flags to watch for with a new Dominant or submissive. 
Doesn't Insist On Safewords
The use of and respect for safewords are crucial for a healthy BDSM relationship. A safeword is a word, phrase, or gesture you can use during a BDSM scene that calls an immediate halt to play. A safeword is a tool that helps all parties communicate discomfort or withdrawal of consent.
Disregarding safewords can damage trust, create anxiety, and harm the bond between you and your partner. It can also be physically dangerous, particularly if you practice breath play, fire play, or bondage.
Learn more: Kink Vs. Fetish: What's The Difference?
What to watch for
Avoid any Dominant who tells you that you don't need a safeword or that they will know (or sense) when you need to stop or take a break. A trustworthy dominant will insist that both of you understand and use safewords or gestures. 
Likewise, a submissive who insists that they don't need a safeword may not be an ideal partner. Submissives exercise an important level of control during BDSM scenes by respecting their own limits and clearly withdrawing consent when necessary. Be careful of any submissive who refuses to accept this responsibility or abide by established BDSM norms. 
Learn more: BDSM Safety
Claims To Have No Limits
In a healthy BDSM relationship, everyone has limits, both hard and soft, that should be clear and respected. Openly discussing personal boundaries ensures safety, builds trust, and leads to a more fulfilling and consensual experience for all involved.
Your right to limits should never be up for discussion. If your partner tries to push your limits without consent, speak up, and end the relationship if your limits are still an issue. 
Learn more: What Does Safe, Sane, and Consensual Mean?
What to watch for
Be cautious of partners who claim to have no limits. A submissive or Dominant who says they have no limits may be too inexperienced to realize the importance of boundaries. They could also be less than honest, or want to manipulate you into agreeing that limits aren't desirable or necessary.
A Dominant who communicates honestly, with your mental and physical health in mind, will have limits of their own and want to know what yours are. Avoid relationships with Dominants who are fuzzy about limits, pressure you to discard yours, or say that they should decide your limits for you. 
Though newcomers to BDSM sometimes believe that good submissives have fewer limits, this isn't the case. A submissive without clear limits may be impacted by past trauma, struggle to identify their feelings, or have little self-knowledge. Lack of limits is not a sign of being free and open, but of poor emotional boundaries.  
Learn more about how partners in a BDSM relationship address each other: What Are Honorifics?
Doesn't Respect Your Emotional State
Engaging in BDSM play while upset or depressed can damage trust between partners and make feelings of sadness or anger worse. Be wary of a Dominant or submissive who pressures you to play when you don't feel up to it. This can indicate a lack of sensitivity or caring, or a fundamental misunderstanding of the role of a partner in a BDSM relationship.   
What to watch for
When you go to your partner for emotional support, do they use your vulnerability as an opportunity to have sex? Does their attention feel obligatory, something they offer so you'll have sex with them? Maybe you notice that your partner seems more interested in play when you feel down or unhappy. 
No partner, whether Dominant or submissive, should take advantage of your emotional state, pressure you to have sex, or ignore how you feel when you engage in play. In a healthy BDSM relationship, both partners prioritize each other's emotional needs and don't put sex ahead of mental health.   
Learn more: Dominant and Submissive Relationships
Doesn't Provide Consistent Aftercare
Aftercare is as important to the BDSM dynamic as the scene itself, if not more so. Aftercare is about showing care and comfort to participants after intense scenes, making sure they feel safe and valued. 
A partner who consistently brushes off your need for aftercare may engage in other potentially abusive behavior in the future. Respect and consideration are important in all relationships, and whether or not they involve power dynamics.
What to watch for
Consider it warning sign if your partner leaves after a scene, falls immediately to sleep, or gets distracted by their phone or the television. A healthy, caring Dominant and submissive will recognize the importance of connecting after a scene, checking in with each other and discussing anything they might need to talk about. 
If you have specific needs or reasonable requests for aftercare, your Dominant or submissive should be open to these and willing to do what is necessary to make you feel cared for. 
Learn more: What Is Aftercare? 
Plays While Intoxicated
In a BDSM relationship, clear mental state is essential to ensure that all parties are aware of the implications of their actions. Participating in a BDSM scene when intoxicated is not only an ethical issue, but also a legal one due to impaired ability to give informed consent.
It's important for consenting adults to be aware of the implications of their actions and avoid crossing into territory that could lead to feelings of anxiety or abuse, regardless of any prior agreements or contracts made while sober.
Remember: the law doesn't recognize consent given while intoxicated as valid. Engaging in play with an intoxicated person can have serious consequences. 
What to watch for
Be cautious of any Dominant or submissive who wants to play when under the influence of alcohol or drugs. Consent should always be clear and unmistakable. Do not engage in play with any person who is too intoxicated to give continuing consent.
Certain types of riskier BDSM play like wax play, fire play, and rope play can be dangerous with an intoxicated person. An intoxicated Dominant may be unable to adequately take care of a submissive, while an intoxicated may not be able to express safewords or other important information that helps to keep them safe.
Learn more: What Is Consensual Non-Consent?