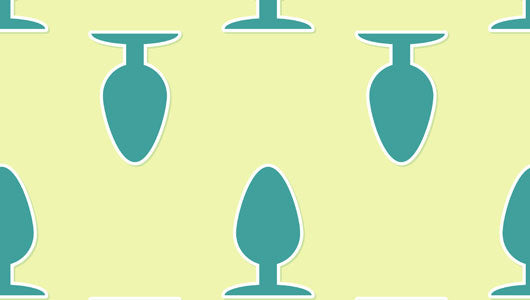 Found a butt plug you like? About to click add to cart? Hold on a minute. Are you sure it's safe? And what does safety mean when it comes to butt plugs, anyway?
Read on. I'll discuss how your choice of plug can make all the difference when it comes anal pleasure. I'll also tell you why the material and base of your butt plug are its two most important features, but first, check out my top anal-safe picks. 
Best Safe Butt Plugs
Best safe butt plug for beginners
b-Vibe Snug Plug 1 This is my desert island plug, the one I use for solo play, anal sex prep, and just wearing around town. It has a tapered tip that makes insertion a cinch, a narrow neck so it's easy to keep inside your body, and a super-safe T-bar base. If this size feels a bit petite for your needs, Snug Plugs come in multiple sizes as well as vibrating and non-vibrating options. 
Best safe budget-friendly butt plug
ROMP Bass It vibrates, it's pretty to look at it, and it has an anal-safe base. Did I mention it's under $35? ROMP makes great toys at very reasonable prices and the Bass is one of their best offerings. It also has 10 vibration modes and is rechargeable, too. 
Best safe stylish butt plug
Avant Kaleido This butt plug is so pretty, it's almost a shame to put it where the sun don't shine. It features a bright, multi-colored design and is made from platinum-cured silicone with an ultra-smooth finish. The T-bar base keeps the Kaleido in place and makes it easy to insert and remove.
Best safe app-controlled butt plug
Lovense Hush This anal-safe plug not only delivers deep, penetrating vibration, it can be controlled from anywhere on the planet. It's waterproof, quiet, and comes in 4 sizes for a fit that feels more customized. Best of all? It runs for a whopping 11 hours on a single charge. 
Best safe jewel butt plug
Crystal Delights Sparkle Plug Though most jewel plugs get a thumbs-down from me because of their unsafe small bases, the Crystal Delights Sparkle Plug is an exception. This sparkly toy is made from super-strong borosilicate glass and features a significantly wider base than you'll find on most jewel plugs. It also comes in multiple colors and can be used with any kind of lubricant.
Best safe stainless steel butt plug
njoy Pure Plug There's nothing like the cool glide of weighty stainless steel to stimulate the anal nerves. The njoy Pure Plug is well-known for its high-grade material, comfortable shape, and ability to maximize orgasms, no matter what your gender. And when it comes to temperature play, there's no better plug on the market. The Pure Plug's loop base is not only anal-safe, it's the perfect handle for positioning and removal. 
Best safe anal training set
b-Vibe Anal Training Set I love this training set for the variety of plugs, the swag that comes with them, and of course, b-Vibe's laser focus on anal safety. You'll get 3 premium silicone plugs of different sizes designed to help you train gradually and at your own pace. This all-inclusive kit gives you everything you need to get started, like a lube launcher, enema bulb, and storage case. 
Best safe tail butt plug
Crystal Delights Minx Tail Plug The Minx faux fur tail plug is fluffy, realistic, and luxuriously lengthy. The plug itself is made from clear, medical-grade borosilicate glass with a wide flared base for safe romping and role-playing. 
Now let's discuss what makes the plugs on this list so safe, and why the majority of jewel plugs are such a risky buy. 
Safest Butt Plug Materials 
When shopping for a safe butt plug, look for a toy made from non-porous material. Non-porous materials don't absorb bacteria, which is crucial to keeping the plug clean and avoiding any potential infection. The only safe, non-porous butt plug materials are:
Silicone 
Silicone is the most popular butt plug material by far. It's soft to the touch, easy to clean, and extremely durable. Silicone comes in a wide variety of colors and designs and is fairly flexible, making it a great choice if you're new to anal toys.
Some silicone plugs are weighted, which gives them a slightly heavier feel. These types of plugs are ideal for anal sex prep, as they can help relax the anal muscles and get you ready for penetration. 
Learn more: What Is Body-Safe Silicone? 
Borosilicate glass
Glass makes an excellent butt plug material thanks to its ultra-smooth, rigid surface. The majority of glass anal toys are non-vibrating and light to medium weight.
Glass plugs come in an array of shapes and colors and are some of the most beautiful toys you can find. They're also some of the most reasonably priced plugs available, making them an ideal option if you're shopping on a budget. 
Another perk of glass? It works well for temperature play. Just hold your toy under warm or cold water, or try refrigerating it for 10 minutes for some chilly anal stimulation. 
Learn more: Complete Guide To Glass Sex Toys
Stainless steel 
Stainless steel butt plugs are known for their heft and easy glide. They're also hard, seamlessly smooth in texture, and highly conductive for temperature play. Stainless steel is heavier than glass and stainless steel, and is the perfect plug material if you like firm pressure and deep internal massage. 
As you'd expect, stainless steel butt plugs are extremely durable. They don't absorb odors or change color over time, and with proper care can last a lifetime. 
Learn more: How To Use A Stainless Steel Sex Toy
Safest Butt Plug Base
The base of a butt plug is the part that stays outside your body during wear. You may already have heard that a butt plug has to have a sufficiently flared base to be safe and prevent the plug from being pulled inside your body during wear. 
But did you know that the type of flare can make the difference between a pleasurable anal play experience and a trip to the ER? Unfortunately, I'm not exaggerating.  
A base might have a circular, rectangular, heart, or T-bar shape. The base of your butt plug must be wide enough to keep it safely in place. The base can also act as a handle that helps you insert, position, and remove the plug. 
A small circular base is a particular hazard because it can so easily be lost inside the body. Many popular, low-cost jewel plugs have these types of smaller bases and are not safe to wear. Jewel plugs are notorious for getting pulled inside the anus and lost in the lower GI tract. If you're concerned about safety, I would avoid jewel plugs unless they have a larger base.  
Curious to see a butt plug with a T-bar base? Check out our review of the b-Vibe Vibrating Snug Plug 2
Which type of butt plug base is safest?
Without a doubt, the safest type of butt plug base you can buy is an anchor-shaped T-bar base. These types of bases are not only widely available, they are the least likely to be pulled up inside the body. In fact, it's safe to say that it would be extremely difficult to lose a T-bar base plug inside the anus, even if you use it during intercourse. 
Learn more: Best Sex Toys For Intercourse
Wide, loop-handle bases are also be worth considering. These are less common than other base shapes, but can be found on some stainless steel and silicone plugs. 
A circular or heart-shaped base can be safe if it's large enough, but it must be significantly wider than the plug itself. What qualifies as wide enough? There's no hard and fast rule, but it should be significantly wider than the body of the plug. 
While the base won't affect how the internal section of the plug feels inside your body, you may find certain base shapes more comfortable or discreet than others. There are plenty of anal-safe plugs that can work for your needs and your body.
Remember, anal safety first! And if you need a personalized rec, feel free to email us or DM us on TikTok or Instagram. We're always happy to help.