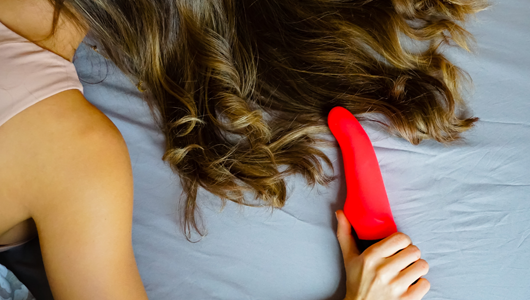 We get a lot of interesting questions about sex toys here at Delicto, but one in particular tops the list: can my vibrator really desensitize me? Internet rumor has it that vibes might not be good for us, and all that rumbly sensation can have detrimental effects on our bodies. 
But is it true? Can you numb or damage your nerves over time, or lose your ability to have an orgasm without the help of an ultra-powerful vibrator? Let's dig into the facts and find out.
How A Vibrator Works
First, let's look at what a vibrator actually does. Cute and colorful though it may be (calling you out, Tenga Mini), a vibrator is more than a simple toy — it's an electronic device that generates rumbly or buzzy sensations using small coils or weights.
Vibrators typically offer multiple patterns and speeds, and might thrust, heat up, flutter, respond to your partner's commands, or use pulses of air instead of direct vibes. 
When you let a vibrator loose on your clitoris, penis, or other sensitive spots, it stimulates your nerves and amps up blood flow, leading to pleasure and, often (yes, yes, YES!), to orgasm.
What A Vibrator Does 
Okay, so we agree that a vibrator feels really, really good. But what effect does all that mechanized stimulation have on your nerve endings? Well, they get bombarded with a lot of sensation at once, which puts them into a delicious kind of overdrive. You might feel more pleasure faster than you do from a non-vibe sensation, such as that from a mouth or fingers. 
When we play without a vibe, we usually experience 4 distinct stages of arousal:
Excitement. Excitement can last as little as a minute or as long as a few hours. This is the stage when blood flows south to engorge the tissues that make vaginas wet and penises hard. If you're masturbating, the creative part of your brain switches on to help you fantasize.
Plateau. Your heart rate and breathing increase, your blood pressure rises, and your tissues continue to swell. You might feel your muscles clench or tighten.  
Orgasm. Your blood continues to flow, your heart rate accelerates, and your pelvic floor muscles contract. This is the part that feels the best to most of us, and it usually lasts between 10 and 60 seconds. 
Refractory period. Your heart and breathing slow down and go back to normal, and your muscles gradually relax. 
Read more!

 

6 Reasons Why You Should Masturbate 
So what about when we play with a vibrator? Do we still go through the same 4 stages?
Well, that depends! Some bodies will, while others will respond to the focused stimulation of a vibrator by racing through the first 3 stages of arousal, or skipping over all or part of the plateau stage. To put that in real-world terms, you know the 15 minutes (give or take) you spend during oral sex building up to orgasm? That gradual crescendo you experience can be compressed into a few minutes (or even seconds!) when you use a toy.
What's The Verdict?
So, is that intense stimulation we speak of bad for you? Can it damage your nerves or make you less responsive to a partner over time?
Thankfully, no. There's absolutely no evidence that a vibrator — or any other sex toy, for that matter — can injure or impact your nerves long-term if used as intended. What does intended mean? Well, probably not for hours a day or to the point of pain. If you do feel pain when you use a vibrator, stop and pay your doctor a visit before you play again. 
All well and good, you say. But what about that friend of a friend who claims she can't orgasm with her boyfriend as easily since a Magic Wand took up residence in her nightstand?
Most likely she's become accustomed to the way her vibrator can accelerate the orgasmic process, making it feel like she's taking forever with her partner. Don't worry — she hasn't damaged her clitoris, she's just become accustomed to the speedy climax her trusty vibe delivers. 
To avoid becoming accustomed to your vibrator, switch things up! We recommend playing in different ways on a regular basis to keep from falling into a rut.
If you've used your favorite vibe a few times, try your fingers next, then a dildo, sleeve, or your partner's mouth. Keep your body guessing and your nerves stimulated by new sensations, and you'll be less likely to get too used to one orgasmic method.  
Except...wait! What about that time you felt almost numb after using your vibrator? That can't be good, can it?
Actually, that temporary numb feeling is just a sign of overstimulation! Your nerve endings can become a little overwhelmed from too much sensation, making them feel momentarily less sensitive and responsive. 
Some of us experience the same feeling if we try to reach orgasm after a long session of intercourse, when we've been stimulated repeatedly. Climax can feel elusive at times like these, just as it can when you've been at it for a while with your vibe.
Never fear — your nerves just need a little break from all that sensation, and will be as sensitive as ever when you play again. 
Final Thoughts 
Using a vibrator is a safe and healthy way for all genders to experience pleasure. You won't damage your body or reduce your ability to orgasm with a partner, so feel free to relax and enjoy your vibe!
If you're new to toys or want to try something exciting and different, feel free to reach out for personalized recommendations! Just email us at info@delicto.com, or DM us on Instagram or TikTok. We're always happy to help!