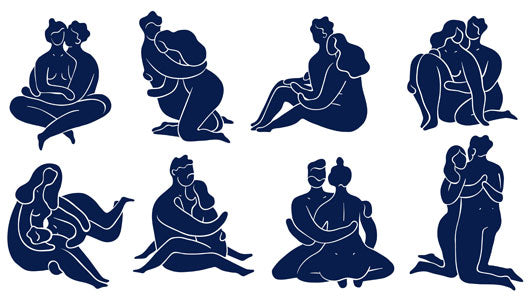 If you and your partner have bigger bodies and standard sex positions aren't doing it for you, listen up: you don't have to muddle through in positions that feel awkward and unenjoyable. With a few tweaks, you can go at it comfortably and with maximum pleasure. How? Join me over the jump. 
Doggy Styl-ish
First up: the classic doggy style, but with some adjustments for extra comfort and stability. Instead of going down on all fours, the receiver is going to stand, bend over, and spread their legs as far apart as they comfortably can. Keep a little bend in the knee (no locking your legs!) and turn your feet slightly inward. This helps to create secure lower body that will help you withstand a bit of bouncing and jostling. 
Instead of resting on your hands and putting all of your weight on your wrists, come down on your forearms. For even more support, you can rest your forearms on a firm wedge pillow. The idea is to give the giver easy access in a way that lets you both relax and enjoy the ride.
If you're the giver, hold the receiver's hips in your hands. Lean back for more leverage to go deeper, make room for your tummy, and achieve a pose that's comfortable and stable enough to hold for longer periods of time.
Doggy Styl-ish is also a good pose for holding a long-handled wand on the clitoris. For that, I recommend the Dame Com Wand, which is ergonomically shaped to curve around the body and target the right spots with ease.  
Sitting Pretty
Next up is a seated position that's not only comfortable, it feels amazing, too. If you're the giver, have a seat on an armless chair or other piece of furniture. A sturdy armless chair or couch firmly planted on the carpet works best. Try to avoid a slippery surface like tile or hardwood for maximum stability. 
The receiver can then straddle the giver or turn around for a reverse seated position, which might be comfier for folks with larger tummies. This direction also provides a wider range of motion for bouncing, allows you to keep your feet closer together for less hip strain, and perhaps most importantly, gives you easy access to hold a vibe on your clitoris. 
Looking for some unusual sex positions? Check out 3 Sex Positions You Haven't Tried (but Totally Should)
The Butterfly
Last but certainly not least is the butterfly. In this position, the receiver lies flat on the bed and slides their booty to the end of the mattress. They then lift their legs to rest on the shoulders of their partner, who stands at the end of the bed.
Now, this is a great position for exploring deeper depths, and because it's a face-to-face pose, it allows for plenty of intimate smooches. If you do want to get closer in this position, I recommend slipping a wedge pillow underneath the lower back and tush of the receiver. This will help raise the hips at an upward angle, giving the giver easier access to go deeper.
I also love a cock ring for this position — and any position to be honest — because it restricts blood flow out of the penis, giving you the largest possible tool to work with. 
Learn more: What Do Cock Rings Do?
Best Sex Toys For Larger Couples
Best wand
Dame Com Wand A curved handle makes the Com wand easier to hold and maneuver in different positions than most straight wands or toys with shorter handles. The vibe quality is deep and rumbly, and the silicone is ultra-smooth for a nice glide across sensitive parts. This whisper-quiet toy is also fully waterproof for bath and shower fun. 
Best toy for intercourse
The Wearable by Deia Designed to be worn during intercourse, this toy stimulates both partners with remote-controlled vibrations. I give high marks to the split external stimulator, which hugs both sides of the clitoris instead of pressing into it. Bonus points for the innovative remote, which can also be used as a vibrator. 
Best cock ring
We-Vibe Pivot  This stretchy silicone ring can make erections look and feel longer and thicker and help delay ejaculation. Designed to stimulate both partners with strong vibrations, the Pivot can be controlled by phone app for a hands-free experience. You can also sync the vibes with your playlist, create customized settings, and control the ring with your phone from anywhere in the world.
Learn more: Guide To App Controlled Sex Toys
Best couples' kit
Fun Factory Oh Yeah, Right There Kit
This premium, does-it-all kit includes the rumbly and ultra-versatile Manta and Volta vibrators. Though the Manta is described as a penis toy and the Volta as a clitoral toy, both can be also used on nipples, testicles, the perineum, or any other sensitive spot. 
Learn more: Sex Toys For Couples
Best toy for date night
Lovense Ferri Panty Vibrator The Ferri clips into your panties for pleasurable clitoral vibes at home or out on the town. It's powerful, quiet, and can be operated by phone app from across the room or across the globe. Whether you're walking around, dancing, or playing footsie under the dinner table, the Ferri stays securely and discreetly in place. 
Best grinding toys
Vibepad and Vibepad 2 If you've ever wished you could sit on a vibrator and relax while playing with your partner, take a look at the Vibepad and Vibepad 2. These oval silicone pads each feature two vibrating arches that stimulate the vulva and clitoris (and backdoor, as well, if you like!). The Vibepad 2 includes a warming feature and flickering silicone tongue. Both come with a remote for blissfully hands-free operation. 
For more, check out my Vibepad review and Vibepad 2 review!