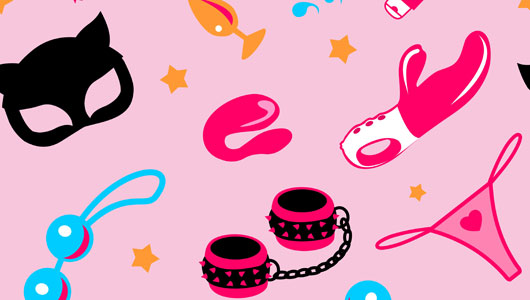 Sex toys for couples are a new frontier in pleasure products. Toys for couples can stimulate both partners at once, bond lovers across the globe, and help foster a feeling of connection.
Let's dive into the exciting world of couples toys and talk about how they work, which are best for long distance play, and how to choose the right one for you and your partner. 
What Are Sex Toys For Couples?
Sex toys for couples are particularly suitable for partnered play. Studies show that using couples' toys, along with experimenting with different positions and types of play, can bring partners closer and strengthen their relationship. 
Toys for couples can take many forms, from a powerful wand vibrator operated by a partner, to a toy that stimulates both the clitoris and penis during sex, to a stroker that shares vibration patterns with a partner's toy. 
Couples' toys may include such features as remote or app control, dual motors, and the ability to sync to music. Some of the most popular toy brands, including We-Vibe, Lovense, and Lelo, make toys specifically to be used by partners. 
Now let's take a closer look at the different types of couples' toys in depth, including options for intercourse, queer partners, and BDSM play. 
Looking for sex toys for women or men? Check out Sex Toys For Women and Sex Toys For Men  
Wearable Vibrators For Women
Wearable toys for women and vulva owners are designed for wear during partnered play. Some, such as panty vibes, are made to stimulate the clitoris or G-spot while the other partner operates the controls with a phone app or remote. 
Other wearable toys are intended to be worn inside the vagina during intercourse. Most have a C shape, and fit over the G-spot and clitoris. These popular vibrating toys are bendable, remote and/or app controlled, and stimulating to both partners. 
Vibrators worn during intercourse are typically made from body-safe silicone, with internal and external arms that flex for comfort and a custom fit. 
Browse all couples vibrators
Cock Rings
Cock rings are designed to be worn around the base of the penis for solo or partnered play. Also known as erection rings or C-rings, these toys can be made from silicone, leather, or rarely, metal. Some types of rings also wrap around the scrotum. 
A cock ring can help to enhance erections and delay ejaculation by restricting blood flow from the penis. And because blood flow is reduced, a cock ring can make a penis look — and even feel — temporarily larger.
Some cock rings are made from a simple round band of stretchy silicone, while others include a molded tip to stimulate the clitoris during intercourse. Cock rings might include such features as vibration and texture for heightened pleasure. 
Because they limit circulation, cock rings should be worn for no more than 20-30 minutes at a time. 
Browse all cock rings
Harnesses
Harnesses are designed with all genders in mind, and can be worn with both strap-on or strapless dildos. From strap-on play to pegging to double penetration, harnesses make exploration easy and pleasurable.  
Ideal for couples who want to play with power dynamics, strap-on harnesses are made from a range of materials such as fabric, leather, and nylon. They come in multiple styles, as well, including brief, open-back, thigh strap-on, and double penetration designs for men and penis owners. 
Most harnesses feature straps that adjust to fit bodies of different shapes and sizes, as well as an O-rings that accommodate various dildos and attachments. 
Browse all harnesses and harness kits
App and Remote-Controlled Toys
Whether you're in a long distance relationship or just like your play hands-free, remote and app-controlled toys are perfect for couples.
App controlled toys
Now easier to use than ever, app-controlled couples' toys connect you and a partner from across the room or across the world. Using free phone apps, these toys let you customize your experience by adjusting the sensation, intensity, and pattern at the touch of a button.
Some app controlled toys offer advanced features like custom vibration patterns, music syncing, and compatibility with virtual reality. Some can also sync with other toys, making them a great option for long-distance couples. 
Popular brands of app controlled couples' toys include Lovense, We-Vibe, Lelo, and Strap-On-Me. 
For more ideas for toys to use with a partner, check out Best Sex Toys For Intercourse
Remote controlled toys
Remote controlled toys have their own dedicated remote that lets you  adjust the intensity or pattern of the vibrations without touching the toy itself. Though remote controlled don't require a phone to operate, some are also compatible with phone apps.
Remotes typically work from a distance of around 30 to 100 feet, whereas app controlled toys can be operated from anyplace in the world with an internet connection. 
Toys that are more difficult to operate by hand may come with a remote to make using them simpler and more discreet. These toys can include wearable vibrators, vibrating dildos, penis toys such as strokers, and butt plugs.
Browse all app and remote-controlled toys
Dildos
Dildos for couples can enhance intimacy by stimulating erogenous zones and providing unique sensations, include fullness and vibration. A great option for exploring new experiences and fantasies, dildos can enhance foreplay and make partnered play more exciting. 
Dildos come in various shapes and styles to cater to different preferences and needs. Common body-safe dildo materials include silicone, stainless steel, and glass. Not that TPE and PVC dildos are typically porous and not safe for use inside the body. 
Let's take a look at a few of the most common ways dildos are used for partnered play. 
Strap-on play
Couples of all genders and sexual orientations can use dildos for strap-on play. Strap-on dildos attach to a harness that allows one partner to penetrate the other. Strapless strap-ons feature a bulb worn inside the vagina, and can be used with a harness for extra stability. 
Dildos used for strap-on and strapless play come in wide array of styles and sizes, and are typically made from silicone. Some strap-on dildos are made from break-resistant borosilicate glass. 
Double penetration 
Double penetration involves using a penis and dildo or two dildos at the same time. Double penetration can be achieved by holding the dildo or dildos, or strapping one or both to a harness. Double penetration may also refer to the use of double-ended dildos, which can be used either anally or vaginally.
Pegging
Dildos for pegging are designed specifically for anal penetration during strap-on play. They have a flared base for secure attachment to a harness and a curved shape for prostate stimulation. Pegging dildos are typically made from silicone, and may be attached to a bullet vibrator or clitoral stimulator to add pleasure for the wearer. 
Browse all dildos
BDSM
As BDSM play has become more popular, so have BDSM sex toys. From handcuffs and restraints to floggers and paddles, toys for BDSM play offer a range of sensations and experiences to explore with your partner. 
Categories of BDSM toys include:
Impact toys. From light taps to spanking to flogging, impact play offers a unique type of pleasure. Impact tools include leather crops, paddles, and slappers. 
Sensation toys. These products are all about exploring different types of touch, from light and gentle to intense. Sensation toys include feather teasers, pinwheels, penis plugs, and nipple clamps.
Bondage. When many people think of BDSM, they think of bondage. Rope, tape, handcuffs, and gags are some of the most common bondage products, and may be used for practices like shibari, head bondage, and chastity bondage. 
Browse all BDSM toys
Sexual Wellness Products
When it comes to sexual wellness products for couples, quality, body-safe  products can make all the difference. Fortunately, there's an abundance of items designed to heighten pleasure, including condoms, cleaners for sex toys, intimate wipes, massage oils, and candles.
Shop all sexual wellness products