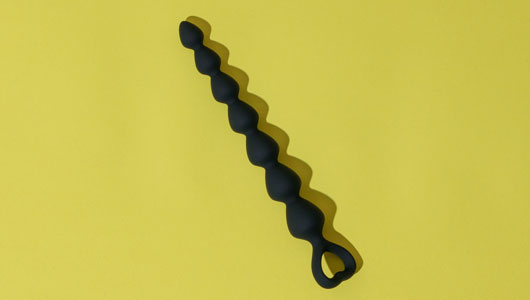 Butt plugs are having a moment. These wildly popular sex toys are renowned for pleasuring the anal nerves, delivering powerful prostate orgasms, and taking intercourse to the next level. Though the popularity of butt plugs is well-deserved, there's another ultra-stimulating anal toy that gets a lot less attention. 
I'm talking about anal beads. These long, slim toys may go in the same place, but they're very different from butt plugs. Come with me as I discuss anal beads and tell you how they work, what makes them unique, and why they can offer a new world of anal pleasure. 
What Are Anal Beads?
Anal beads are a type of sex toy designed for anal stimulation. If you've seen anal beads, chances are they stood out for their distinct look that sets them apart from other anal toys. They have a long, slim profile with spherical beads that provide pleasurable sensations when inserted into or removed from the anus. Most anal beads have a loop handle or anchor-shaped base to prevent them from pulled inside the body. 
How Are Anal Beads Different From Butt Plugs? 
Butt plugs are all about stretch and fullness, whereas anal beads are about depth and sensation. Anal beads are thinner and longer than butt plugs, and are textured for stimulation on the way out as well as the way in. If the idea of deeper anal stimulation appeals to you, anal beads should be at the top of your list. 
Wondering how something so slim can be so stimulating? Think of it this way: the muscles of the anus and rectum will close around any toy you insert, so even a very slender toy can feel stimulating to the nerves. When anal beads are pulled out, the long, textured surface creates sensations that shorter, smoother butt plugs do not. 
Learn more: Beginner's Guide To Butt Plugs
Anal Beads Designs
Like butt plugs, anal beads come in many different sizes, styles, and materials. You'll find designs on the market ranging from small, beginner-friendly options to larger models for experienced anal aficionados. Here are some of the most popular types of anal beads:
Tapered
These gradually increase in size from smaller spheres at one end to larger ones at the other end, and can be an ideal choice for beginners who want gentle progression.
Flexible
Some anal beads are rigid, with an internal structure that keeps them from bending or flexing. Others are ultra-flexible and have more "give" when you insert or remove them. These types of anal beads do not typically have a motor, and some of the simplest options you can choose. 
Vibrating
Vibrating anal beads are typically powered by a small motor or bullet vibrator in the base of the toy. Vibration can add an extra element of pleasure by stimulating the deeper nerves of the clitoral network or prostate. 
Anal Beads Materials
You'll find anal beads in a few different materials, some body-safe, some not. When shopping for anal toys, always look for non-porous materials that won't absorb bacteria or other pathogens from the lower GI tract. 
The most common body-safe material used for anal beads is silicone. Smooth, hypoallergenic, and easy to clean, silicone anal beads come in both vibrating and non-vibrating options.
Anal beads can also be made from borosilicate glass, which is extremely strong and difficult to break. Glass anal beads can be heated up or chilled, and are a great way to explore temperature play. Borosilicate glass is also non-porous and body-safe. 
How To Use Anal Beads
Are you ready to explore the world of anal beads? Great. But before you do, it's essential to know how to use them safely and comfortably. Don't worry; we've got your back (and your behind) with these simple insertion techniques.
Set the mood
Relaxation can help make your first time using anal beads more comfortable and pleasurable. Create a soothing atmosphere by dimming lights or lighting candles — whatever makes you feel at ease. It can help to take a warm bath to soothe your muscles and prepare your body for anal play. 
Make sure you have privacy and minimal distractions for a more focused, intimate experience. 
Learn more: How To Prepare For Anal Sex
Start smaller
Bigger isn't always better when you're new to anal play. It can be less intimidating and more comfortable to start with smaller anal beads that gradually increase in size. Slender, flexible anal beads can be a great way to introduce yourself to this type of stimulation. These types of beads are typically made from silicone and are budget-friendly, too.  
Use lube 
Always use plenty of lubricant to cut down on friction and make inserting and removing the beads as pleasurable as possible. If your anal beads are made from silicone, avoid silicone lube, which can damage silicone toys, and choose a water-based or hybrid lube. 
Learn more: How To Choose A Lube
Communicate 
If you'll be using anal beads with a partner, talk about your desires, boundaries, and any concerns you might have before and during the experience. As with all types of partnered play, communication and consent are crucial to pleasure. You may also want to try out your anal beads during a solo session to get a sense of how they feel before enjoying them with a partner.  
Learn more: How To Talk About Sex
Insert them slowly
Gently insert the beads one at a time, pausing to allow your body to adjust to each size. Never force anything, and stop immediately if you experience any pain or discomfort. Don't be afraid to take your time, or even stop and start again later.
When it comes to anal toys, practice makes perfect. Patience and trying out various approaches can be key to finding what feels best for you!
Experiment with removal
Removal is considered by many anal beads users to be the most pleasurable part of the experience. The choice between gradual and quick removal depends on your personal preference and the level of sensation you're aiming for. You may prefer a slow and steady approach, removing one bead at a time, or the intense feeling that comes from pulling all beads out quickly.
Experiment with both methods to find what works best for you. Some advanced beads users synchronize the removal of their anal beads with their orgasms. This can create an incredibly powerful sensation as the muscles contract around the beads as they're pulled out.
How To Clean Anal Beads
All anal toys, including anal beads, need to be thoroughly cleaned after each use. A thorough cleaning will help remove bacteria from the anus and rectum and keep the toy ready for use. 
To clean anal beads, use mild soap and warm water or any sex toy cleaner. Because of their beaded design, these toys can be a bit more challenging to clean than other anal toys and should be washed thoroughly. You can also use a UV sex toy cleaner to help zap any pathogens left of the surface of the material. Silicone anal beads without a motor can also be sanitized by boiling them. 
To store your anal beads, put them in a clean, dry place away from direct sunlight or extreme temperatures. To protect them from dust, you can stash them inside a small fabric bag or sex toy storage container. 
For more: How To Clean Sex Toys
Best Anal Beads 
Looking for the right set of anal beads? Not sure which ones to choose? Here are some of my top picks in the most popular categories!
Best anal beads for beginners 
Sportsheets Silicone Anal Beads It doesn't get much more classic than this slender set of silicone anal beads. With a ring handle and 9 inches of pleasurable texture, this non-vibrating string of beads is a great intro to this type of anal play. 
Best vibrating anal beads
b-Vibe Triplet Anal Beads Slightly beefier than some anal beads at 1.2 inches in diameter, these remote-controlled anal beads deliver 21 nerve-popping vibration modes courtesy of two powerful motors. At 5.2 inches in length, the Triplet is perfect for folks who like their beads a bit shorter and thicker. 
Best budget anal beads
Rocks Off Pearls Vibrating Anal Beads Rocks Off Pearls offer 7 stimulating vibration modes at a surprisingly modest price. These smooth silicone beads are powered by a bullet vibrator in the base for thrilling anal sensations. This toy is fully waterproof, and its T-bar base makes it extra anal-safe.
Best tapered anal beads
Forto F-52 Cone Anal Beads This body-safe silicone toy features 3 beads of different sizes for a range of pleasurable sensations. At 1.8 inches in diameter, the girthiest bead is the width of some smaller butt plugs. If you like the length of anal beads but don't want to sacrifice nerve-stretching stimulation, this 7.5 inch set of beads is calling your name.  
Best long anal beads
b-Vibe Cinco Vibrating Anal Beads If 11 inches of depth play sounds about right to you, check out b-Vibe's Cinco Anal Beads. This luxuriously long set of 5 beads is tapered for gradual stimulation and feature 21 vibration modes to suit any mood. The Cinco has 3 motors for consistently powerful vibes from top to bottom and can be operated by remote from up to 30 feet away.