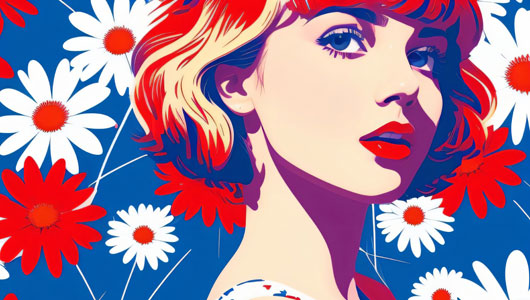 If you're a lesbian looking to spice things up in the bedroom, I've got three super stimulating positions for you to try. And don't worry, I break down exactly how to do these positions, why they feel so good, and which toys are best for each one. Let's dive in!
3 (Really Hot) Lesbian Sex Positions
The Lying 69
If you find the traditional 69 position to be awkward and uncomfortable, you're not alone (trust me). But if you and your partner love performing oral sex on each other at the same time, don't let that stop you! Simply flip this position on its side for some lying 69.
From this angle, you can both rest your bodies more comfortably and still enjoy easy mouth-to-vulva access. It can help to have each person prop one foot up on the bed and use their free hand to hold their labia open, but couples should take their time to find the positioning and angles that work best.
Learn: How to Eat Pussy Like a Pro
A big height discrepancy can make mutual reach more difficult, in which case I suggest one person use a wand-style vibrator while the other uses their mouth, and then pass the torch when you're ready to switch.
Best for: People who want to enjoy 69-ing more comfortably!
Best sex toy for this position: A vibrating wand with a long, ergonomic handle, like the Dame Com Wand, can help the shorter partner reach their lover's vulva.
The BumpHer
This one is more of a pro-tip than a specific position, but it can be perfect for partners looking to explore strap-on play.
Take the dildo you plan to use, and attach a BumpHer to the base of it. If you're unfamiliar, BumpHers are silicone dildo attachments that provide extra comfort, pressure, and stimulation to the clitoris of the person wearing the strap-on. Some BumpHers, like the Lippi and HoneyBunch, are designed to hold a vibrating bullet as well.
More: Read my full BumpHer review to learn more about these handy dildo attachments
Personally, I find BumpHer attachments to be the MVPs of strap-on play, especially if you and your partner want to synchronize your orgasms. Of course, there's no guarantee that you'll finish at the same time, but the extra stimulation a BumpHer brings to the table can really help the giver get there.
Plus, trying to cum at the same time can be a pretty fun venture all by itself (particularly if you add the element of orgasm denial to the game!).
Best for: Strap-on players looking for a way to bring more stimulation to the giver!
Best sex toy for this position: If you pick a BumpHer with room for a bullet and want something extra strong and rumbly, go with the unmatched power of the Doxy Bullet.
The Tire Swing
Last (but certainly not least) is the Tire Swing, a perfect position for those looking to enjoy mutual clitoral stimulation without penetration.
You're going to start by sitting in your partner's lap, with your back to her and your faces pointing in the same direction. From there, grind your backside into her vulva while she reaches in front to stimulate your vulva with her fingers, or a vibrator of your choice.
Preparing for your first lesbian experience? Check out Lesbian Sex — First Time Tips
The idea here is to provide vulvar stimulation to both partners at the same time, in different ways. The person on the bottom gets to bask in the sexy sensations (and view!) of their partner's booty bouncing on their vulva, while the person on top enjoys a stimulating embrace from behind.
To throw some power play into the mix, the person on the bottom can use their free hand to hold their lover's arms behind their back. To learn more about power dynamics and ways to incorporate kink into sex, read my complete guide to dominant and submissive relationships.
Best for: Lovers who prefer clitoral stimulation to penetrative pleasure!
Best sex toy for this position: The Emojibator Tiny Wand, a tiny-but-mighty vibrator that's very lightweight and easy to hold in close quarters.
Final Thoughts
Well, you've reached the end of my guide, and you're officially ready to give these lesbian sex positions a try. Just be sure to take your time, find what feels good, and use plenty of lube. Sex is better when it's wetter! 
In the meantime, don't forget to follow Delicto on TikTok and Instagram for more pleasure product reviews, tutorials, and sex education. And if you have questions or need a personal recommendation, you can always reach out for a consultation. Have fun, everyone!
Learn more about lesbian sex positions! Check out What Is Scissoring? and Sex Positions For Larger Couples