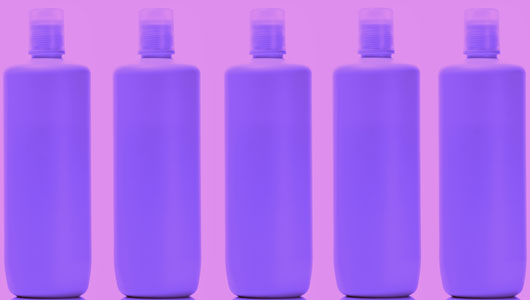 Lubricant is designed to minimize friction and maximize pleasure. What it's not designed to do is cause itching, burning, or rashes. But if you're sensitive, there are ingredients in some lubricants that can put a damper on the fun in a hurry.  
If you've had a reaction to lube before or are concerned you will, keep reading. A good lube designed for sensitive skin can make all the difference between an unpleasant experience and a deliciously memorable one.   
Join us as we dive into the slippery topic of sensitive skin lubes. We'll discuss which ingredients to avoid, which ones to look for, how to do a patch test, and reveal our top picks for an irritation-free glide.  
What Are Sensitive Skin Lubricants?
Sensitive skin lubes are designed specifically for people who tend to experience reactions to other types of lubes. Irritation caused by lubricant can start immediately, interrupt solo or partnered play, or begin after play is over.  
Common reactions to lube ingredients include:
Itching
Burning
Swelling
Redness
Hives 
Yeast infections
pH imbalances
Rashes

Though some of us are sensitive to chemicals, not all reactions to lube are from chemical ingredients. Some of us are sensitive to natural ingredients, too, including essential oils, plant extracts, and certain flavors and fragrances. A lube may boast ingredients that are vegan, dermatologist-tested, and even organic, but if you're sensitive, you could potentially have a reaction to these ingredients, as well. 
Learn more: How To Choose A Lube
Which Lube Ingredients Should I Avoid? 
When choosing a personal lubricant for sensitive skin, watch for certain ingredients that are known to cause irritation or allergic reactions. Here are some common irritants in commercially prepared lubes:
Petroleum products 
While popular as a moisturizer, petroleum products not recommended as a sexual lubricant. Why? As their name implies, petroleum products are a by-product of a toxic crude oil.
Petroleum products can be safe when they're refined properly, but this may not always be the case, particularly in the US. Petroleum products that haven't been refined sufficiently can contain PAHs, toxic chemicals formally known as polycyclic aromatic hydrocarbons. 
Even refined petroleum ingredients can block pores, disrupt the pH of the skin and vagina, and be difficult to wash off. They can also damage condoms and sex toy materials like ABS plastic. 
Learn more: Are ABS Plastic Sex Toys Safe? 
Fragrances
Both natural and chemical fragrances can lead to itching, burning, and allergic reactions when applied to delicate genital tissues. Fragrances in commercial lubricants may also be more likely to contain phthalates, which are potentially toxic and banned in certain countries. 
Flavors
Ingredients in certain flavored lubricants, such as glycerin, can contribute to irritation or yeast infections. Some flavored lubricants contain sugars or artificial sweeteners, which can cause pH imbalances or inflammatory reactions. 
Parabens
Parabens, a type of preservative found in many cosmetics and personal care items, have been linked to hormonal imbalances and potential health risks. They may mimic estrogen in the body, and could potentially lead to reproductive issues and a higher risk of breast cancer. Parabens can also cause irritation and allergic reactions, and are best avoided if you have sensitive skin. 
Chlorhexidine gluconate
Chlorhexidine gluconate is a common ingredient found in many personal lubricant products that are marketed as "antibacterial" or "hygienic". While it may help prevent bacterial infections, chlorhexidine gluconate can also cause irritation, burning, and itching of the vaginal area, particularly if you have sensitive skin. 
Propylene glycol 
Propylene glycol is often used in consumer products such as antifreeze and paint solvents. Although its purpose in personal lubricants is to create a slippery feel, it can also cause irritation, rashes, and allergic reactions.

Natural and less irritating alternatives to propylene glycol include aloe vera gel and coconut oil, both of which provide a slick texture with less potential for itching or swelling.
Glycerin
Glycerin is colorless and odorless sugar alcohol with a smooth, syrupy texture. Glycerin works by drawing moisture from the surrounding environment into the skin, but in low-humidity conditions or on already dry skin, it can actually pull moisture away, leading to yeast infections, vaginal dryness, and irritation.
Curious about what's in your lube? Read more about lube ingredients
Which Lube Ingredients Are Best For Sensitive Skin?
Now that you know which ingredients to avoid, which ones should you look for? Here are some of the most common — and most reliably soothing — ingredients in sensitive skin lubes. 
Hyaluronic acid
Hyaluronic acid can hold up to 1000 times its weight in water and provides lasting hydration without irritating sensitive skin. A scent and flavor-free sugar molecule naturally found in the human body, hyaluronic acid is used in lubricant to improve glide and alleviate dryness. 
Aloe vera
Aloe vera is a natural ingredient that has been used for centuries in traditional medicine. Known for its soothing and moisturizing properties, aloe vera is loaded with vitamins, minerals, and antioxidants that help to nourish the skin and promote healing. Its gel-like texture is also great for reducing friction during intercourse and solo play. 
Plant oils
Some people prefer using coconut oil or other plant-derived oils as a natural alternative to traditional lubricants. Coconut oil has been used as a lubricant for centuries. Coconut oil is also a natural anti-inflammatory and anti-fungal agent, making it an ideal choice for those with sensitive skin. It can be an excellent alternative to lower-quality lubricants that may contain harsh chemicals or synthetic fragrances.
Keep in mind that oil-based lubes are not compatible with latex condoms and may damage sex toys made from plastic.
Vitamin E
Also known as tocopherol acetate, vitamin E is often used a skin conditioner and moisturizer. Vitamin E is a powerful antioxidant protects the skin by balancing its moisture content. It also promotes healing and cell regeneration. The antioxidant properties of vitamin E also protect the skin from environmental stressors that can cause irritation. 
Silicone
Yes, silicone! Silicone-based lube can be a great choice if you're sensitive. Many silicone-based lubes contain only silicone and nothing else, and are often free of scents, flavors, and preservatives. Silicone lube can also feel ultra-lubricating and soothing to the skin.
Because it's so long-lasting, a pure silicone formula can help prevent irritation from excessive friction. Remember that silicone lube is not safe for use with silicone toys and some types of condoms. 
Learn more: How To Use Lube
How To Choose A Sensitive Skin Lube
Wondering how to pick a sensitive skin lube from all the different options? Here are a few ways to narrow down your choices and find the right formula for you. 
Choose the right formula for your needs 
You may have sensitive skin, but your lube should also be designed for the play you enjoy and the toys you use. For instance, if you need a lube for anal play, shop for hypoallergenic, unscented anal lubes with soothing ingredients.
Need a lube for play with body-safe silicone toys? Scratch silicone lubes off your list (they can damage silicone material) and go for a gentle water-based or hybrid lube instead. The more specific you are when browsing, the easier it will be to find the perfect formula for your needs. 
Learn more: What Is Body-Safe Silicone?
Look for certain catchphrases
Sensitive skin lubes will typically have a number of important features, recognizable from certain words and phrases in the ingredient list or on the container. These include:
Hypoallergenic. A hypoallergenic (literally "less allergenic) product is less likely to contain ingredients known to cause allergic reactions. Hypoallergenic lubes are typically free from fragrances, dyes, chemical preservatives, and essential oils.
Body-safe. The term body-safe describes stable, non-toxic products that are safe for internal use and on the vulva. Body-safe lubricants are generally free from parabens, glycerin, and propylene glycol, all of which can cause irritation and redness. 
pH balanced. pH balanced lubes are formulated to maintain the natural acidity of the vagina and vulva. A pH-balanced lube can help prevent the irritation and dryness that can happen during sex or solo play. These lubes have a pH level similar to the healthy balance of the vagina, which ranges between 3.5 and 4.5. 
Dermatologist or gynecologist tested. When a lube is dermatologist-tested or gynecologist-tested, it means the product has been tested by medical professionals to make sure it's safe for use on sensitive skin.
Dermatologist-tested products are specifically tested for their non-irritating properties on skin. Gynecologist-tested products are evaluated for their compatibility with the delicate tissues in the vaginal area. 
Isotonic. This scientific term describes a perfect balance of salt concentration within a solution. In the context of sensitive skin lubes, an isotonic formula promotes cell health by minimizing fluid loss and reducing the risk of damage caused by changes in pH levels.
Browse all lubes now
How To Use Sensitive Skin Lube
If you have skin sensitivities, try following these steps before you use a new lube:
Do a patch test 
To help prevent an uncomfortable reaction during or after sex or solo play, conduct a patch test on a nearby non-genital area. Here's how:
Clean and dry a small area of skin near your genitals such as the inner thigh
Apply a small amount of the lubricant to the cleansed area
Wait at least 24 hours to check for signs of irritation or an allergic reaction such as redness, itching, or swelling

If you have any negative reactions during the patch test, wash the lube off your skin and don't use it for any kind of sexual activity. 
Use it solo first
There's a patch test, and then there's trying a new lube in real life. Before you jump into partnered play with a new product, test it out during a solo session. Not only will this reveal any potential skin sensitivities, it will help you see how the formula feels, smells, and performs during use.
Learn more: 6 Reasons Why You Should Masturbate
Watch for warning signs
Maybe all went well with your patch test and you've enjoyed a few orgasms with your new sensitive skin lube. But you've noticed that you feel a little inflamed or vaguely itchy after using it. Remember that allergic reactions can start slowly and build as you continue to use a product. 
If you notice any redness or mild irritation after using a lube, it's best to stop using it and look for a lube that won't create an inflammatory reaction.  
Best Sensitive Skin Lubes
There are several popular lube options that cater specifically to folks with sensitive skin. Here are my top picks.  
Best water-based lube for sensitive skin
Good Clean Love Bio-Nude This ultra-silky formula checks off all the boxes for a sensitive skin lube. It's isotonic, pH-balanced, and free from potential irritants like parabens and propylene glycol. It's also safe to use with all sex toy materials and condoms, making it the ideal, does-everything lube. 
Learn more: Water-based Vs. Silicone Lube
Best silicone-based lubes for sensitive skin
Sliquid Silver Studio Collection Sliquid makes some of the best lubes available, and Sliquid Silver is no exception. Made from pure, pharmaceutical grade silicones, Sliquid Silver has a luxe feel and comes in an elegant glass bottle. I love it for all kinds of play, including anal and partnered play with silicone-safe toys. 
Pjur Med Soft Glide This satiny lube is made of three different silicones with the addition of jojoba seed oil. Jojoba contains essential fatty acids and can improve the skin's elasticity, making it a great option for dry skin and play after menopause. 
Best hybrid lube for sensitive skin
Wicked Simply Aqua Jelle Loaded with clean ingredients, this plush formula is not just for the sensitive among us. It makes a great lube for anal play and is compatible with all sex toy materials, even silicone. The addition of olive leaf extract gives this cushiony glide natural antibacterial properties, too. 
Best oil-based lube for sensitive skin
Coconu Organic Oil-based Lube Not only is this rich formula USDA certified organic and 100% body-safe, it's also edible! A perfect, non-irritating lube for the bath and shower, Coconu stands up to just about any type of play. It also makes a great massage oil.  
Best anal lube for sensitive skin
Intimate Earth Ease This silicone-based glide contains bisabolol, a natural anti-inflammatory extract from the chamomile plant that also helps to relax the muscles. Loaded with soothing ingredients like aloe vera, vitamin E, and goji fruit extract, Ease is also perfect for play with anal toys. 
Best flavored lube for sensitive skin
La Nua Water-based Honey Vanilla Lube I know I said to avoid flavors if you have sensitive skin, but La Nua's flavored formulas stand apart. These all-natural lubes contain no sugars, artificial sweeteners, or glycerin, and are packed with moisturizers and pH balancing ingredients. They even come in petroleum-free glass containers.
Check out La Nua's watermelon mint and strawberry coconut flavors, too!
Sensitive Skin Lube FAQs
What should I do if my lube causes a reaction?
If your current lube causes itching, burning sensations, redness, or swelling, stop using it and wash it off with a mild soap and cool water. Avoid using lotions or other products that could potentially exacerbate the irritation. Cool compresses can help if you still feel itching or burning.
If your symptoms haven't improved in 24 hours, consult a doctor. 
What kind of lube won't cause a yeast infection?
To avoid yeast infections, choose a lube without glycerin, fragrances, or sugar derivatives that can promote pH imbalances or bacterial growth. Look for a pH-balanced, unflavored product free from essential oils and parabens. 
What other precautions should I take if I have sensitive skin?
Always patch test new products on less-sensitive areas before using them for solo or partnered play.
Clean your sex toys thoroughly before and after use and store them away from potential contaminants like personal care products or other toys.
Finally, choose only body-safe toy materials like silicone, glass, and stainless steel (TPE is okay for penis toys!), and avoid potentially toxic materials like PVC. PVC can cause burning, itching, and urinary tract infections, and is not safe to use in or on the body.  
Learn more: Are PVC Sex Toys Safe?