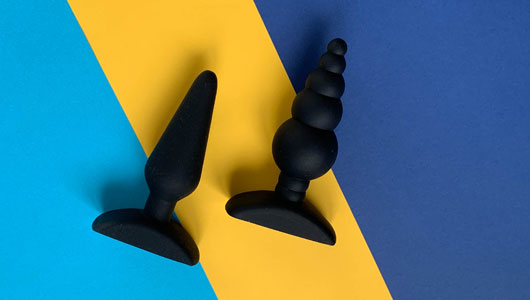 Ready to buy a butt plug, but not sure which size to choose? Read on. In this handy guide, I'll show you how to pick a plug that's the perfect size and shape for you, whether you're an anal aficionado or on the hunt for your first toy.  
Which Size Butt Plug Should I Buy?
Perhaps the most important part of choosing a new butt plug is getting the size and proportions right. Let's look at what goes into the sizing of a butt plug, and how each factor can affect the way it feels.
The tip 
The tip of the butt plug is that part that goes in first, and is typically tapered to make insertion easier and more comfortable. The tip might be pointed, curved, ridged, or have a more rounded, "torpedo" shape. 
Each type of tip has unique benefits:
A pointier tip can make insertion easier

A rounder tip can feel smoother on the way in
A curved tip can help stimulate the prostate, also called the P-spot

A ridged or textured tip can deliver more stimulation to the surface of the skin 
Keep in mind that toy material will affect how the tip feels, as well. For example, a pointed tip may feel sharper if the plug is made from a hard material like glass or stainless steel. Silicone might feel softer and more pliable. 
For a complete guide to choosing the right butt plug, check out The Beginner's Guide To Butt Plugs
Insertable length 
Insertable length refers to the part of the plug that sits inside the body. With most plugs, everything between the tip and the base will be insertable length. For instance, a 6-inch plug with 4 inches of insertable length will penetrate a maximum of 4 inches deep, leaving the remaning 2 inches outside the body. 
Butt plug beginners don't necessarily need to pick a shorter plug, though it can help to start small and work your way up as you get comfortable. Let's look at what terms like small, medium, and large actually mean when it comes to insertable length. 
Butt plug insertable length sizing 
Small 
A plug with a small insertable length is about 2-3 inches long, or approximately the length of the average thumb. This size is perfect if you enjoy anal fingering and are ready to take the plunge into toys. 
Examples of small plugs include the OhMiBod LoveLife Explore and Crystal Delights Sparkle Plug.  
Medium 
The insertable length of a medium plug is about 3-4 inches, which is ideal if you're looking for deeper penetration but want to avoid feeling too full. 
The b-Vibe Vibrating Snug Plug and We-Vibe Ditto are both great medium-length butt plugs. 
Large 
The insertable length of a large butt plug is typically 4-6 inches, which is as long as the average penis. This length is best if you want to explore deeper anal penetration. 
If you're ready to try a butt plug with a large insertable length, check out the VeDO Bump Plus or the Femme Funn Pyra!
Extra large 
The insertable length of an extra large plug is generally 6 inches or longer. Extra long plugs can have a dildo-like feel, which makes them a good choice if you enjoy or want to prepare for anal sex. 
Great examples of extra long butt plugs are the P & G Plug and Forto F-19.
Now, remember that insertable length refers only to how long a plug is. When choosing the size of a butt plug, it's just as important to consider width, also known as diameter. 
Diameter 
Diameter describes the width of a butt plug from one side to the other. Width and diameter might also be called girth, or thickness. 
When you're shopping for butt plugs, you'll typically find the dimensions, including diameter, in the product listing. Some brands list the circumference instead of the diameter, and it's important to know the difference. Diameter measures the length across a plug, whereas circumference measures the distance around the plug. A butt plug with a 3-inch diameter will be much larger than a plug with a 3-inch circumference. 
Not sure which diameter range is right for you? Let's dig a little deeper into the diameter options of butt plugs. 
Butt plug diameter sizing
Extra Small
Any butt plug with a diameter of less than an inch is considered to have an extra small girth. The b-Vibe Snug Plug 1 is a great example of an extra small, beginner-friendly plug. 
Small 
A butt plug with a diameter of 1 to 1.25 inches is small, and great for novices or those who prefer more gentle stimulation. The Pretty Plugs Small Swarovski plug, for example, has a 1.1 inch diameter for easy insertion and long-term wear. 
Medium 
Medium plugs are around 1.25 to 1.5 inches in diameter, or approximately equivalent to two fingers side by side. The Gplug Bioskin is on the larger side of medium, while the Crystal Delights Kitty is on the smaller side. 
Large 
The 1.5 to 2-inch diameter range is considered large for a butt plug, and is girthier than the average erect penis. If you have some anal play experience and are ready for a large plug, check out the Fun Factory Large Bootie Plug. 
Extra Large
Plugs with a diameter over 2 inches are considered extra large, and are best for very experienced anal players. If you're eager to take the plunge into XL plugs, the Snug Plug 6 will give you a run for your money. 
Now that you know more about length and diameter, you're ready to find the butt plug size that suits you best. But before you start shopping, let's discuss two more factors to consider when it comes to butt plug construction: the neck and the base. 
The neck 
The neck is what connects the body of a butt plug to its base. It might be thicker to keep the anus slightly stretched while the plug is inserted, or narrower to achieve a tighter seal. 
Some butt plugs necks are lengthier, while others are very short. There's no right or wrong answer in regards to neck length, but longer necks can make a plug easier to position and remove. 
A good example of a plug with long, slim neck is the b-Vibe Vibrating Snug Plug, while an example of a plug with a shorter neck is the Avant Asexual Pride Plug. 
The base 
The most important part of a butt plug's construction is the base, which must be flared to be considered anal-safe. 
Some bases are circular, some are square, and some have a long, vertical shape known as a T-bar base. Why is the base so crucial? A sufficiently flared base prevents a plug from getting lost inside the body. It can also function as a convenient handle for inserting and removing the plug. 
What qualifies as a "sufficient flare?" There's no hard and fast rule, but it should be significantly wider than the body of the plug. In general, a T-bar base will be the safest type of base, closely followed by a wide, loop-handle base. 
While the base won't affect how the internal section of the plug feels inside your body, you may find certain base shapes more comfortable or discreet than others, so take time to explore what feels right for you. 
FAQs
Can I wear a butt plug all day? 
While many people do wear their plugs for extended periods, it's recommended that you take a break every 2-3 hours. Wearing a butt plug continuously for more than 3 hours can restrict blood circulation and potentially damage internal tissue. 
How do I go up a size in butt plugs? 
A good rule of thumb is to increase the size of your plugs in increments of around 1 inch in circumference, which is approximately .25 to 0.3 inches in diameter. 
Anal training kits are another good way to gradually and comfortably increase the size of your plugs. It also helps to use your plugs regularly. Consistent wear can help your body adapt to both the size and sensation, and allow you to move up to a larger toy more quickly. 
Which size butt plug is best for prostate stimulation?
A plug with at least 2 to 4 inches of insertable length is perfect for stimulating the prostate, which sits a few inches inside the rectum. 
What kind of lube should I use with a butt plug? 
It can be beneficial to use a thicker, cushiony lube specifically formulated for anal play. No matter which type of lubricant you choose, make sure the ingredients are compatible with the material of your sex toy to prevent damage or discoloration. 
For more information on choosing a lubricant, including which lube is safe to use with the most common sex toy materials, check out How To Choose A Lube