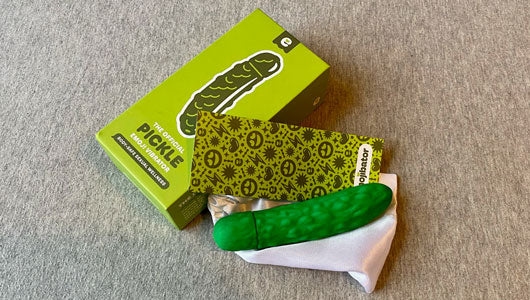 Looking for a way to combine your love for pickles and sex toys? Well, here it is! The Emojibator Official Pickle Vibrator looks just like your favorite crunchy snack, but is actually a super discreet and delightfully stimulating vibrator. 
Come along as I explore the ins and outs of this uniquely green vibe. In my Emojibator Pickle Vibrator review, I explain how it works, what it's made of, and all the fun ways to enjoy it! 
Emojibator Official Pickle Vibrator: Quick Stats
No time to read the full review? Take a moment to peruse the essential info below, or scroll to the end of the review for a list of pros and cons. 
Travel-ready bullet style vibrator

Length: 4.6 inches

Diameter: 1.22 inches

Body-safe medical grade silicone

Designed for clitoral and G-spot stimulation

10 vibration modes

Battery powered (AAA battery, included)

IPX5 water resistant

Safe for use with water-based and hybrid lubes and any toy cleaner

Discreet shipping
Shop the Emojibator Official Pickle Vibrator now
How Does the Emojibator Pickle Vibrator Work?
The Emojibator Pickle Vibrator is made from body-safe silicone, feels super soft to the touch, and is pretty petite at about 4 and a half inches long. It's battery-powered, which makes it ideal for folks looking to avoid plugs and wires. And yes, the battery is included! 
The vibrator itself does actually look just like a pickle. It's green, shaped like a Classic Dill, and features little bumps and distinctive pickle-y textures along the body. Personally, I've never seen a sex toy look more like a pickle — or any food item — than this one. 
The Emojibator Pickle packs 10 vibration patterns into its small construction, and feels more buzzy than rumbly. In my opinion, its buzzy sensations make it great for pinpoint nipple and clitoral stimulation, but players should feel free to experiment with what feels good. 
While the Pickle vibe is not anal-safe, it can be used internally for G-spot stimulation. In fact, those little bumpy textures feel uniquely pleasant on the labia as the toy glides in and out of the vagina. 
Using this vibrator is as easy as it gets, with only one button that controls the toy. Simply unscrew the top of the pickle, remove the little piece of paper insulation, screw the top back on and push the button to cycle through the settings. That's it! 
So, we know what this toy is made of and how it works, but is the Emojibator Pickle Vibrator the right fit for you? Let's take a closer look at the pros and cons.
Emojibator Pickle Vibrator Pros
There's a lot to love about this cute pickle vibe, so let's start with all the good stuff.
It's quiet and safe for shower play
This toy is water-resistant, which means it's not safe to submerge under water, but is perfectly fine to take in the shower. Plus, it's already a very quiet toy, and becomes pretty much silent when muffled by the sound of running water. 
It's travel-ready
It doesn't get much more travel-friendly than this. The Pickle Vibrator is small, compact, and can easily be stowed in a purse or carry-on bag. It even comes with its own satin storage case!
And, remember: it's a very quiet vibe, so no need to worry about being overheard by the people in the hotel room next door.
More: Can I Bring a Vibrator in a Carry-On Bag?
It's discreet, giftable, and budget-friendly
There's no denying that this is a unique vibrator that makes a fantastic gift, especially for the pickle-lover in your life. And despite its novelty quality, it's not a gag gift; it's a body-safe vibrator that feels great on the clitoris, nipples, and G-spot!
I also appreciate how discreet it is. If an unsuspecting person were to wander into your room and see this pickle lying around, they'd be none the wiser. The Emojibator Pickle definitely falls under the category of sex toys that don't look like sex toys.
Not to mention, it's super affordable!
Shop the Emojibator Pickle Vibrator now, or browse all budget-friendly toys!
Emojibator Pickle Vibrator Potential Cons
As with any sex toy, there are a few things to consider about this Pickle vibe before you make your purchase. 
It's more buzzy than rumbly 
This is a matter of personal preference, but if it's rumbly vibrations you're after, you won't find it here. Folks who enjoy the pinpoint surface power of buzzy vibes are sure to enjoy this pickle, but those in search of deep, rolling vibration are better suited to something like the Femme Funn Booster Bullet or the Magic Wand. 
It's battery-operated 
This isn't necessarily a downside for everyone, but the Official Pickle is not a rechargeable or plug-in vibrator. It's battery-operated, which means you'll have to replace its AAA battery when it dies. 
It's not super strong 
This vibrator gets pretty strong considering its small size, but it's not going to give you the powerful intensity that you'd experience from a larger, wand-style vibrator. In my experience, this pickle makes a great toy for teasing, or for those who prefer gentler stimulation. 
Final Thoughts 
Now that you've taken a close look at this spicy pickle, you're ready to decide if the Emojibator Official Pickle Vibrator is the right toy for you. If you're not completely sold, peruse our full collection of vibrators, or reach out for a personal recommendation. I'm sure I can help you find the perfect pleasure product!
In the meantime, be sure to follow Delicto on Instagram and Tiktok for more reviews, tutorials, and sex education. Happy pickling!