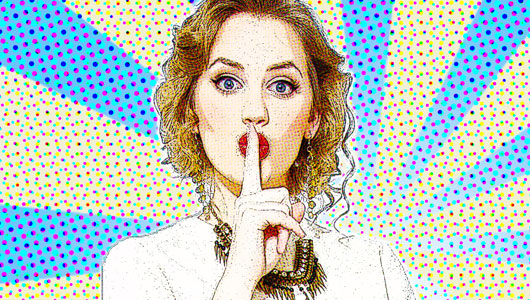 Roommates, parents, children, oh my! How to enjoy a little much-needed solo time when you've got eavesdroppers on the other side of the wall? With a super quiet vibrator, of course!
If you blush at the mere thought of sex toy noise, read on. These are my top picks for the best quiet vibrators of 2023. 
Best Quiet Vibrators 2023
Best quiet lay-on vibrator
Dame Pom Dame toys are well-known for their low-volume operation and deep, rumbly vibes. The Pom is designed to stimulate the vulva as well as the clitoris and is one of my favorite toys to use during intercourse. The Pom is made from smooth, body-safe silicone and is waterproof for aquatic adventures. 
For complete details and a closer look at the Pom, check out my video review
Best quiet G-spot vibrator
Pillow Talk Sassy As if being one of the world's best G-spot vibes weren't enough, the Pillow Talk Sassy is also incredibly quiet. The Sassy is all about low-frequency vibrations, which tend to feel more pleasurable and easier on the ears. With a curved shaft and firm, rounded head, the Sassy is ideal for discreet-yet-powerful G-spot massage. 
Learn more: What Is The G-Spot? 
Best quiet rabbit vibrators
We-Vibe Nova If quiet, app-controlled, and rumbly sounds like your kind of rabbit vibe, check out the We-Vibe Nova. This bendy silicone toy won't alert the neighbors and can be operated by app from anywhere in the world. My favorite feature? The ultra-flexible fit feels practically customized for my body. 
Lelo Ina 3 When I used the Ina 3 in a social media video, I had to hold it up to the microphone to hear it — that's how quiet it is. If you've seen my review of this toy, you already know that I adore its girthy internal stimulator, flexible clitoral stimulator, and wide array of settings, not to mention its mouthwatering selection of colors. Practically soundless operation is just icing on the cake. 
Watch my full Lelo Ina 3 rabbit vibrator review
Best quiet air pressure toy
Satisfyer Curvy 3+ When it comes to air pressure toys, you typically have to choose between power and low decibel operation. Not so with the Satisfyer Curvy 3+, which in my experience is the strongest air pressure toy that's also semi-quiet. The Curvy adds vibration to the mix for those of us who want it all. 
Best quiet vibrator for beginners
Je Joue Mimi Soft The Mimi Soft is, well, soft, making it a great option if you're new to toys or sensitive to clitoral pressure. This oval, easy-to-use toy features 5 intensity levels and 7 patterns and is ergonomically designed for long, comfortable solo sessions. It's also about as quiet as a vibrator gets. 
For more toys that won't attract attention, read Best Discreet Sex Toys 2023
Best quiet wand vibrator
Le Wand Petite This stylish wand is lightweight, rumbly, and comes in delicious colors like rose gold and dark cherry. It's also one of the quietest strong wands I've ever enjoyed. This isn't a blow your socks off power wand like the Doxy or Magic Wand, but it delivers a lot of pleasure with a blissfully quiet motor. 
Learn more: Rumbly Vs. Buzzy Vibrators
Best quiet budget vibrator
Pillow Talk Racy Like it's larger sister, the Pillow Talk Sassy, the Racy is coming for your G-spot in the best possible way. It's also a fabulous clitoral toy and a great choice if you're on a budget. Because it's so petite, discreet, and packable, it's one of my favorite travel vibes.  
Looking for more budget-friendly toys? Check out Best Cheap Vibrators