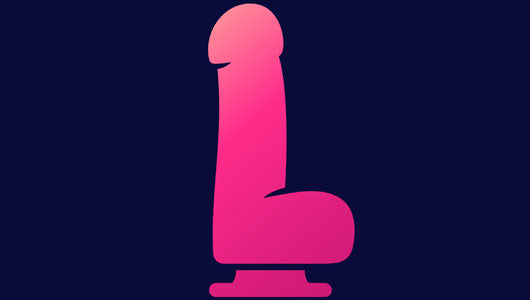 If you're looking for a fun way to enjoy hands-free pleasure, a suction cup dildo might be the perfect sex toy for you. Of course, once you get a suction cup dildo, you might wonder, "How do I use this thing and what do I stick it to?" Well, worry not! I'm here to help. 
In this guide, I explain how to use a suction cup dildo, which positions are best for hands-free penetration, and how to keep your suction cup dildo secure during play.
What Is a Suction Cup Dildo?
Let's take it from the top.
Simply put, a suction cup dildo is a dildo that can be affixed to a flat surface. The base of a suction cup dildo is typically round with a shallow divot, but some bases are flatter, or are more heart-shaped than round. Not all suction cup dildos are created equally, and some are stronger than others.
So how do you know which suction cup dildo to choose?
Well, start by considering the size, shape, and materials that best meet your needs. Do you want a large dildo with a completely straight shaft, or a smaller toy that curves upward? Whichever size and shape you choose, it's essential to pick body-safe materials.
Not sure which dildo is the best fit for you? Browse our complete guide to dildos for all the information you need to make the best buying decision!  
Importance of body-safe materials
One thing your suction cup dildo must have is a body-safe construction, which means no PVC or TPE. Remember that porous toys are never safe to insert inside the body, regardless of its design or function. 
In the world of suction cup dildos, you have two main options: silicone and ABS plastic. Most people prefer silicone dildos because they're soft, flexible, and super smooth on bare skin. Silicone is also non-porous, easy-to-clean, hypoallergenic, and available in various levels of firmness.
Learn more: Are ABS Plastic Sex Toys Safe?
ABS plastic is also non-porous and easy to clean, but it's typically less flexible than silicone, which can make it tougher to find the right angle (especially with a suction cup dildo). That said, ABS plastic dildos do tend to be more budget-friendly. 
Again, many suction cup dildos come in PVC and TPE materials, but those are not body-safe options. Read our guide to TPE sex toy safety to learn more! 
Preparing Your Suction Cup Dildo for Use
So, you've picked the suction cup dildo that's the perfect size, shape and material. Now what?
Well, before you get down to business, it's important to prepare your dildo properly. This means cleaning the toy and gathering any necessary accessories like lubricant or condoms. You should also clean the surface upon which you plan to affix your dildo.
More: How Do I Clean My Sex Toys?
Once your suction cup dildo is cleaned and ready for action, put your accessories in a spot that's easy to reach. Condoms, towels and pillows are all accessories that can make your experience more seamless and safe, but one thing you should definitely use is lube.
Using a high-quality lubricant can dramatically enhance sensation by reducing friction between the toy and your body. Just be sure to opt for a water-based lube if you're using a silicone dildo as silicone-based lubes can damage silicone toys.
Learn: How Do I Choose the Right Lube?
Mounting Your Suction Cup Dildo
When you're fully prepped with everything you need, it's time to mount your suction cup dildo to the surface of your choice. Before sticking the dildo to the surface, wet the base a little bit — that'll help it stick more securely. 
Smooth, non-porous surfaces work best for suction cup dildo attachment, as they allow the suction cup to create a stronger seal. The key to securing your suction cup dildo is applying enough pressure while twisting slightly. This motion helps create an airtight seal between the toy and surface area.
Not sure where to stick your suction cup dildo? Here are some suggestions:
Bathroom walls or tiles:

 

The shower or bathtub can provide excellent opportunities thanks to their smooth tiled surfaces.
Mirrors or glass doors:

 

These can be found in bedrooms, bathrooms, or even closets. Just make sure they're sturdy enough to withstand your riding!
Furniture edges (chairs/couches):

 

Some furniture pieces have flat edges perfect for mounting a suction cup dildo. Just be sure to test stability before using them.
Kitchen countertops:

 

If privacy allows, these solid surfaces can be ideal options too — especially marble or granite countertops!
These are just a few suggestions, and you should feel free to get creative with any flat, sturdy surface that creates strong suction. Just remember to prioritize safety when experimenting with new positions and surfaces. If you're not sure whether a surface is suitable, test the suction cup's grip before engaging in play.
10 Safe and Sexy Ways to Use a Suction Cup Dildo
Now you know how to choose a suction cup dildo and how to secure it to a surface, so let's get into the fun stuff! Here are my top 10 sexy and safe positions to try when exploring hands-free pleasure with a suction cup dildo.
1. Squatting in the shower
Attach your dildo to the wall or floor of your shower and squat down. This allows you to control depth and speed, while enjoying the benefit of showertime privacy, hot running water, and any other waterproof sex toys you might want to add to the mix.
2. Kneeling against a wall
Secure your suction cup dildo to a smooth wall at hip height, then kneel with your mouth facing it. This position is perfect for folks looking to practice oral sex or deepthroating with a dildo.
3. Lying down, facing up
Secure your dildo to any smooth surface like tiled floors or countertops, and lower yourself onto it with your face toward the ceiling. This is great for slow, comfortable thrusting or back-and-forth grinding.
4. On top of the washer/dryer
Stick your dildo to the top of a washing or dying machine, sit on it, and ride! This gives you the benefit of extra vibration, and can be a fun, kinky way to enjoy extra stimulation during a make-out session with your partner.
5. Mounting on mirrors
Affix your suction cup dildo to a mirror for an erotic visual experience you won't soon forget. If you're playing with a partner, have them watch the mirror so they can enjoy your reflection while you ride.
6. Using furniture legs and edges
Attach your suction cup dildo toy to the edge or leg of a sturdy chair or couch. This allows you to assume a doggy-style position and back up into the dildo at your own pace.
7. Securing it to a headboard
Mounting your dildo on the headboard of your bed offers unique angles and positioning options. Plus, you're already in bed, which can make it a great way to warm up before PIV sex with a partner.
8. Sticking it to the side of a bathtub
Try mounting your dildo on the side of a tub for hands-free penetration while relaxing in warm water. When you're done, enjoy a bubble bath! Just be cautious about slippery surfaces.
9. Positioning it on stair steps
Experiment with different heights and angles by attaching your toy to individual stairs. This might require a bit more flexibility and athleticism, but it can be a fun way to find the perfect angle for deep penetration.
10. Mounting onto kitchen countertops
Smooth countertops make fantastic stable platforms for riding your suction cup dildo. Just be sure to clean up before preparing dinner!  
Ready to give it a try? Shop all suction cup dildos!