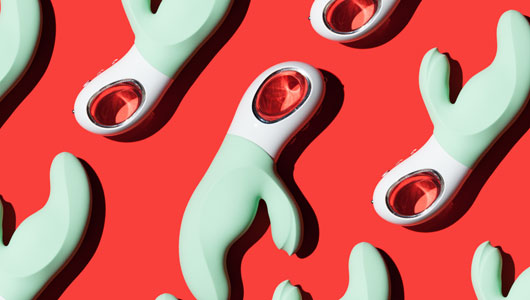 Rabbit-style vibrators are among the most popular sex toys on the market, beloved for the ability to blend clitoral and G-spot stimulation. But with so many options available, how can you be sure which rabbit vibe is right for you?
Well, strap in, everybody. In this guide, I present the top 8 best rabbit vibrators of 2023, all of which I have personally (and joyfully) tested. Let's get into it! 
Best Gentle Rabbit Vibrator: Lelo Ina 3
Whether you've got an extra sensitive clitoris or simply prefer gentler vibrations, you might often find yourself wishing that rabbit vibrators weren't quite so intense. Enter the Lelo Ina 3!
This rumbly rabbit vibrator has a whopping ten vibration settings, the lowest of which are uniquely soft and gentle. But make no mistake: the Lelo Ina 3 packs a serious punch on its higher settings. In fact, it's one of the most powerful rabbits in this roundup. 
That's my favorite thing about the Lelo Ina 3 — its range of intensity is so vast, and the lower settings are actually gentle. Many rabbit vibrators have settings that seem to go from strong to stronger, with no genuinely soft stimulation to be had (I'm lookin' at you, Femme Funn Ultra Rabbit).
Not only the Ina 3 offer an impressively wide variety of intensity, it's also smooth, waterproof, and perfectly curved for G-spot stimulation. Check out my full Lelo Ina 3 review for all the details! 
Why we love it: With such a wide range of intensity settings, the Lelo Ina 3 is a real people-pleaser!
Shop the Lelo Ina 3 now!
Best Non-Phallic Rabbit Vibrator: Womanizer DUO
If you're looking for a rabbit-style toy that bears absolutely no resemblance to a real penis (or any body part, for that matter), feast your eyes upon the Womanizer DUO.
When I first unboxed the Womanizer DUO, my immediate impression was that it looks like something from that '60s sitcom The Jetsons. It has an ornate shape that gives it a futuristic vibe (pun intended) and there's nothing realistic about its construction. 
What it does have, however, is a dual-action design that simultaneously massages the G-spot and applies air pressure to the clitoris. Most rabbit toys offer internal and external vibration, but the DUO combines vibration and suction in a mind-blowingly pleasurable way.
The DUO is fully waterproof, very quiet, and comes in gorgeous storybook-style packaging that makes it great for gifting. Check out my full Womanizer DUO review for all the details! 
Why we love it: The Womanizer DUO has an innovative design that blends clitoral suction and G-spot massage! 
Shop the Womanizer DUO now!
Best Girthy Rabbit Vibrator: Fun Factory Miss Bi 
I know I shouldn't play favorites, but if I had to pick a personal fave, it'd have to be the Fun Factory Miss Bi. 
Miss Bi isn't particularly innovative, nor does it come with lots of bells and whistles. It follows a traditional rabbit-style design with a clitoral stimulator, G-spot massager, and a variety of vibration settings. So, why is it my desert-island rabbit vibe?
Well, Miss Bi is extraordinarily girthy and perfectly curved. In fact, it's the girthiest rabbit vibrator I've ever tested, and its shaft feels like it was molded to conform to the exact area of my G-spot. Most of the rabbits on this list have a shaft diameter of about 1.2", but Miss Bi boasts a thick 1.7-inches. Yum. 
It also has a handle for easy thrusting, a flexible external stimulator for comfortable clitoral alignment, and a waterproof construction. If you're ready to see it in action, check out my full Fun Factory Miss Bi review! 
Why we love it: It's got the girth!
Shop the Fun Factory Miss Bi now!
Best Rabbit Vibrator for Anal Stimulation: Happy Rabbit Triple Curve 
Who says rabbit toys are only for clitoral and G-spot stimulation? The Happy Rabbit Triple Curve incorporates anal stimulation so all your bases are covered. 
This triple-action rabbit is wrapped in silky silicone and features twenty-one vibration modes for a wide variety of sensations. It's travel-friendly, fully submersible, and comes in a sleek black color. But if you ask me, its main claim to fame is what's happening on the back end. 
The Triple Curve follows the same design as the Happy Rabbit Slimline Curve, except for one delicious detail: it features vibrating anal beads! Between the clitoral stimulation, G-spot massage, and rumbly anal sensations, this toy offers blended orgasms you won't soon forget. 
Read my complete guide to butt plugs to learn more about how anal stimulation can ignite the clitoris!
Why we love it: The Happy Rabbit Triple Curve blends clitoral, G-spot, and anal stimulation for an erogenous symphony of pleasure!
Shop the Happy Rabbit Triple Curve now, or check out the Happy Rabbit Strap-On!
Best Intense Rabbit Vibrator: Femme Funn Klio 
The Femme Klio takes its role as a rabbit very seriously as it literally thumps on the clitoris and G-spot instead of just vibrating like the rest of 'em!
This innovative bunny has a triple-action design that combines thumping and vibration for extra pleasurable and targeted stimulation. The vibrating shaft features a double-curve, which gives your G-spot a pleasant tug with every thrust.
There's also an internal "thumper" strategically located mid-shaft — and well — I've never experienced anything like it. It feels like rapid tapping on the G-spot, a sensation that really fires up all that erectile tissue. And while your G-spot is busy getting the massage of its life, the external stimulator is thumping away on the clitoris.
All vibration and thumping settings can be controlled independently, but if you're looking for intense pleasure, turn everything up to 100. For all the dirty details on this toy, read my Femme Funn Klio review. 
Why we love it: It taps, thumps, and vibrates in all the right places.
Shop the Femme Funn Klio now, or browse all Femme Funn products!
Best App-Controlled Rabbit Vibrator: We-Vibe Nova 2
If you're on the hunt for a rabbit vibrator that can be controlled from across the room (or the continent), allow me to introduce the We-Vibe Nova 2. 
The Nova 2 is made from seamlessly smooth silicone, and cleverly curved for G-spot pleasure. And no need to worry about whether its internal and external stimulators will align with your anatomy because (drumroll, please) it's adjustable! 
The Nova 2 features a customizable construction that lets you put the stimulation exactly where you want it. And speaking of customizable pleasure, the We-Vibe app allows users to program their own unique vibration settings. 
Of course, the app also lets long-distance lovers play from anywhere in the world. As long as you both have the app downloaded to your smart device, you're free to explore together. Romantic, right? 
Why we love it: It's adjustable, customizable, and perfect for long-distance loving.
Shop the We-Vibe Nova 2, or browse all app-controlled sex toys!
Best Rabbit Vibrator for Lesbians: Together Couples' Vibe 2.0
Lovers looking to enjoy penetrative pleasure at the same time with the same toy should add this one to cart ASAP. 
The Together Couples' Vibe 2.0 is the latest and greatest in rabbit toys designed specifically for mutual partnered penetration. It features a W-shaped designed that essentially combines two rabbit vibrators in one, inviting couples to sit face to face.
The entire toy can be controlled with one handy remote — so have fun deciding who gets to wield the pleasure power! In my opinion, the coolest thing about this toy is the Echo Function, which allows one partner to experience the other's arousal via a real-time feedback response.
Why we love it: This double-rabbit vibe calls for face-to-face intimacy (and shared orgasms!)
Shop the Together Couples' Vibe 2.0, or read the guide to couples' toys!
Lelo Soraya Wave
Last (but certainly not least) is the Lelo Soraya Wave, a luxurious rabbit vibrator that mimics the feeling of being fingered. 
Lelo is one of those brands that always knocks it out of the park, but it really outdid itself with this toy's WaveMotion technology. Essentially, it massages the G-spot with a surprisingly realistic come hither motion that feels like fingering and vibration all at once. 
Meanwhile, the external stimulator teases the clitoris with gentle pressure, powerful rumbles, and several speeds in between. The internal tugging on the G-spot combined with clitoral stimulation is designed with squirting orgasms in mind, so get your towels ready! 
Why we love it: It feels like being fingered exactly the right way.
Shop the Lelo Soraya Wave, or browse all Lelo pleasure products!