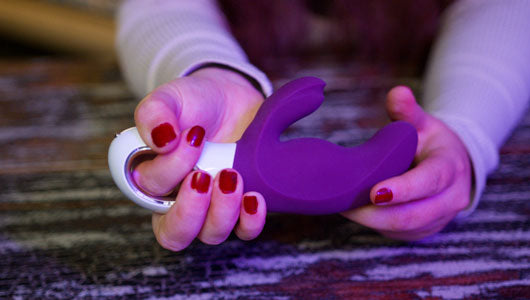 Ah, the blended orgasm — that priceless moment when G-spot and clitoral stimulation (literally) come together in perfect harmony. But unless you're incredibly dexterous or have a few helping hands, it can be tough to reach all the right spots at once! 
Enter the Fun Factory Miss Bi, a dual-action vibrator designed to hit your G-spot, P-spot, A-spot, and everything-in-between spot. After thoroughly testing it, I'm ready to fill you in on how it works, who it's perfect for, how to clean it, and all the other juicy details. Plus, I'll impart my personal tips and tricks for making the most of your orgasm. 
Buy the Fun Factory Miss Bi now!
Brand Snapshot
Fun Factory is a German-based brand with a well-earned reputation as an industry leader. Founded in the late 90s, it's the first company to manufacture medical grade silicone toys, waterproof vibrators, and non-phallic dildos. Beyond its innovative inventory, Fun Factory maintains the motto that "ethics are sexy" with a firm commitment to eco-friendly, inclusive, and fair labor practices. 
From Kegel balls and menstrual cups to butt plugs and pulsators, Fun Factory has churned out dozens of toys and sexual wellness accessories. But today, I'm getting up close and personal with one and only one toy. So keep reading to enjoy the most thorough Fun Factory Miss Bi review on the Internet.
Fun Factory Miss Bi Vibrator: Quick Stats
Short on time? Take a moment to peruse the need-to-know details below. You can also scroll to the Pros & Cons section at the end of this review to get a better sense of compatibility.
Dual-action, Rabbit-style vibrator ideal for G-spot & clitoral stimulation

Comes in pink and grape color options

Magnetic rechargeable 

6 intensity speeds and 6 vibration patterns 

Weighs 

0.49 lbs

Lasts up to 1 hour on a full charge

Waterproof 

Anal-safe 

Body-safe, medical grade silicone 

Customizable settings

Made in Germany 
Unboxing the Fun Factory Miss Bi Vibrator: What's Inside? 
In the culinary world, they say you eat with your eyes first… and I kind of feel the same way about vibrators. That's why I was super excited to test the Miss Bi as soon as I unboxed it. It's girthy, ornate, colorful, and altogether visually stimulating! But before we dive into my personal experience testing it, let's see what's included in every purchase. 
Packaging:

cute, recycled packaging that can be repurposed for easy storage

Instructions:

User Manual that includes charging and wash care instructions

Flirt or Dare:

sexy questions, games, and "prizes" for partnered play (ex. I double-dare you to feed me something by hand...)

Charger:

the magnetic kind 

Miss Bi:

The vibrator itself should be cleaned before use. It has a looped handle, and a total of 3 buttons that regulate speed & rhythm. 
Remember to clean your toy as soon as you unbox it, and then let it charge. With the Miss Bi, you'll need to undo the travel lock before you can turn it on (always read the User Manual before deciding that your toy is defective!). Once it's clean, charged, and unlocked, you're ready for playtime. 
My Fun Factory Miss Bi Review: The Good, The Bad, and The Slippery
Okay, let's take a closer look at what we're working with here. 
The Miss Bi is a dual-action vibrator that's designed to hug the G-spot and the clit at the same time in order to help you reach the delicious (and often elusive) blended orgasm. You've got the smooth, 6-inch shaft reaching for your G-spot, while the broad, bendy external vibrator is stimulating your clit. So if you already love or are looking to explore a combo of internal and external stimulation, this toy is going to be right up your alley.
Blended Orgasm: (noun) the magical moment when a clitoral and vaginal orgasm happen simultaneously
Both components can vibrate together or individually, and at different speeds and patterns. For example, if you prefer intense vibration on your clit while the shaft maintains a low rumble, simply adjust the controls until you find your ideal rhythm. And I have to say: the highest intensity is pretty powerful, perfect for folks who love lots of strong clit stimulation. When you find the intensity that's right for you, you can save that exact setting in order to jump right to it the next time you play.
Save Your Fave: Hold the "FUN" button for 5 seconds to save your favorite vibration setting!
Meanwhile, I'm really impressed by how girthy the shaft is. At its broadest point, the shaft measures about 2-inches in diameter which is nice and thick. When I'm looking for a toy that'll stimulate my G-spot, I'm not really looking for a long and slim toy — in fact, it's quite the opposite. And Miss Bi's shaft isn't just girthy; it also mimics the shape of fingers making a "come here" motion, a feature that's all about hitting that G-spot.
G-Spot Roadmap: Every body is different, but the G-spot can usually be found about an inch inside the vagina on the upper vaginal wall (toward the belly button!). 
I'm also kind of in love with Miss Bi's clit stimulator, and I'll tell you why. Rabbit-style vibrators often have clit stimulators that are shaped like actual rabbit ears, partly for aesthetic value, but also to sort of hold the clit between the ears while they flutter on both sides. For some folks, this is heavenly. But for others (myself included), that light, fluttering feeling can be ticklish and unpleasant. 
What we have here is a smooth, broad, oval-shaped vibrator that sort of presses against your clit instead of flickering around it. There's also a little ridge in the center of it that provides some fun texture; and I really enjoyed the way it gave me a controlled clitoral massage as opposed to the light, ticklish sensations I've experienced with other Rabbit vibrators. 
Did You Know: Most cis-women need external stimulation in order reach orgasm, with over 70% unable to orgasm from vaginal penetration alone. (1)
On a personal note, I'll confess that I came very quickly with Miss Bi (perhaps even too quickly… ). I was not expecting it to stimulate my G-spot and clit so seamlessly, and sort of wished I'd had a bit more control over my climax. Don't get me wrong — the blended orgasm Miss Bi provides is Earth-quakingly wonderful. But if you're into edging, good luck, because this toy is on a mission to make you cum. 
Pro Tip: If you're into edging or simply want to prolong your playtime, I suggest keeping your finger on the "FUN" button, which will stop the vibration on a dime. 
Is Miss Bi Good for Anal Play?
Although this toy doesn't have the same flared base that you'll find on a butt plug, it's still safe for anal play. A butt toy should always have some kind of flared base to ensure it doesn't get lost inside you; and this toy's looped handle serves that purpose. In fact, the ability to get a good grip on Miss Bi's handle makes it perfect for partnered play.
Picture it: the shaft indirectly stimulates your A-spot, the external vibrator directly massages your perineum, and your partner has full control of the toy's depth and intensity. Hello, anal orgasms!
What's the A-Spot?: The A-spot, or anterior fornix, is a super-charged erogenous zone located deep inside the vagina. It can be directly stroked, or indirectly stimulated through the rectum.  
Now, don't think I forgot about those of you looking to play with the P-spot; Miss Bi can give a great prostate massage too. However, I will note that things got a little messy (not in the good way) when I tried to enjoy some double-penetration with my partner's penis and Miss Bi. They kept knocking into and derailing each other until, eventually, I pulled Miss Bi out of my vagina and used it as a vibrator (remember: the shaft vibrates too!). 
When it comes to DP, I wouldn't discount this toy, but it might take some careful maneuvering and patience to find a good rhythm. Overall, I prefer to use Miss Bi vaginally (and by "prefer" I mean desperately adore), but you should feel free and safe to explore what feels good.
The Verdict: One Powerfully Blended Orgasm 
For me, the Fun Factory Miss Bi did exactly what it said it would do. It hit my G-spot with ease, vibrated my clit with precision, and gave me one (okay, many) very powerful blended orgasms. If you're looking for a versatile, Rabbit-style vibrator that can be enjoyed alone in the shower or in bed with a partner, I urge you to give Miss Bi a try.
Should I Buy The Fun Factory Miss Bi Vibrator?
Now that we've seen the ins and outs of this toy, let's recap the main highlights:
Waterproof:

This toy is totally waterproof, so feel free to enjoy it in the shower or bath! 

Girthy and curved: Miss Bi features a girthy, curved shaft designed to seamlessly stimulate your G-spot.
Looped handle:

This vibrator has a looped handle, making it safe for anal and easy to maneuver. Additionally, folks with hand and/or wrist mobility issues might find that this handle offers a better grip.

6 speeds and 6 patterns:

With 36 vibration combinations, Miss Bi aims to please. The lowest speed is soft and rumbly, the highest speed is quite intense, and the in-between speeds offer great variety. Plus, the different vibration patterns help ensure that no pleasure session is exactly the same. 

Blended bliss: Perhaps the crowning jewel of this vibrator is its ability to facilitate the blended orgasm. Remember — it's Rabbit-style design is ideal for stimulating the clit and G-spot at the same time.  
Fun Factory Miss Bi Vibrator Complaints

So, what's not to love about Miss Bi? Let's take a look at some potential pitfalls.
Edging:

If there's such a thing as

too

much pleasure, I might throw Miss Bi into that category. Unlike with a wand-style vibrator, it's not so easy to edge with this toy. That's why I suggest keeping your finger on the off button so you can cease vibration as soon as you need to. 

Travel lock:

This is more of a heads up than a "con," but keep in mind that you have to turn off the travel lock before you can use this toy. To unlock it, press the "FUN" and "+" buttons simultaneously and hold for 3 seconds. To turn the travel lock back on, press and hold the "FUN" and "-" buttons for 3 seconds.

Pricey: Miss Bi isn't going to fit into everyone's target price range, but believe me when I say it's worth every penny. If you're working with a strict budget, you might want to browse some more affordable options. 
Other Details:
Wash care:

The best way to clean your toy is with a toy cleaner! But if you don't have one of those, mild soap and warm water will do just fine. Be sure to rinse and dry thoroughly before storing.

Charging time:

To go from 0 to 100-percent charged, it takes 6-8 hours. 
Final Thoughts
Congratulations! You officially know everything there is to know about the Fun Factory Miss Bi. All that's left to do is take it for a test run! Just remember to clean it regularly (including when it first arrives) and charge it consistently to enjoy a long, playful life together.
Before you go, be sure to follow us on Instagram and TikTok for more reviews, tutorials, and sexual wellness education.