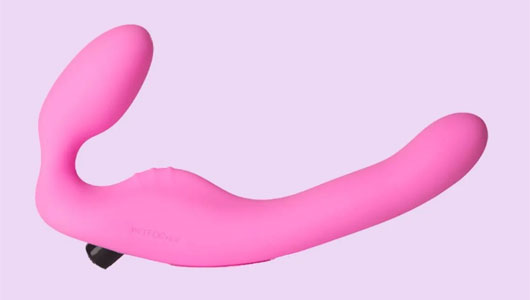 Which classic sex toy is popular with lesbian, non-binary, and heterosexual couples alike? The strapless strap-on dildo, of course! 
The versatility, comfort, and unique design of the strapless strap-on has made it popular among pleasure seekers of all stripes. How to make sense of the many choices and pick the right one for you? Come along as I discuss everything from size and shape to materials, and reveal which positions are best for beginning strapless players. 
What Is a Strapless Strap-On Dildo? 
Strapless strap-on dildos are designed for harness-free use and rely on your pelvic floor muscles for stability. These toys offer hands-free penetration and internal stimulation from the bulb end that's worn inside the vagina.
What sets strapless dildos apart is that they function without the kind of harness you need for traditional strap-ons. One end of the strapless strap-on targets the G-spot and often the clitoris of the wearer while the shaft of the dildo pleasures the receiver. 
Learn more: Complete Guide To Dildos
How To Choose a Strapless Strap-On
Size
The first thing to consider is the size of your prospective toy. Similar to traditional strap-ons, these toys come in various sizes, from small and slim to long and girthy. You may want to use a dildo that you currently own as a model if you like its length and circumference. 
As you get accustomed to using a strapless strap-on, you can level up the size of your dildo according to what feels good for you and your partner. It's typically best to go up in length and diameter gradually to make each increase in size as comfortable as possible. 
Shape and functionality
In addition to different sizes, strapless strap-ons offer unique shapes and features. Some are curved specifically to target the G-spot or prostate, while others have a straight shaft, wider base, or more pronounced texture. 
Some models offer additional features like vibration, air pressure clitoral stimulators, and a flexible core for a more personalized fit. Other functions might include:
Remote control
Lighter material that helps the dildo stay in place
Waterproof construction
A removable bullet vibrator for extra stimulation
Want to use a a strapless strap-on for pegging? Check out: 3 Tips For Pegging Beginners
Materials
The most important part of selecting a strapless strap-on is the material it's made from. Silicone is the only safe material you can choose. It's non-porous, body-safe, free from toxic plasticizers, and will not absorb bacteria. It's also smooth, durable, and easy to clean. 
Avoid any sex toy made from polyvinyl chloride, or PVC, which is porous and potentially toxic. Thermoplastic elastomer, or TPE, is also porous but does not typically contain toxic chemicals the way PVC can. Although TPE should not be used on the vulva or inside the body, it's typically safe for toys used on the penis because the risk of infection is much lower. 
Learn more: What Is Body-Safe Silicone? 
Preparing To Use a Strapless Strap-On
Get familiar with features
Understanding how your new toy operates can help eliminate confusion while you're using it solo or with a partner. Before you use your toy for the first time, spend some time learning about its features, including how to charge it, how to use any vibration settings, and the flexibility of the shaft and bulb piece. 
Get a feel for the weight of the toy, as well. Hold it in different ways to get a sense for its weight and proportions, as well as the balance between the bulb and shaft.  
Preparing for your first lesbian experience? Check out Lesbian Sex — First Time Tips
Have lube on hand
Lube is a must when you use any sex toy, but particularly those designed for penetration. Water-based, hybrid, and oil-based lubes are safe to use with silicone, the material most strapless strap-ons are made from. Make sure both ends of the toy are well-lubricated before you insert either piece.
Not sure which lube is right for you? Check out How To Choose A Lube
How To Use A Strapless Strap-On 
Start with the bulb end
Lubricate and insert the bulb end of the strapless strap-on dildo first. This end is held securely by clenching your pelvic floor muscles, which might require some Kegel training. Notice how the bulb feels when you relax and clench your muscles and how the shaft moves in response.
For more about pelvic floor strengthening: How To Do Kegel Exercises
Make adjustments
Make adjustments once you have the toy comfortably inserted the toy in place. You might find that certain angles give you more stability or feel better than others when you're thrusting. 
If you need to, adjust the toy until it feels secure but still allows you to move comfortably. Keep in mind that strapless strap-ons rely on muscle control and can take some time to get used to. 
Find your rhythm
Once you find a position that feels comfortable, explore different rhythms. Communicate with your partner as your explore different speeds and depths of penetration. The rhythm may change as you try different angles and your body adapts to the feeling of weight inside your body. 
Experimenting between slow thrusts and quick ones or opting for grinding instead of thrusting all offer distinct experiences that are worth exploring.
Browse all strapless and strap-on dildos
Try new positions
Different positions can make a big difference in how the strap-on feels to both you and your partner. Try starting off with simple positions that don't require both partners to stand and balance, such as:
Spooning
Missionary
Cowgirl
Reverse cowgirl
A firm wedge pillow under your hips can also make penetration easier and reduce strain. 
Learn more: Best Lesbian Sex Positions
Add a harness
Sometimes keeping the dildo securely in place will prove challenging despite a change in position. If you like the stimulation of strapless strap-on, don't be afraid to add a harness for the sake of stability. 
Browse all harnesses and kits
Strapless Strap-On Troubleshooting
If you're unfamiliar with strapless strap-ons, there may be a few challenges when you first use it. to overcome. These include:
Falling out or slipping
If your strapless strap-on falls out during use, it could be due to insufficient pelvic floor strength or an ill-fitting toy size or shape. Remember that these toys rely on your body for support. Strengthening exercises like Kegels can help improve pelvic muscle tone over time.
In case the problem continues despite Kegel training, consider trying different strapless models or sizes. You may need a lighter, larger, or smaller dildo. Every body is unique and finding the perfect fit can require a bit of experimentation.
Pelvic floor fatigue
Muscle fatigue after prolonged usage of a strapless strap-on dildo isn't uncommon. Your pelvic floor muscles may need time to adjust, like any other muscle would if they were being worked differently than usual. Take breaks when you need to and gradually increase the duration of play so you don't strain your muscles too much at first.
You may find that you feel most comfortable in certain positions, such as lying flat on your back. Avoiding angles that require a lot of clenching can also help.