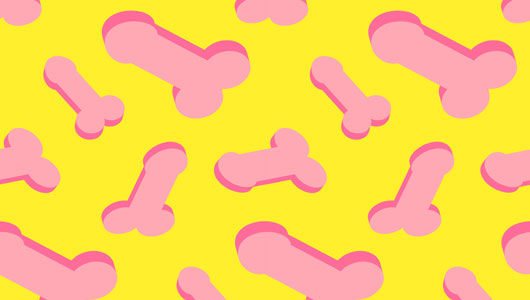 If you're a man or penis owner looking for more information about sex toys, you've come to the right place! In this handy guide, we delve into the full array of pleasure products designed for men, from strokers to prostate stimulators to lube and much more. 
Whether you're new to sex toys or an old pro, we've got the need-to-know details so you can make the perfect pick. 
What Are Sex Toys?
Sex toys for men are devices designed to stimulate the penis, anus, perineum, and other sensitive parts of the body.
Once limited to a few simple options, toys for men have gone pleasurably high tech, with ultra-stimulating materials and unique features that go far beyond the ordinary. 
Sex toys for men include:
Strokers and masturbators
Vibrators
Anal toys
Cock rings
Dildos
Nipple toys
BDSM toys
Vibrator attachments
Let's take a closer look at the most common types of sex toys for men, including the wide variety of devices designed for penis stimulation. 
Strokers
Strokers are designed to amp up pleasure during masturbation using grip, friction, and textured or smooth material. Some strokers vibrate, some create suction sensations, and some are intended to feel similar to oral or anal sex. 
Learn more: Complete Guide To Strokers
Strokers are loosely divided into a few categories: 
Sleeves
A sleeve typically describes the lining of a stroker, or a type of penis toy without a structured case. A sleeve is typically made from soft, textured elastomer (also known as TPE), and can last from weeks to months depending on the brand and how well you care for it.
Learn more: Are TPE Sex Toys Safe? 
Pocket pussies
Pocket pussies are relatively compact strokers that often have semi-realistic features and colors. Like sleeves, pocket pussies are usually made from soft TPE, but may have a firm outer casing that gives them more structure. 
The textured lining of many types of pocket pussies can be removed and turned inside out for cleaning and drying. 
Masturbators
Masturbators may be made from TPE or silicone, and tend to be a little pricier than sleeves and pocket pussies. A masturbator can have closed or open ends, and be textured or smooth.
A masturbator can include such features as vibration, suction, audio, and Bluetooth connectivity that allows it to be operated by a partner from anywhere in the world. The stimulation from some masturbators can be synced with porn, music, or another toy for simultaneous partnered play. 
Learn more: What Is Body-Safe Silicone?
Blowjob machines
Blowjob machines are designed to feel, if not exactly like a blowjob, then very close to it. These types of toys typically have a motor that delivers rhythmic stimulation and suction sensations, and often include extras such as hands-free operation or settings that switch up the stimulation on the fly for a more natural feel. 
Blowjob machines are usually pricier than other types of strokers due to their more advanced features and motorized operation. 
Browse all strokers
Cock Rings
Cock rings can boost stamina, erection quality, and pleasure for both partners. Whether you're looking for a vibrating model, a remote-controlled device, or the perfect toy for intercourse, there's a ring for that. 
Most cocks rings are made from silicone that stretches to fit anatomies of different sizes. Some cock are designed to stimulate the perineum, as well, or fit around both the base of the penis and the testicles. 
Browse all cock and ball rings
Vibrators
Vibrators aren't just for women anymore. Vibrating penis toys are a perfect way to explore new sensations and add thrilling stimulation to foreplay, solo pleasure, and intercourse.
Vibrators for men may come in the form of a masturbator, or an attachment that fits over the head a vibrating wand such as the Magic Wand. 
Browse all vibrating penis toys
Prostate Vibrators
Stimulating the prostate can create more gratifying sensation than external stimulation alone, and deliver powerful blended orgasms. Also called the P-spot, the prostate can be stimulated with vibration, deep massage, or thrusting by a toy or partner.
Browse all prostate vibrators
Butt Plugs and Prostate Toys
Butt plugs and prostate toys are designed for exploring anal stimulation, from a simple (and pleasurable) feeling of fullness to supercharged prostate orgasms.
Butt plugs come in a wide variety of sizes and colors and include such features as internal weights, vibration, and spinning beads. Butt plugs stimulate the nerves of the anus and provide a feeling of fullness, whereas prostate toys stimulate the prostate. 
Browse all anal toys
Dildos
Dildos are perfect for prostate and anal pleasure, oral stimulation, riding, and strapping on. Body-safe dildos are made from materials like silicone, stainless steel, and glass. 
Dildos come in vibrating and non-vibrating options as well as many different styles. Some include realistic features such as prominent heads and veining, some are fashioned in fantasy shapes, while others are non-realistic and come in unique, eye-catching colors. 
Browse all dildos
Harnesses
Harnesses are designed to be worn with strap-on or strapless dildos, and can be enjoyed by any gender. From vaginal penetration to pegging to double penetration, harnesses make exploration easy.
Most harnesses are designed to fit several different dildo sizes, and come in multiple styles including brief, open-back, and thigh strap-on.   
Browse all harnesses
BDSM
BDSM (bondage, discipline, sadism, and masochism) products are perfect for exploring dominance, submission, and kinks of all kinds. 
BDSM products are divided into three main categories: impact, sensation, and bondage. Impact toys include such items as floggers, whips, and paddles. Sensation toys include pinwheels, feather ticklers, and nipple clamps. Bondage toys can include rope, handcuffs, collars, and blindfolds.
Browse all BDSM products
Accessories
Accessories include penis plugs, chastity cages, and silicone wand attachments that can instantly turn a vibrating wand into a stroker or prostate stimulator.  
If you're looking for a ball stretcher, penis pump, or a buffer to prevent excessively deep penetration, you'll find it in the accessories category of men's sex toys. 
Browse all accessories
Sexual Wellness Products
Sexual wellness products for men include such essentials as condoms and cleaner for sex toys. You'll also find intimate wipes, shave cream, massage oils, and candles. 
Browse all sexual wellness products 
Arguably the most crucial sexual wellness item is lubricant. Lubricant cuts down on excess friction and maximizes glide, which can help boost pleasure. Lubricant can be used for solo play, partnered play, and of course, with toys. It's also indispensable for anal play and double penetration.
Let's take a quick look at the most popular kinds of lube, and what makes each type different. 
Learn more: For more about lubricants including our top picks, check out How To Choose A Lube
Water-based lube
Water-based lubricants are safe to use with everything from silicone prostate toys to condoms to TPE strokers. Because water evaporates, water-based lubes tend to be less long-lasting than silicone and oil, and may need to be reapplied more often. 
Water-based lube is typically non-staining and easy to wash off skin, sheets, and clothes. 
Browse all water-based lube
Silicone-based lube
Silicone-based lube outlasts all other formulations with the possible exception of oil-based lube. It does not evaporate or get absorbed by the skin, which makes it a great option for longer sessions and anal play. 
Silicone lube can stain fabrics and is more difficult to clean than water-based or hybrid lubes. Silicone-based lube is safe to use with glass and stainless steel sex toys, but can damage toys made from silicone and plastic. 
Browse all silicone-based lube
Hybrid lube
Hybrid lubes are made with a base of water blended with a bit of silicone for glide and staying power. Hybrid lubes are generally safe for use with silicone and plastic sex toys, and are easier to clean than pure silicone lubes. 
If you're looking for a lube that lasts longer than water-based formulas and is safe for all sex toy materials, hybrid lube is a great way to go.
Browse all hybrid lube
Oil-based lube
Oil-based lubes are long-lasting like silicone lubes, but are safe to use with silicone toys. Though oil can damage plastic parts on silicone and other types of toys, oil-based lube is ideal for toy-free play, toys made from hard materials like glass and stainless steel, and silicone toys without external plastic components. 
Oil-based lube is also a great option for massage, and is more likely than other lubes to be made entirely from natural ingredients. 
Browse all oil-based lube