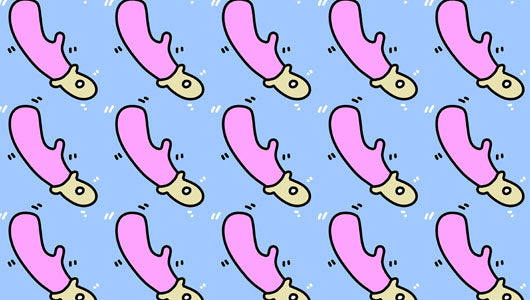 With so many options available, shopping for pleasure products can be a little confusing! In this quick-start guide, we break down the essential products designed for cis women and vulva owners, from types of vibrators to dildos and lubricants, so you can make the perfect pick without feeling overwhelmed. 
What Are Sex Toys?
Sex toys for women are devices designed to stimulate ergogenous zones like the clitoris and G-spot to create pleasure, and often, orgasm. Now considered key for sexual self-care, sex toys have gone mainstream, and can be found in major department stores, online boutiques, and local shops.   
Sex toys for women include:
Vibrators
Air pressure toys
Anal toys
Dildos
Nipple toys
BDSM toys
Vibrator attachments
Depending on its style and features, a sex toy can stimulate one or more sensitive spots on the body. For women and vulva owners, these areas include the:
Clitoris
G-spot/vagina
Vulva
Anus
Perineum 
Nipples
Some sex toys feature a versatile shape that can stimulate more than one part of the body, or deliver a type of sensation that works for multiple sensitive spots.
Examples of versatile toys include air pressure stimulators, which can be used on both the clitoris and nipples, or a G-spot vibrator, which can also pleasure the clitoris and vulva. Some wand vibrators can be used with G-spot or rabbit attachments for internal and internal stimulation. 
Let's take a closer look at the types of sex toy designed for women, so you can decide which is right for you. 
Types of Sex Toys For Women
Vibrators
A vibrator is an electronic device that uses small internal coils or weights to create a rumbly or buzzy sensation. This sensation stimulates genital nerves and boosts blood flow, leading to a feeling of pleasure and often to orgasm. 
There are many kinds of vibrators, each with its own unique features. Here are some of the most popular types:
Learn more: How To Choose A Vibrator
External/Clitoral. These vibrators include any toy designed primarily for external stimulation. Some external vibrators are designed for focused, or "pinpoint," stimulation of a small area such as the clitoris. Others, like lay-on vibrators, have a broader, flatter shape that can stimulate a wider area, like the clitoris and vulva.
Browse all external/clitoral toys
Internal. Internal vibrators are designed for vaginal penetration, and may be straight or curved for G-spot stimulation. Internal vibrators might be textured or ribbed, or have a smooth surface for an easy glide. Internal vibrators include G-spot toys, vibrating dildos, and rabbit toys that stimulate the clitoris at the same time. 
Browse all internal toys
Air Pressure/Suction. Air pressure toys stimulate the clitoris or G-spot with pulses of air instead of vibration, and are sometimes referred to as "suction toys" because of the sucking feeling they can create. The Rose of viral Internet fame is an air pressure toy, as are the Womanizer line of toys.  
Browse all air pressure/suction toys
Rabbit Style, or Dual Stimulators. Rabbit-style toys may also be called dual stimulators. These toys combine internal and external stimulation, targeting the clitoris and the G-spot at the same time. Dual stimulators have two parts: one that fits inside the body, and one that rests outside the body to stimulate the clitoris.
Rabbit toys and dual stimulators are typically made of flexible silicone to fit anatomies of different shapes and sizes.
Browse all rabbit style toys and dual stimulators
G-Spot. G-spot vibrators are shaped to massage the G-spot and deliver deep stimulation to internal nerves. These vibrators have a curved shape and firm, prominent head to target the G-spot with vibration and pleasurable pressure.  
Browse all G-spot toys
Wand Style. Wand vibrators have a handle and vibrating head, and include classics like the Magic Wand. Vibrating wands are ideal for clitoral stimulation, and include some of the most powerful toys available.
Though wand-style vibrators are typically designed for clitoral stimulation, an attachment that slips over the head can instantly turn a wand into an G-spot or rabbit toy. 
Browse all wand style toys
App and Remote-Controlled. App and remote-controlled toys allow you or a partner to operate a vibrator from across the room or across the world. Giving new meaning to the term "hands-free," these types of toys are partner-friendly and come in a stimulating array of styles, including wands, panty vibrators, and air pressure toys. 
App and remote-controlled toys are perfect for long distance relationships and cam folks, and can even be synced to music for customized pleasure. 
Browse all app and remote-controlled toys
Couples'. Vibrators for couples are specifically designed to be used during partnered sex. Some can be worn inside the body during intercourse, while others are perfect for oral sex, anal play, or long-distance fun.
Browse all toys for couples
Bullet. Shaped like – you guessed it – a bullet, these versatile vibes are perfect for solo play, travel, or any position with a partner. Though small and travel-friendly, bullet vibrators can pack a rumbly punch, and many are budget-friendly.  
Browse all bullet vibrators
Thrusting. Thrusting vibrators bring rhythm and penetrative pleasure to the game. Some vibrate, others pulsate, but all deliver the kind of thrusting stimulation typically associated with intercourse.
Browse all thrusting vibrators 
Attachments
An attachment transforms your wand vibrator into a penetrative toy, and can stimulate the G-spot with all the power of a full-size wand. Rabbit attachments deliver dual stimulation to the G-spot and clitoris, while internal attachments can be used for either vaginal or anal pleasure. 

Browse all vibrator attachments
Dildos
Designed for internal stimulation and penetrative pleasure, dildos come in a wide array of shapes, sizes, and materials. Dildos (vibrating or not) are the perfect choice if you're interested in G-spot or anal stimulation. Dildos can also be used for practicing fellatio or penetrating a partner. 
Browse all dildos
Anal toys
Anal toys stimulate sensitive anal nerve endings and are some of our most aesthetically exciting toys. Materials include cool stainless steel, silky vibrating silicone, or smooth glass. Some anal toys like butt plugs vibrate or pulse, or include spinning beads that simulate rimming.
Butt plugs with weights inside, called "weighted plugs," can help maximize stimulation and are ideal choices for anal sex prep. Anal beads are longer and slimmer than butt plugs, with a row of spherical shapes that stimulate nerves when inserted and removed. 
Browse all anal toys

Harnesses
Harnesses are designed to be worn with strap-on or strapless dildos, and can be enjoyed by any gender. From strap-on play to pegging to double penetration, harnesses are designed for exploration of all kinds. 
Browse all harnesses and harness/dildo kits
Nipple Toys
Nipple toys are designed to stimulate or decorate the nipples, and can include clamps, suctions toys, and pasties. Many vibrators and air pulse toys can pull double duty as nipple stimulators, particularly those that deliver focused stimulation. 
Browse all nipple toys

BDSM
BDSM (bondage, discipline, sadism, and masochism) products can help you explore dominance, submission, and kinks of all kinds. BDSM toys include rope, handcuffs, floggers, blindfolds, and much more. From sensation toys to bondage tools, BDSM toys are all about exploring kinks, fetishes, and different sides of ourselves. 
Browse all BDSM toys and accessories
Types Of Sexual Wellness Products For Women
As the choices of sex toys have expanded, so have the options for other sexual wellness products and accessories. These can include:
Toy cleaner
Massage oil
Vaginal health products such as menstrual cups and Kegel balls
Protection
Toy storage
Browse all sexual wellness products
Lubricant
Lubricant is one of the most important sexual wellness products you can buy. Lubricant can make the difference between an uncomfortable or unfulfilling experience and a wildly pleasurable one. Lubricant reduces friction and irritation and increases glide for maximum pleasure. 
Lubricant can be used with toys and partnered play, and is crucial for high-friction activities such as anal play and double penetration. Let's look at the most common types of lube and how they differ from each other. 
Learn more: For much more about lubricants including our top picks, check out How To Choose A Lube
Water-based
Water-based lubricant can be used with any type of sex toy or toy material. Whereas silicone and oil-based lubes can damage certain materials, water-based lubricants are safe to use with everything from silicone toys to condoms of all types.
Because water evaporates, water-based lubes tend to be less long-lasting than silicone and oil, and may need to be reapplied more often. 
Browse all water-based lube
Silicone-based
Silicone-based lube is the longest lasting of all the varieties of lube. It does not evaporate or get absorbed by the skin, which makes it a great option for longer play sessions and anal stimulation. 
Silicone lube is more difficult to wash off than water-based or hybrid lubes, and may stain clothing or sheets. It is safe to use with glass and stainless steel sex toys, but can damage toys made from silicone and plastic. 
Browse all silicone-based lube
Hybrid lube
Hybrid lubes are formulated with a base made primarily of water with a bit of silicone blended in for slickness and staying power. Hybrid lubes are typically safe to use with silicone and plastic sex toys, and are easier to clean than pure silicone lubes. 
If you're looking for a lube that lasts longer than water-based varieties and is safe for all sex toy materials, hybrid lube is a great option.
Browse all hybrid lube
Oil-based  
Oil-based lubes are long-lasting like silicones lubes, but are safe to use with silicone toys. Though oil can damage plastic parts on silicone and other types of toys, it's perfect for toy-free play, toys made from hard materials like glass and stainless steel, and toys with 100% silicone casing. 
Oil-based lube can also be used for massage, and is typically made from largely natural ingredients. 
Browse all oil-based lube