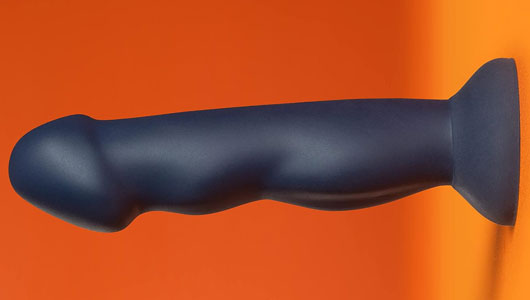 Maybe you're in the market for a new dildo but you're not sure which one would feel best. Or you've tried silicone dildos and wish they felt a little more like the real thing. 
Enter dual density silicone. This material has a more comfortable, authentic feel and is the material of choice for many dildo aficionados. Join me as I dive into the topic of dual silicone. I'll tell you what it is, what makes it different from other types of silicone, and reveal my favorite dual density dildos right now. 
What Is Dual Density Silicone? 
Dual density silicone is a term for two layers of silicone material rather than a single layer. Dual density dildos typically have a softer silicone outer layer and a firmer silicone inner layer, or core. 
The softer outer layer feels squishy-soft and squeezable, while the inner core feels firmer and more rigid. This combination of soft-on-the-outside, firm-on-the-inside has a distinctly authentic feel, like a real penis. 
Learn more: What is Body-Safe Silicone? 
The Advantages of Dual Density Silicone Dildos
Dual density dildos have a few  important benefits that distinguish them from their single density counterparts. These are:
Ease of use
Dual density silicone dildos have a plush outer layer that makes them more comfortable to insert. Whether you use them for vaginal, anal, or oral play, their outer surface has a bit of "give," which gives them a softer, more forgiving feel. 
If you've ever used a dildo with a stiffer surface, then you know how it can feel on delicate tissues. While some folks like a harder exterior, others prefer a little extra cushion. Dual density silicone provides an extra layer of velvety padding that can feel more pleasurable overall.
New to dildos? Check out the Complete Guide To Dildos
Stability
You may have tried a soft dildo only to find that it was floppy and wouldn't stand up. A floppy dildo can make penetration difficult, particularly if you prefer to use it for G-spot or prostate stimulation. 
Dual density silicone dildos feel soft on the outside but aren't limp or floppy. They maintain their shape thanks to the sturdiness of their rigid inner core. This makes penetration with a dual density dildo easier, whether you like to stick it to a flat surface, use it manually for solo or partnered play, or strap it into a harness. 
Stability is crucial when it comes to strap-on harness use. The firm inner core of dual density dildos ensures that they stay securely in place during strap-on play, providing a more realistic experience for both partners.
Learn more: How To Use A Strapless Strap-On
Natural feel 
Perhaps the best benefit of dual density silicone is its authentic feel. Real-life erections have a softer, squeezable layer of tissue over a stiffer internal structure. Dual density dildos mimic the feel of a real penis by placing a layer of softer silicone over a rigid core. This is the type of penetration the body was designed for, and it typically feels more comfortable and natural. 
Dual Density vs. Single Density Dildos
We know that dual density dildos have two layers of silicone and single density dildos have one. But how different do single density dildos really feel? 
To put it simply, very different. Now, keep in mind that a single layer dildo can feel very soft. Single density doesn't mean rigid or rough, and it doesn't mean you won't enjoy using a single density dildo. You can find a single density dildo that bends, flexes, flops, and feels super-smooth to the touch.
But remember — single density silicone won't feel similar to the real thing. It won't squish and slide slightly under the pressure of your hand the way a penis does. Single density silicone can feel great, but will always have a flatter, more artificial feel than dual density material.  
How To Use a Dual Density Silicone Dildo
The combination of a soft outer layer, firm inner core, and authentic feel makes a dual density dildo ideal for all kinds of play. This includes:
G-spot play
The G-spot typically responds best to targeted pressure. The rigid internal structure of a dual density dildo makes it ideal for deep G-spot massage. At the same time, the softer exterior makes a dual density dildo easier to insert and more comfortable when used against other parts of the vagina, like the cervix. 
Learn more: What Is The G-spot? 
Prostate play
Whether you're a beginner or experienced in prostate play, a dual density dildo can enhance your experience and take it to new heights. Look for a dildo with a curved shaft and bulbous head that can press firmly into the prostate to create intense, continuous stimulation. 
For more about how to find and stimulate the prostate: What Is The P-Spot?
Pegging
Dual density dildos are perfect for pegging, particularly if you're new to this type of play. The structure of a dual density dildo makes for easy penetration, while the softer surface makes insertion gentler and more comfortable. 
New to pegging? Read 3 Tips For Pegging Beginners
Oral play 
Want to practice your oral skills? Put a dual density dildo on your list. It'll feel more like the genuine article than a single density dildo and can make practice time feel more valuable. If you're new to oral play with dildos, choose a smaller one to start and work your up as your skills improve.  
Best Dual Density Dildos
Avant Suko If I had to choose one dual density toy, this would be it. I love the size, which is on the large size of moderate, and the head is perfect for deep internal stimulation. I also like the ridging along the shaft for extra texture and sensation. The suction cup is ridiculously strong, so don't be afraid to ride this one into the sunset. Oh, and it's budget-friendly, too. 
Check out our Avant Suko Dildo review
Tantus Mark 02  You might have a hard time telling the difference between the Mark dildo from Tantus and the real thing. This premium dildo takes lifelike to the next level with realistic detailing and a gorgeous, soft, squeezable silicone outer layer. This is the dildo I reach for when I want to treat myself. 
Strap-On-Me Dual Density Dildo It may have a nice, solid core, but the dual density dildo from Strap-On-Me is also bendable. Flex it, shape it, pose it however you like and it will stay obediently in place. This deep purple dildo is ideal for strap-on play and comes in four sizes.