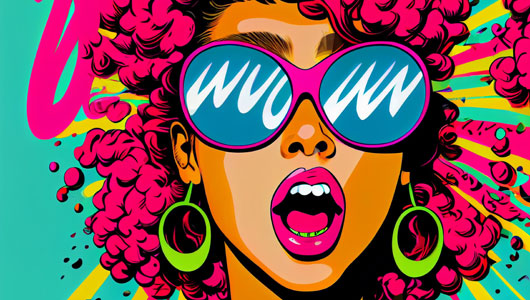 Do you struggle to climax during play with a partner? Are you a woman or vagina owner? Believe me when I say that you're not alone (just check the orgasm gap stats!). But there are some things you can do to ensure mutual satisfaction in the bedroom and greatly increase your chances of having an orgasm. 
Focus On the Clitoris
The vast majority of women and vulva owners need clitoral stimulation to climax. In fact, the clitoris requires an average of 20 minutes of direct stimulation to reach the summit, so it's important to make sure your clitoris is getting plenty of attention during sex with your partner.
Learn more: What Is The Clitoris?
But here's the thing: having your partner just diddle your skittle with their fingers might not be enough to get you all the way there. This can be true especially during intercourse, and even more so if you're used to vibing yourself solo. Adding a bullet vibrator to the game can make all the difference. 
Bullet vibes are perfect for intercourse because they're:
Small
Quiet
Easy to slip between bodies
Designed for targeted clitoral stimulation
Lightweight
One of my top picks in this category is the Femme Funn Booster Bullet. You can check out my complete video review for all the details, but for now I'll just say that it's super powerful, rumbly, and flexible enough to maneuver in just about any position. 10 out of 10 recommend. 
Watch my Femme Funn Booster Bullet Review
Go Hands-Free
Maybe you want to enjoy a vibrator during sex but would rather not use your hands to hold it. To that I say, take a look at a wearable couple's vibrator. These toys are worn internally and are designed to stimulate the G-spot, the clitoris, and the penis at the same time, no hands required.
For more sex toys to use with your partner, check out Best Sex Toys For Intercourse
Wearable couples' toys also create a tighter fit around the penis, which can give your partner an extra incentive to try one. My personal favorite is The Wearable by Deia, and here's why: it has a split clitoral stimulator that surrounds the clitoris in deep, rumbly vibes instead of pressing into it. This makes it more comfortable and, for me, more pleasurable. 
The Wearable also comes with a remote control that doubles as a fun little clitoral vibrator, giving you a non-wearable option for sex and solo play. 
Learn more: Sex Toys For Couples
More Power to You
Maybe you don't care about holding a vibrator, how large it is, or the sound it emits as long as it gets you there. In that case, I suggest that you get yourself a power wand. The Magic Wand is the most popular (and legendary) example of this singular category of sex toy.
These penetrating toys are renowned for their deep, bone-shaking rumbles and whole-body orgasms. Because they tend to have long handles, they can also be easier for your or your partner to hold. Power wands pretty much guarantee that your clitoral is getting plenty of stimulation, even on lower settings. This makes them a great option for edging, too. 
Watch my Magic Wand Rechargeable review
Final Thoughts
These particular tips focus on physical stimulation, but keep in mind that arousal happens in the mind first. If both your brain and body aren't on board, an orgasm can be difficult to come by, regardless of the types of toys you choose.
Great sex starts with communication, consent, and foreplay, all of which are essential to a good connection with a partner and an orgasmic sexual experience. 
Learn more: 5 Things That Guarantee Good Sex